A summer potato salad with bresaola, tomatoes, radishes & avocado, which is as beautiful, simple, refreshing and filling as it gets.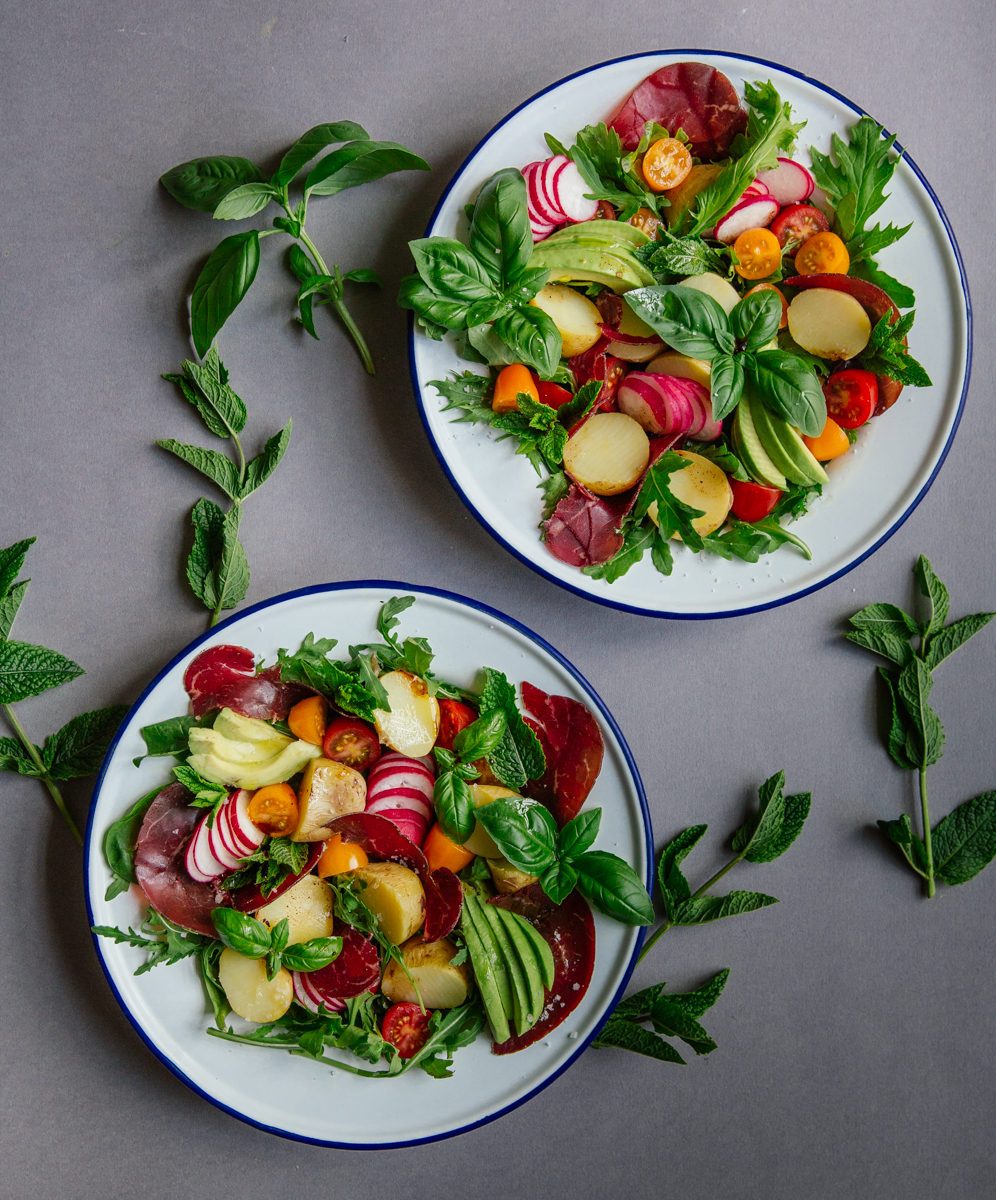 When we were wee bit babies, our mom had an array of nicknames for us; amongst my favourites were 'little potato chip', for me, and 'little shrimp' for my sister. We were quite similar for sure, as identical twins can be, yet also quite different, as much as siblings usually are. I was the rounder one- hence the little potato monicker, which I always loved- even when I didn't like my chubbiness, even when I decided I didn't care much for potatoes.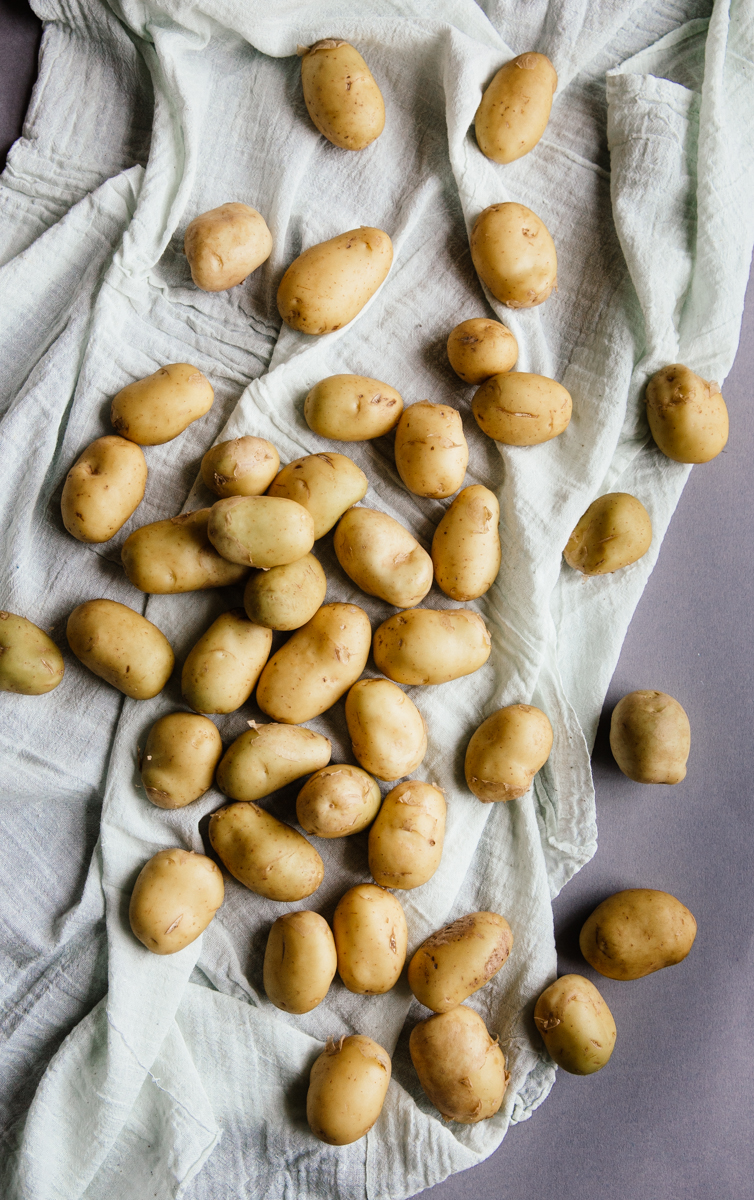 And I really didn't. As much as I crave all vegetables almost equally, I always thought of potatoes as kinda bland. Until a few months back, when I had this exact thought out loud, over dinner with some of my favourite ladies; and there was shock and awe and there were nudges all around for me to get on with it and discover all the beautiful things one can do with potatoes. So I did, I got on with it. I decided to embrace potatoes, start playing with them and see where they got me.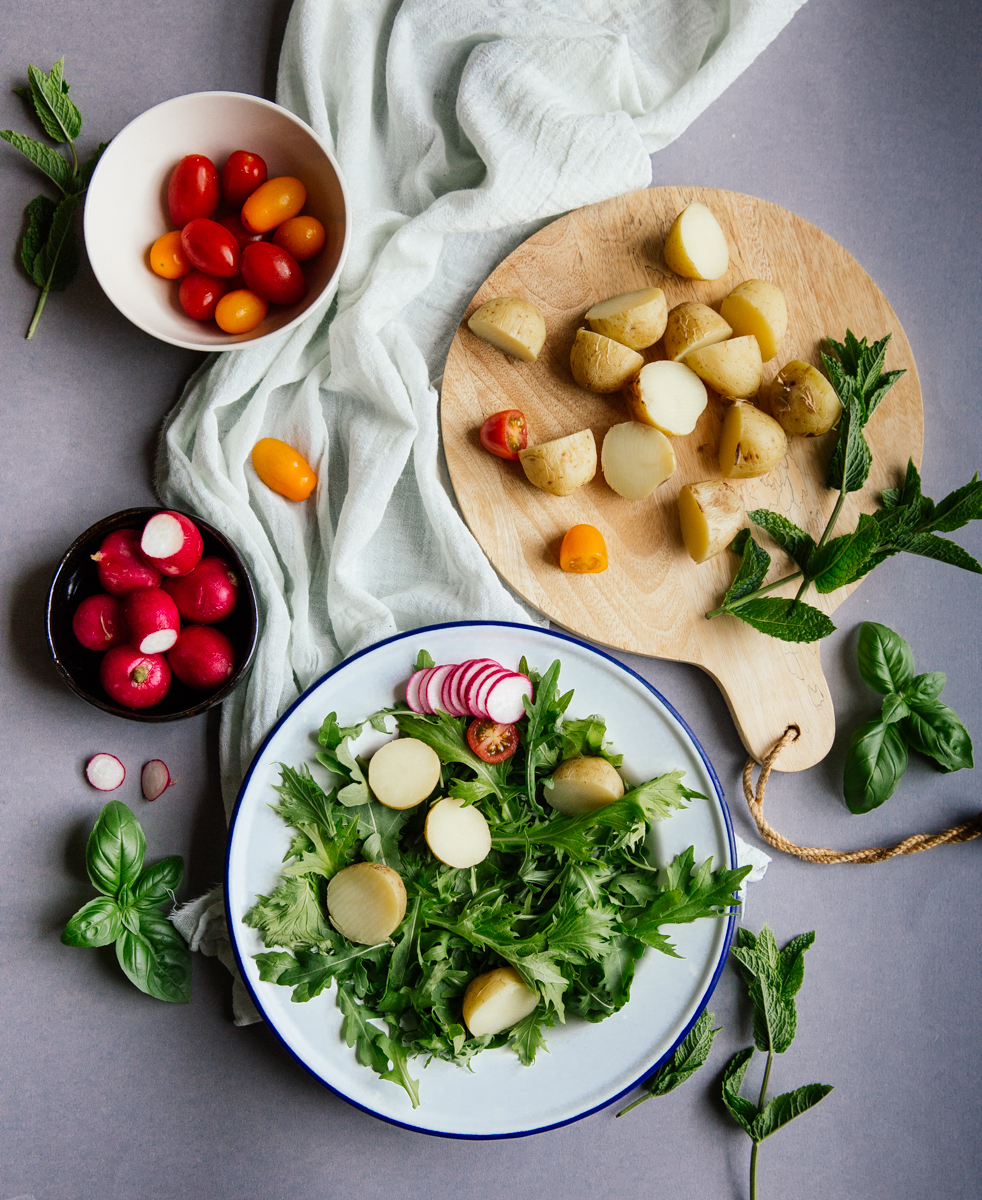 Playing in the kitchen is always the best place to start; this and the best damn ingredients. So when Blas Y Tir approached me a little while back, the timing could not have been better. I was ready to play and they had the best toys, aka the tastiest potatoes. And so I boiled and fried, I baked and boiled again. I added this and the other and finally decided to just let them be. These are too pretty and tasty to overload and overwork, their skin too soft and taste too subtle.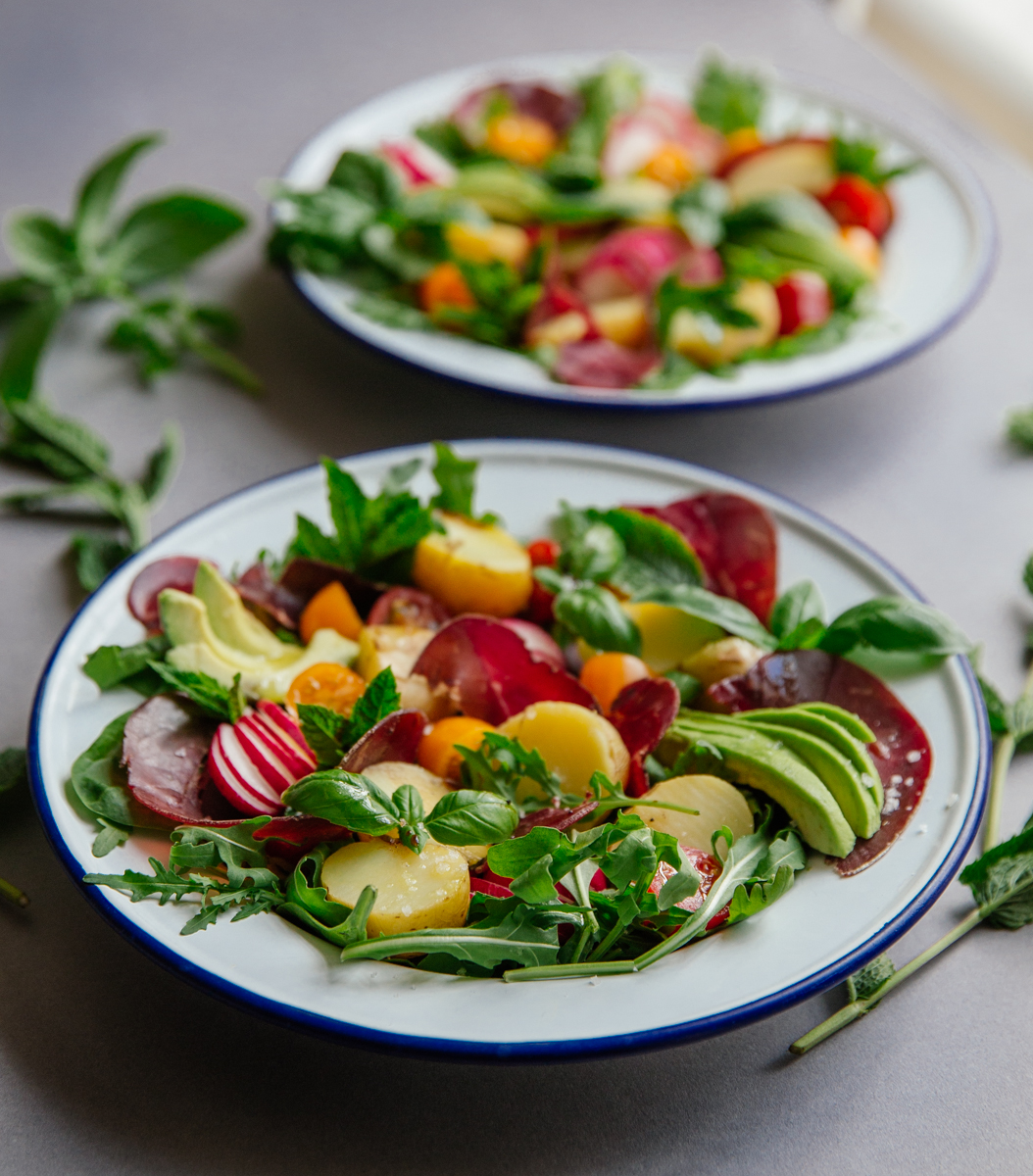 And that's how this potato salad came together, in search of colours and textures perfect for these wee, chubby potatoes. And since it's early summer, I was very much spoilt for choice: red & orange cherry tomatoes, juicy and almost sweet; peppery radishes and butter-soft avocados; salty and delicious bresaola for a little kick and a lot of balance and fresh basil and mint too, because it's summer and we need all the colours and coolness we can get.
So. Potatoes. Let's get on with it, shall we?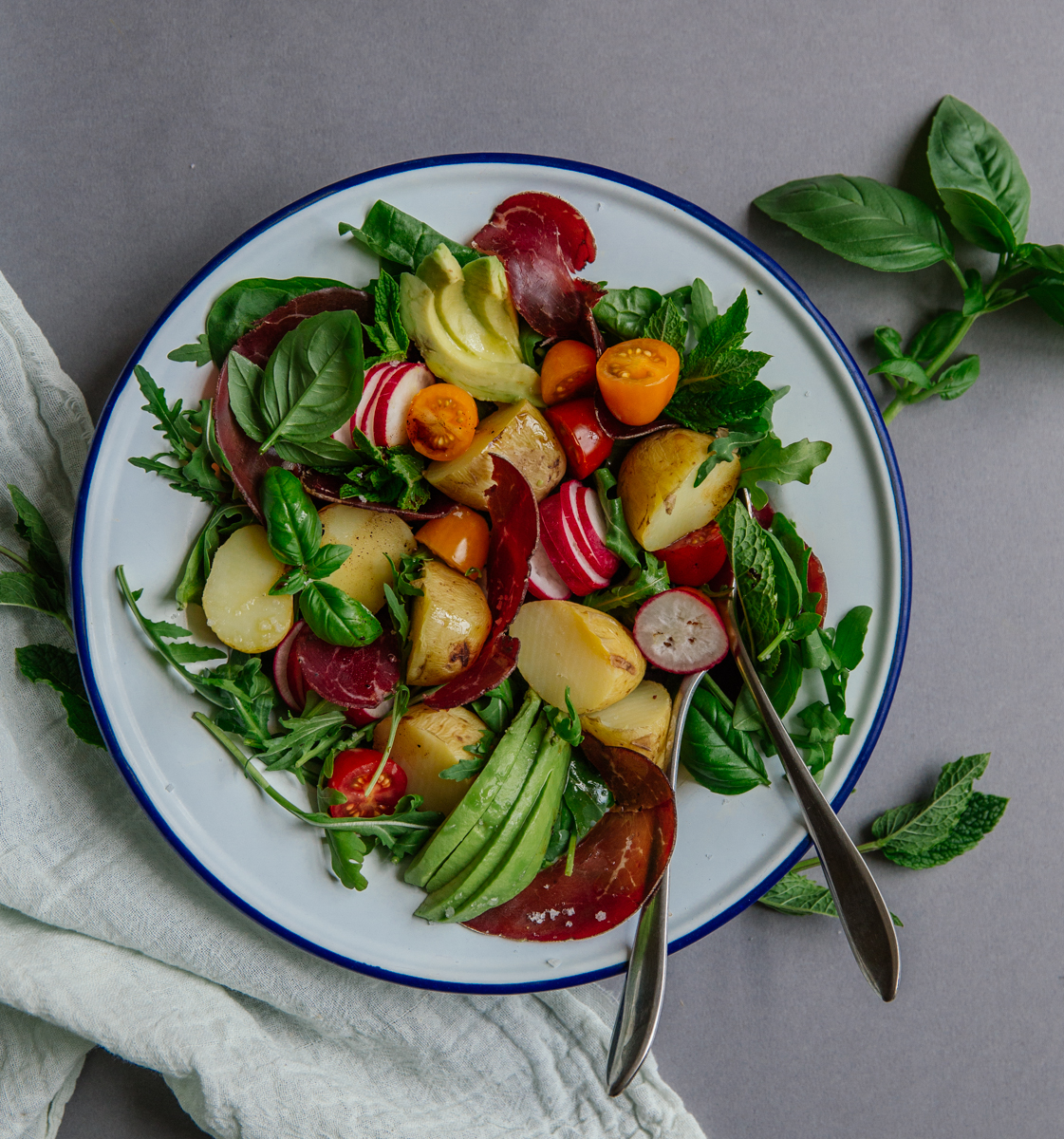 Summer potato salad with bresaola, tomatoes, radishes & avocado
WHAT
(serves 4 as a salad or two as a main)
2 big handfuls fresh greens (spinach, rocket and/or watercress)
6 radishes, thinly sliced
1 avocado, halved and thinly sliced
10-12 cherry tomatoes (red & orange)
8 bresaola slices, torn to smaller pieces
to serve: 
fresh basil & mint
a good drizzle of extra virgin olive oil (about 2 tablespoons)
about 1 tablespoon balsamic vinegar 
sea salt flakes to taste
HOW
Use of large bowl for a salad or two pasta dishes if you are serving this as a main.
Place the greens at the bottom of your serving dish and arrange the potatoes and cherry tomatoes on top; add the sliced radishes and avocado slices between them and lastly tuck in the bresaola slices.
Finish off with the fresh herbs, olive oil, balsamic and sea salt flakes.
*This dish was created in partnership with Blas Y Tir; all the love and opinions are genuine & my own.