Dangerously easy to make and filled with all sorts of deliciousness, these peanut butter & pretzel brownies are too good to skip.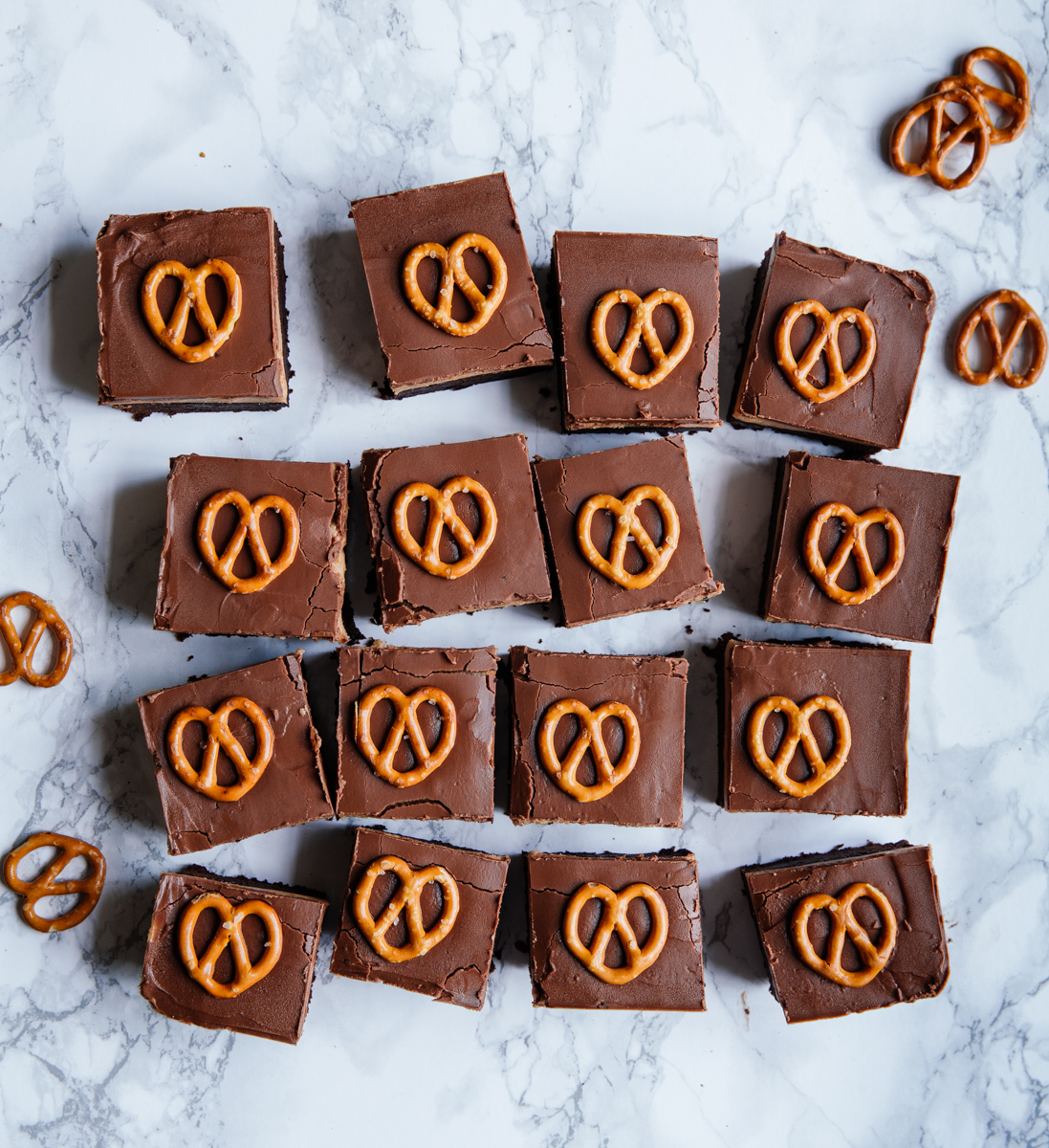 I have no idea what's gotten into me; I should be making salads with every crunchy vegetable under this very bright, long overdue, sun; I should be, at least, starting experimenting with this summer's ice cream flavours. Instead, I'm knee deep in baking: I've made brownies a couple times, a very naughty banana bread and a mighty galaktoboureko (a custard pie with filo pastry and a whole lotta butter & syrup). And now, it's on to cherry pies with all the butter I can get my hands on and all flavour and prettiness I can muster- but more on them pies soon. For now, it's all about brownies.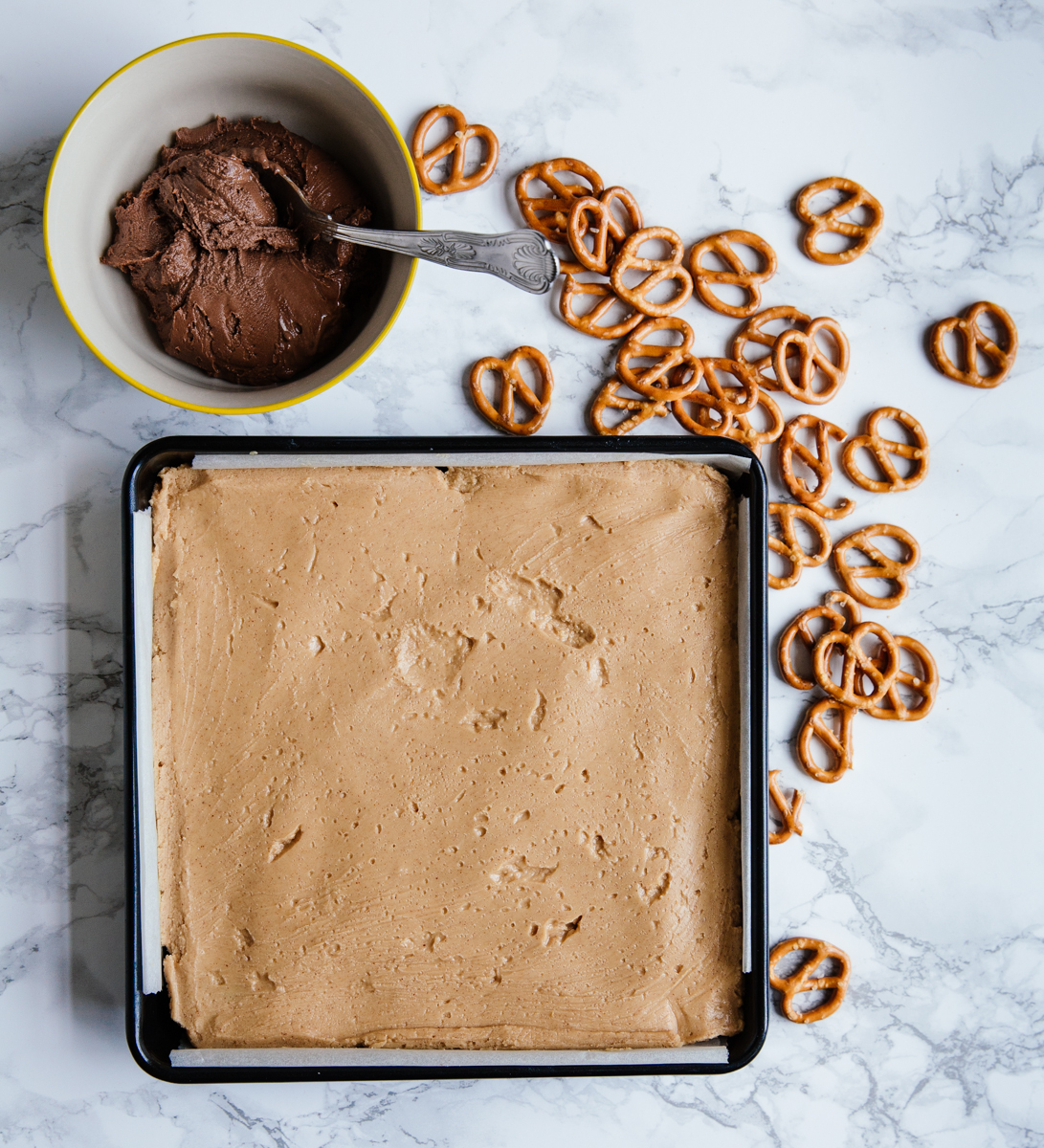 They were worth all the heat in my kitchen on a very hot, very sunny day. Honestly. They were also worth all the butter and sugar that went into them. They just had to be there. I often leave these ingredients out when I'm baking; I love butter passionately, but sugar is not one of my favourite things- I sure use it here and there, but if I can use honey, maple or fruit in its place, I'll probably do so.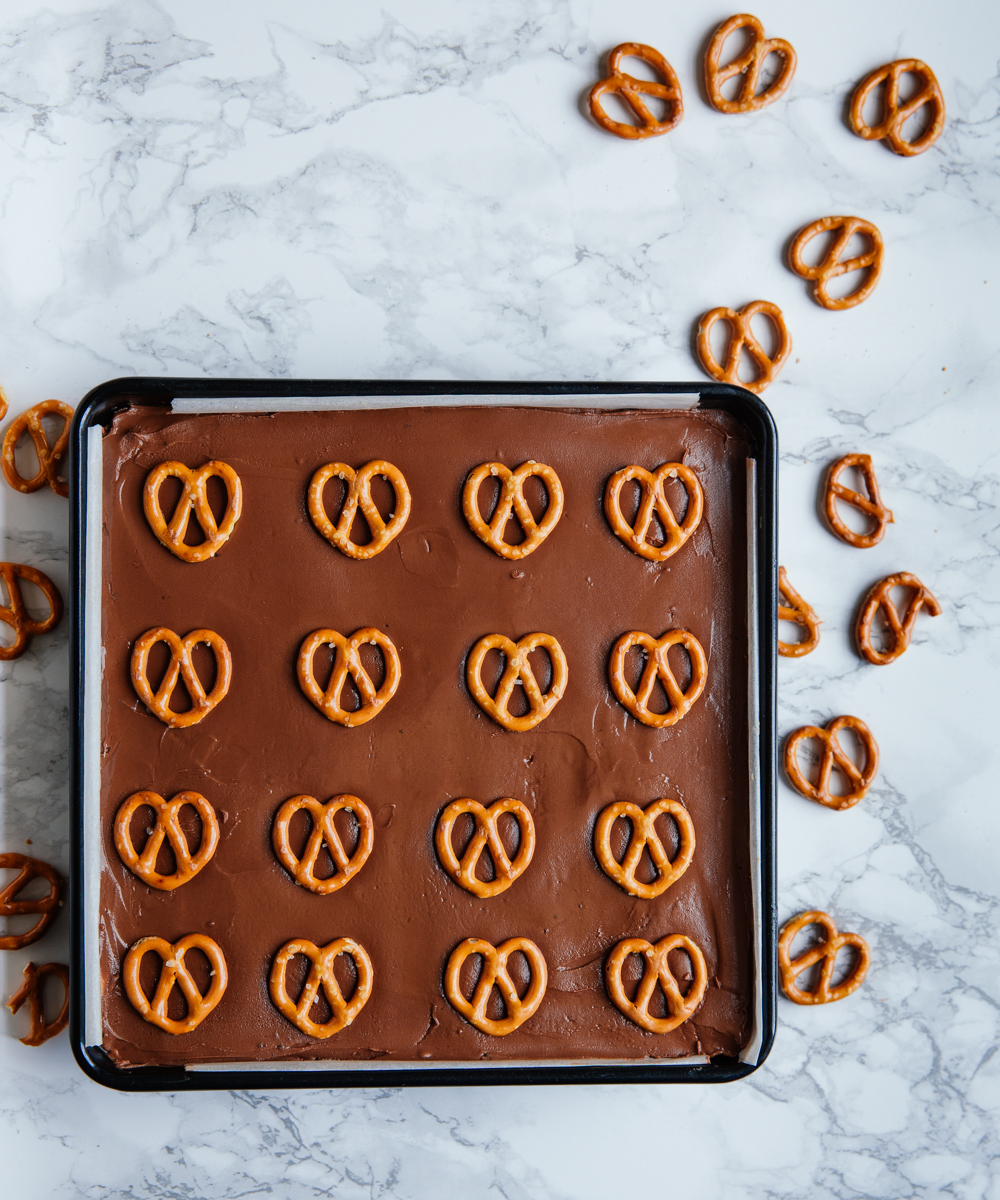 But these right here- they're a full on, guns blazing, no apologies, no regrets kind of dessert. Lots of butter and sugar, like we said; lots of cocoa too, for a deep, smooth chocolate texture- not nuts, no extras at all. Just fudgy brownies, ready for the next step: peanut butter, butter and icing sugar. More smoothness, and a nutty and kinda salty sweetness which is just right on top of our brownies. And then there's more chocolate and more butter, because we are going all out and it's absolutely fine and definitely necessary every now and again. And because still, along with all the butter and all the chocolate, we need some balance, very salty pretzels need to sit at the very top.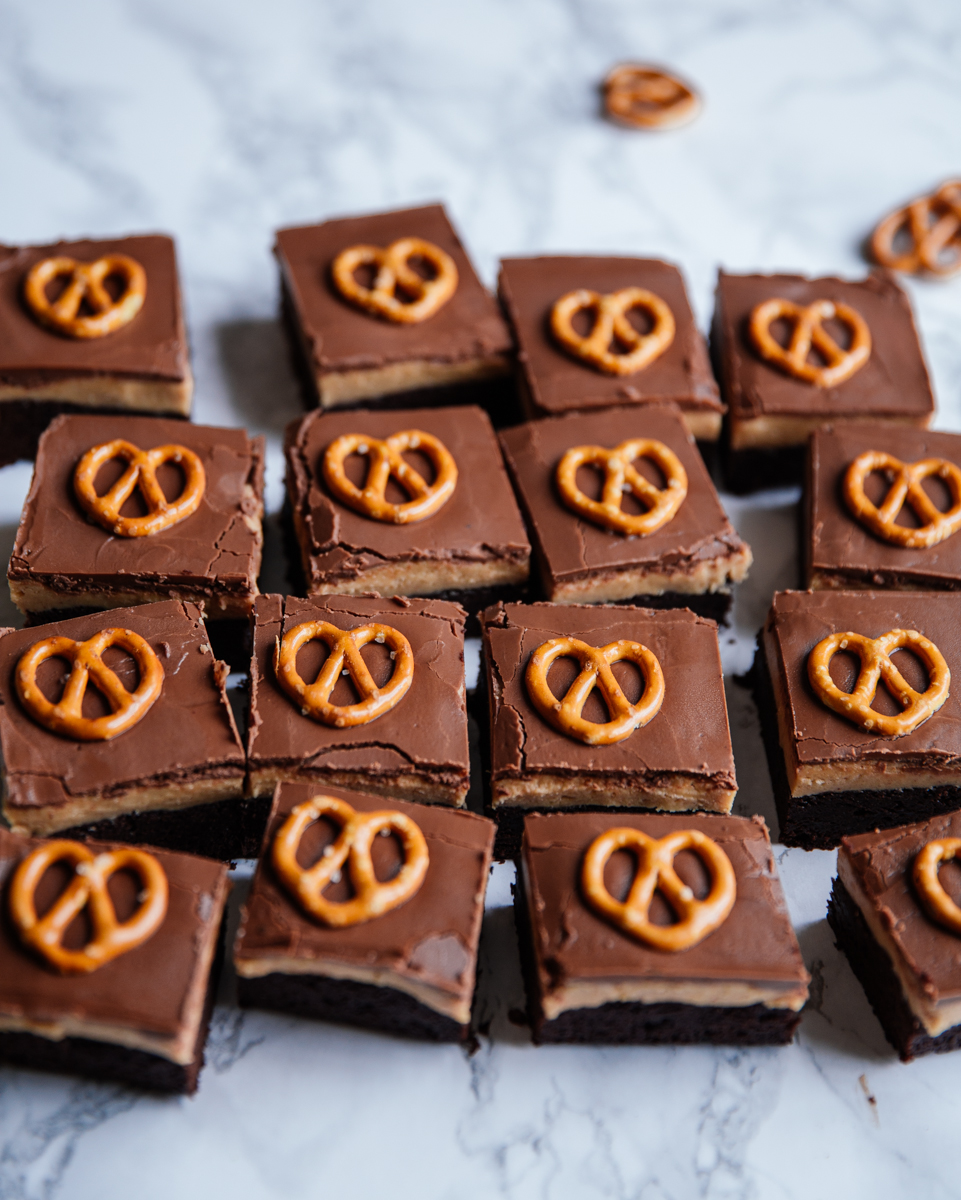 I doubt you'll be able to have more than one piece at a time (and I almost never stop at one when dessert is involved)- these are rich, sweet and mouthfuls. And they're also so damn delicious and a little bad- which makes them entirely good and, honestly, kinda necessary.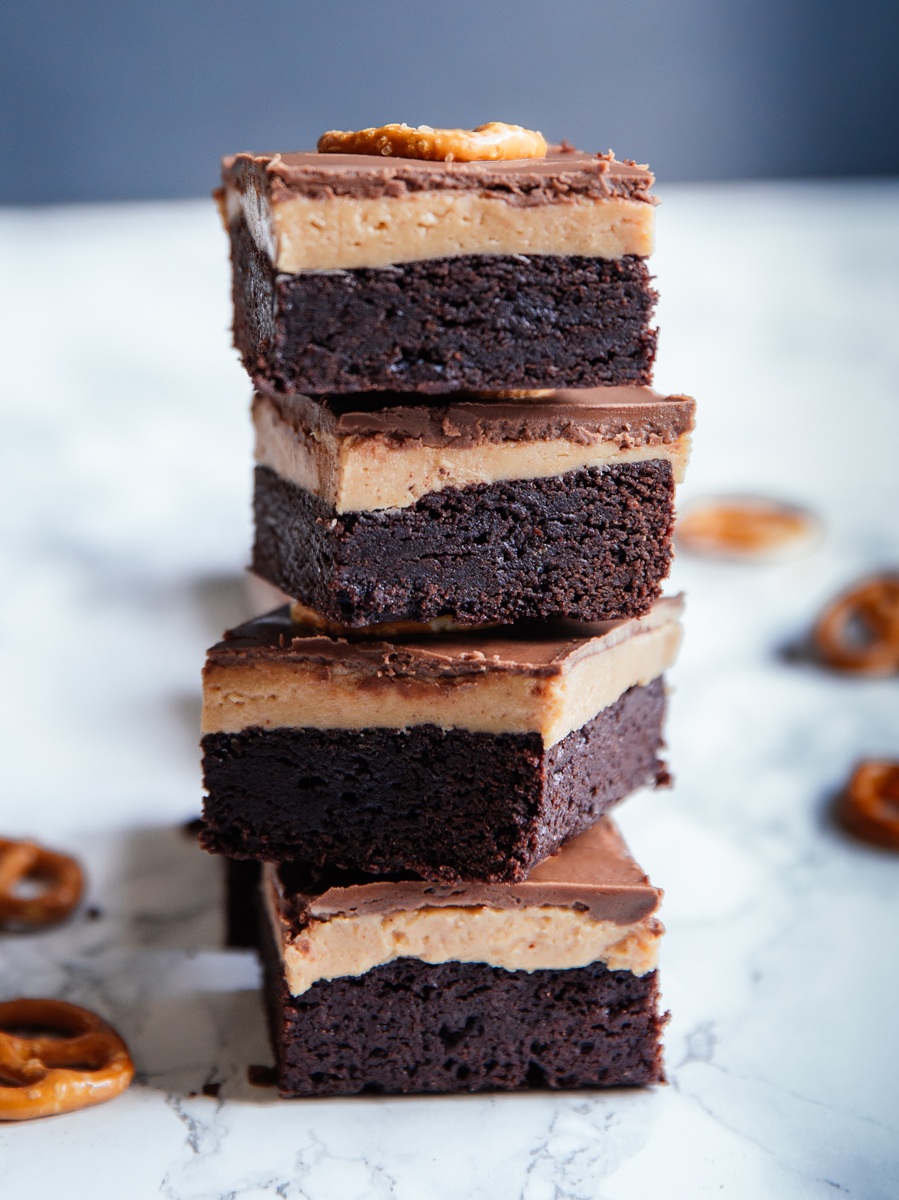 Peanut butter & pretzel brownies
WHAT
for the brownies:
1 3/4 cups all purpose flour
1 teaspoon baking powder
1/2 teaspoon salt
1 cup cocoa powder
3 eggs
1 1/2 cups caster sugar
1 cup unsalted butter, melted
1 teaspoon vanilla extract
for the peanut butter mixture:
1 cup & 2 tablespoons smooth peanut butter (I love this one)
1/2 cup unsalted butter, very soft
1 cup & 2 tablespoons icing sugar 
for the chocolate:
200gr milk chocolate chips
40 gr unsalted peanut butter
HOW
Preheat the oven to 180ºC (160ºC FAN); butter a square baking pan and line it with parchment paper.
Make the brownies: combine the dry ingredients in a bowl and set aside. Beat the eggs and sugar until smooth and pale. Add the melted butter and vanilla extract and beat to combine.
Add the dry ingredients and fold with a spatula to incorporate. Bake in the preheated oven for 15′, or until the edges are just set.
Remove from the oven and allow the brownies to cool in the baking tray for 5′, then remove and place on a wire rack to cool. Do not cut them just yet.
Make the peanut butter layer by combining the peanut butter and soft butter, adding the icing sugar slowly. Beat until you have a creamy, silky paste.
Spread over the cooled brownie and place in the fridge to set.
When the peanut butter layer is set, prepare the chocolate layer: place the chocolate chips and butter in a medium bowl, cover with cling film and melt in the microwave in 10′ intervals. Stir well and allow it to cool slightly.
Spread over the peanut butter mixture and smooth with a palette knife. Top with pretzel knots, pressing them down gently, so they stick to the chocolate.
Place in the fridge again until the chocolate is set and then cut in pieces. Keep in the fridge for up to 3 days.