Soft and lightly sweet, this espresso loaf with cinnamon dark chocolate ganache is discreetly fragrant and perfect when paired with more coffee.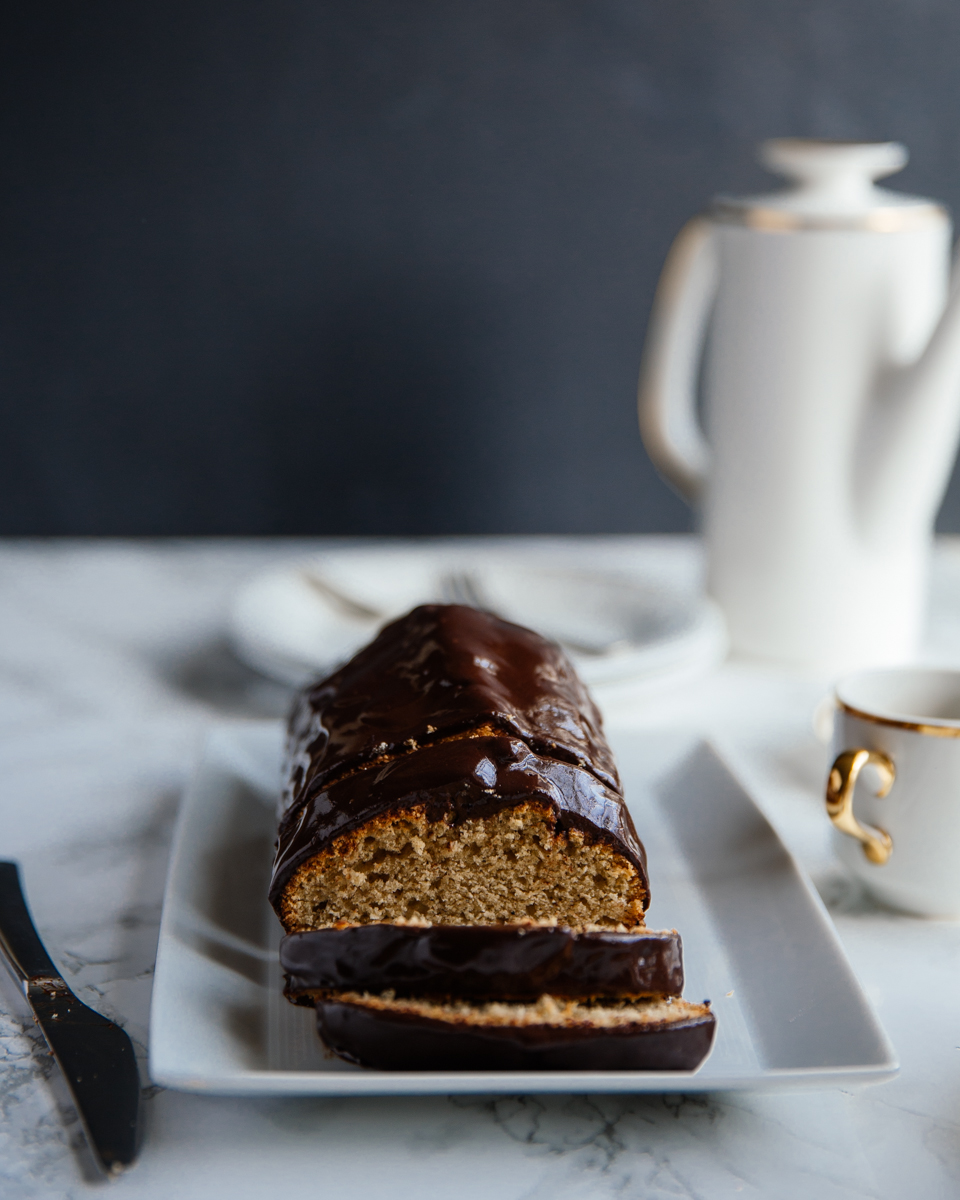 One of the greatest pleasures of my day- in fact, the very first of them all- is coffee. Black, mildly strong and hot, sipped slowly while I gaze out the window or read the news. The house and streets outside are quiet, usually dark and all to myself. This serenity and that delicious first cup of coffee are sheer pleasure, a gift of sorts which I still don't dare take for granted.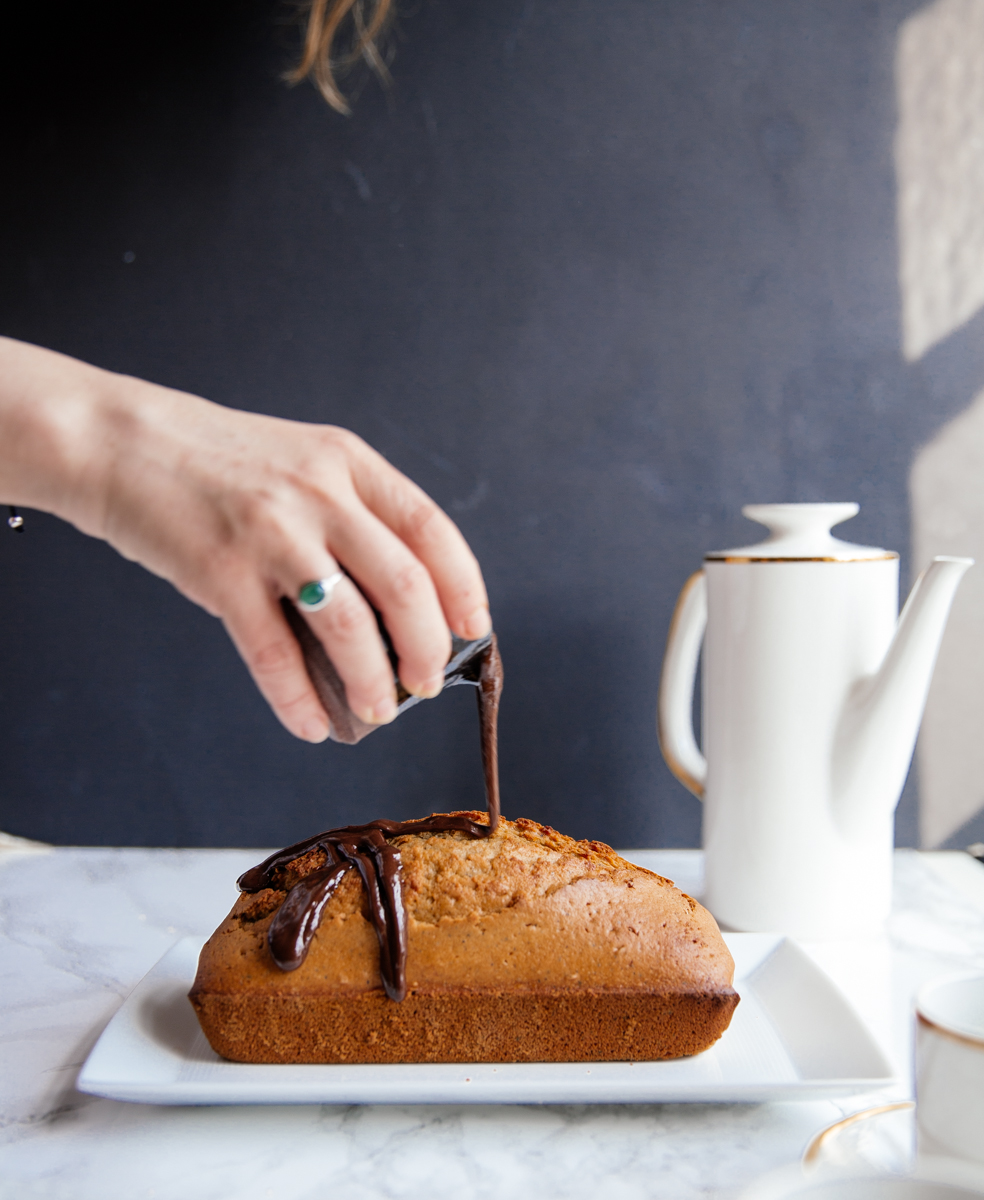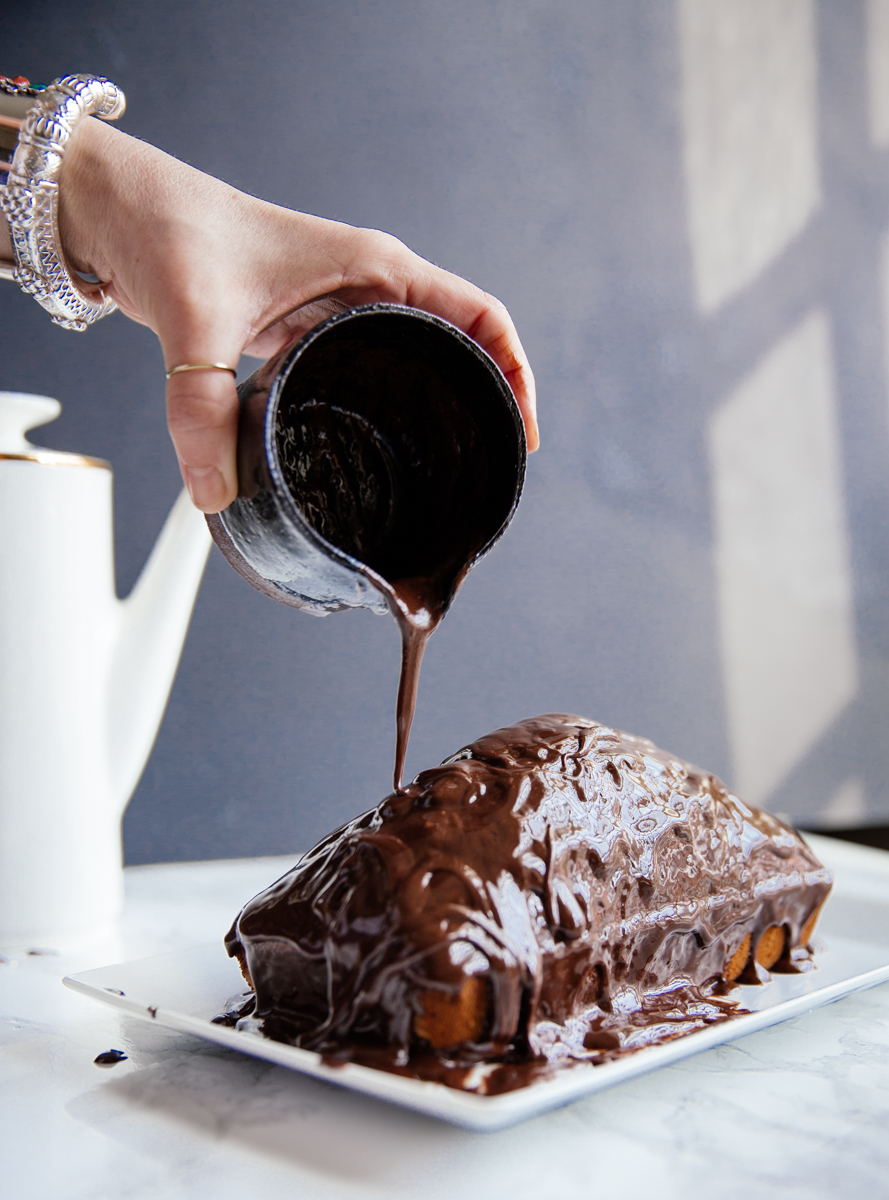 I grew up in a coffee-adoring family. My parents love Greek coffee and they're quite serious about it: they've come up with their own blend (65% Greek coffee, 35%espresso), which they buy regularly from their coffee guy, and most coffees of they day (I think each has about three or four) they drink in the same way: together, is small cups, unsweetened. It is a ritual they both love so, I think it inadvertenly was passed on to both my sister and me. We both love coffee.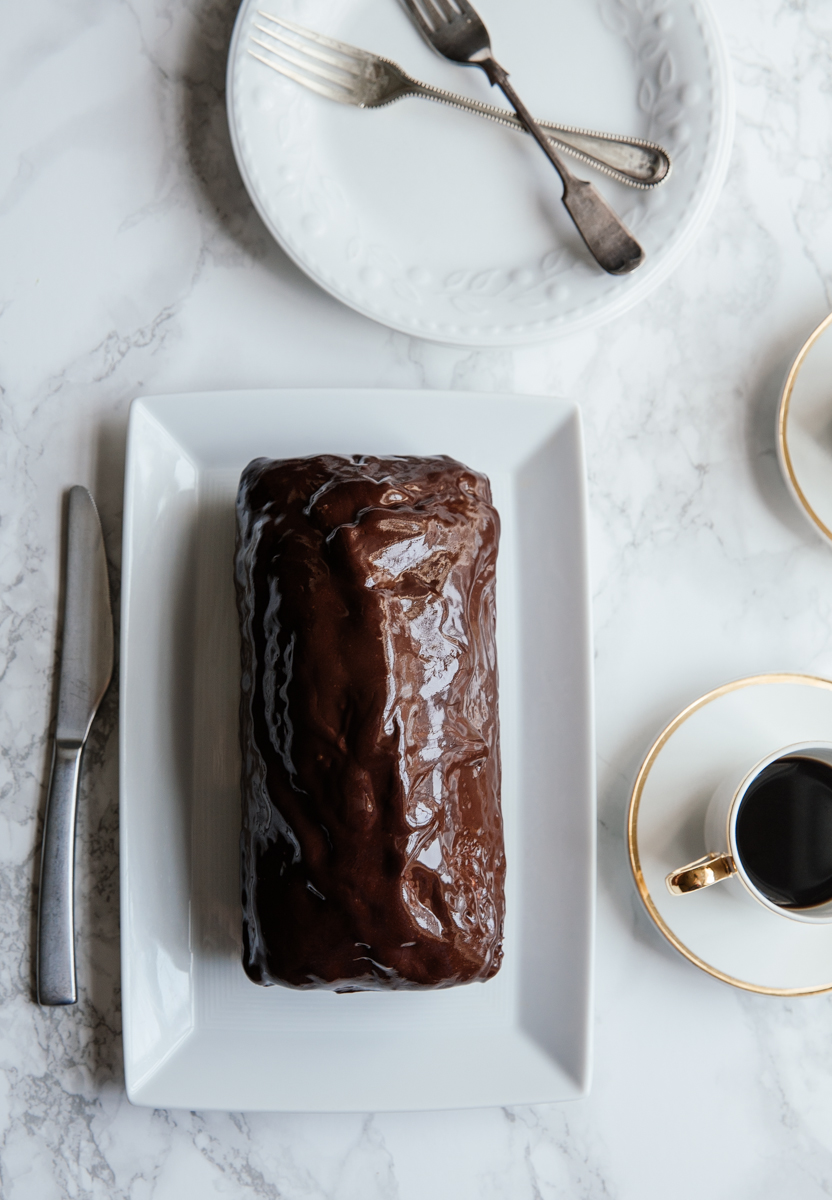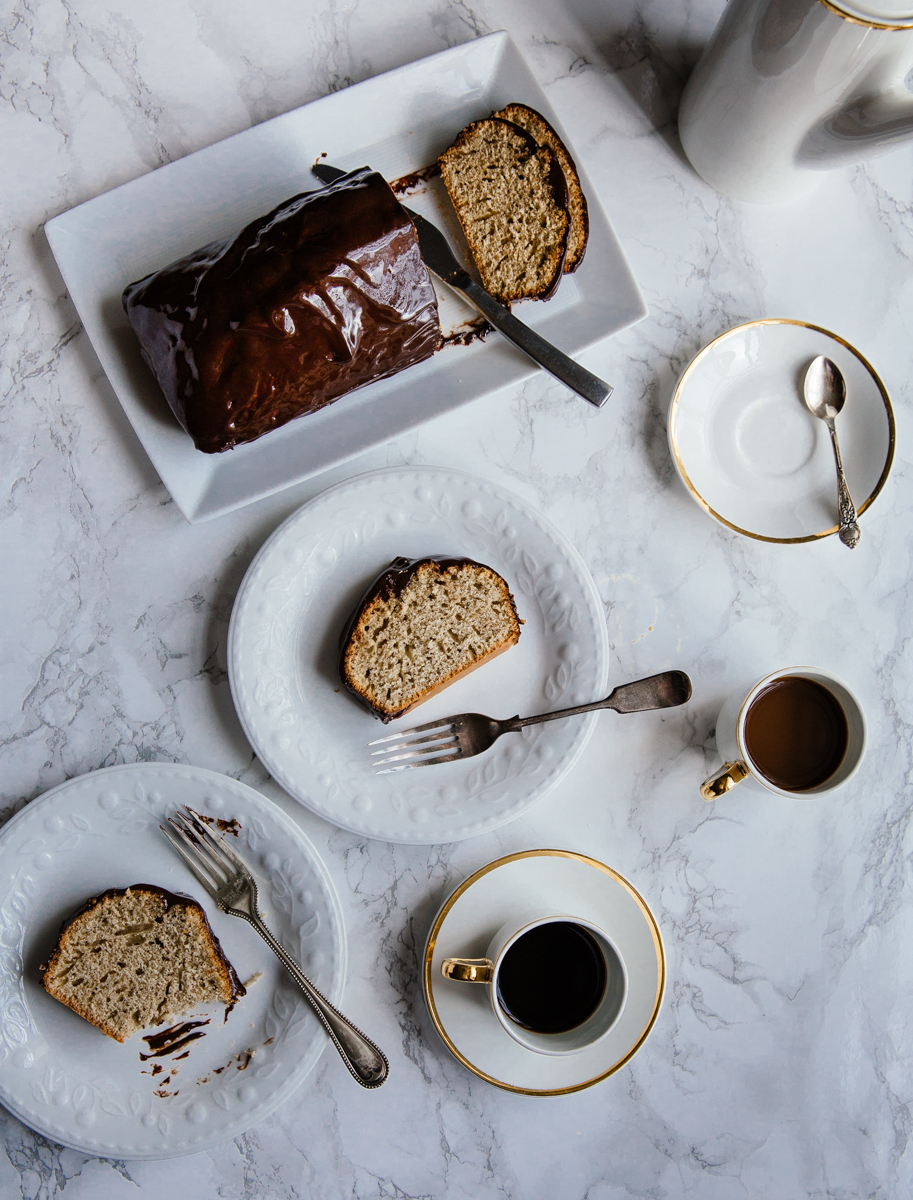 I rarely use it when I bake however; I believe this is because I am so fond of its flavour and smell, I prefer not to have it combined with any others. Still, it really is a treat when used in desserts, adding a warm depth and a richness few ingredients do. For this loaf, I've used mildly strong espresso, diluted in almond milk for a flavour which comes through just enough to make you go for yet another slice. The few drops of coffee extract intensify the aroma and they are used in both the sponge and the light syrup I used (you can easily omit this- I have been experimenting lately and decided to incorporate it here as well. It does makes the cake more moist, but would not go amiss if not used). The final layer, a simple chocolate ganache, is silky, a little decadent and very much fragrant. Ever since I made these, I realised how much I like pairing dark chocolate with cinnamon- and so they are together here, beautifully combined and in a somewhat perfect company with this coffee loaf.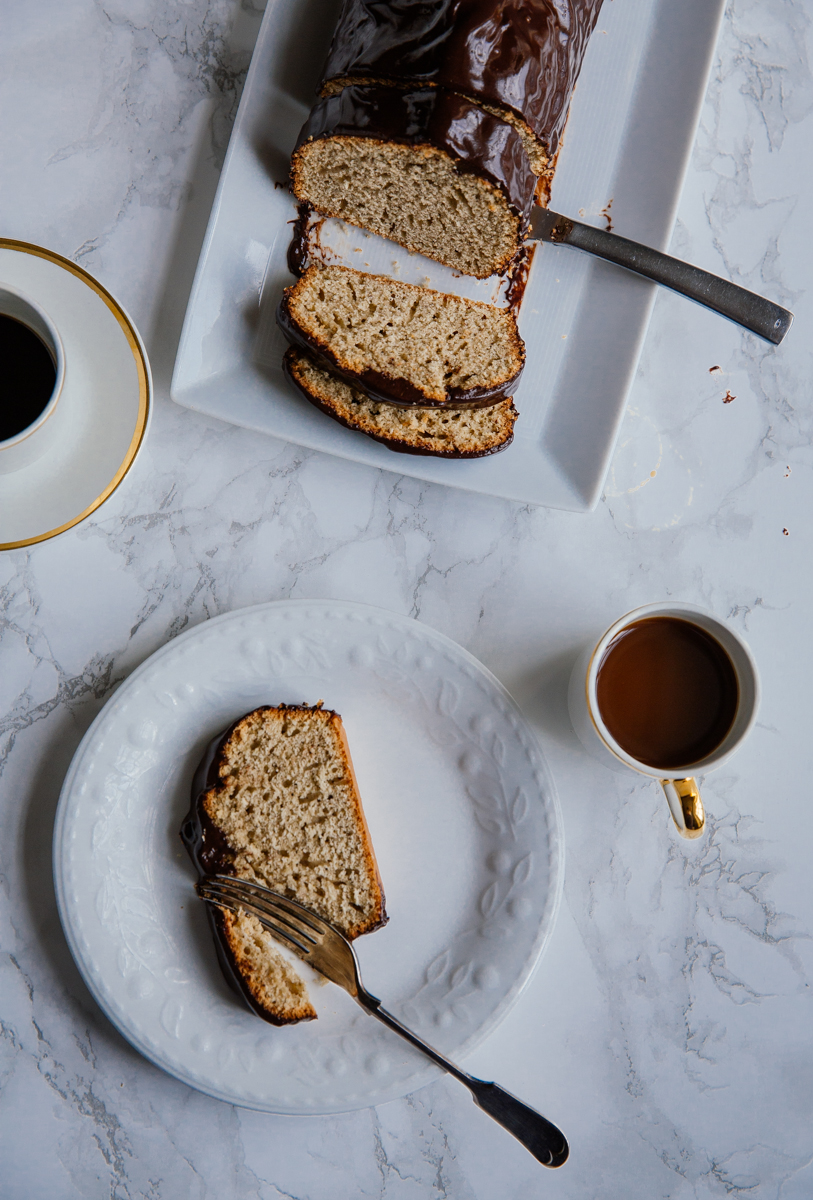 Espresso loaf with cinnamon dark chocolate ganache
WHAT
130 gr all purpose flour
2 teaspoons baking powder
a pinch of salt
1 tablespoon ground espresso coffee 
1 1/2 tablespoons almond milk
1500 gr demerara sugar
150 gr unsalted butter, soft
3 medium eggs
1 teaspoon coffee extract
for the (optional) syrup:
1/2 cup filtered water
4 tablespoons caster sugar
1 teaspoon coffee extract
for the ganache:
125 gr. single cream
150 gr dark chocolate, roughly chopped
1 teaspoon powdered cinnamon
HOW
Preheat the oven to 180ºC (160ºC FAN), lightly butter a loaf pan and line the base with parchment paper. Set aside.
Combine the flour, baking powder and salt and set aside. Combine the milk and the ground coffee and warm over medium/low heat for about 5′ (do not boil). Remove from the heat and set aside to cool.
Beat the butter and sugar until pale; add the eggs one at a time and beat well to combine; add the coffee/milk mixture and coffee extract and combine.
Add the dry ingredients and fold with a spatula to incorporate.
Pour in the pan and bake for 35-40′, or until an inserted skewer comes out clean.
Allow to cool in the pan for 5′ and then place on a wire rack to cool completely. If you are using the syrup, brush the loaf with the syrup (you won't be using it all) while still in the pan, after it has been cooled for 5′.
To make the ganache: place the chopped chocolate in a medium-sized bowl. Pour the cream into a small saucepan and warm over medium heat until just before boiling point. Remove from the heat and pour over the chopped chocolate, string to melt the pieces into a glossy mixture.
Pour over the cooled cake, allowing it to drip down the sides and smoothing with a palette knife if necessary.