I can't think of a more spring appropriate dessert than this: shortbreads, strawberries & cream! Delicious and lightly sweet, they are to die for!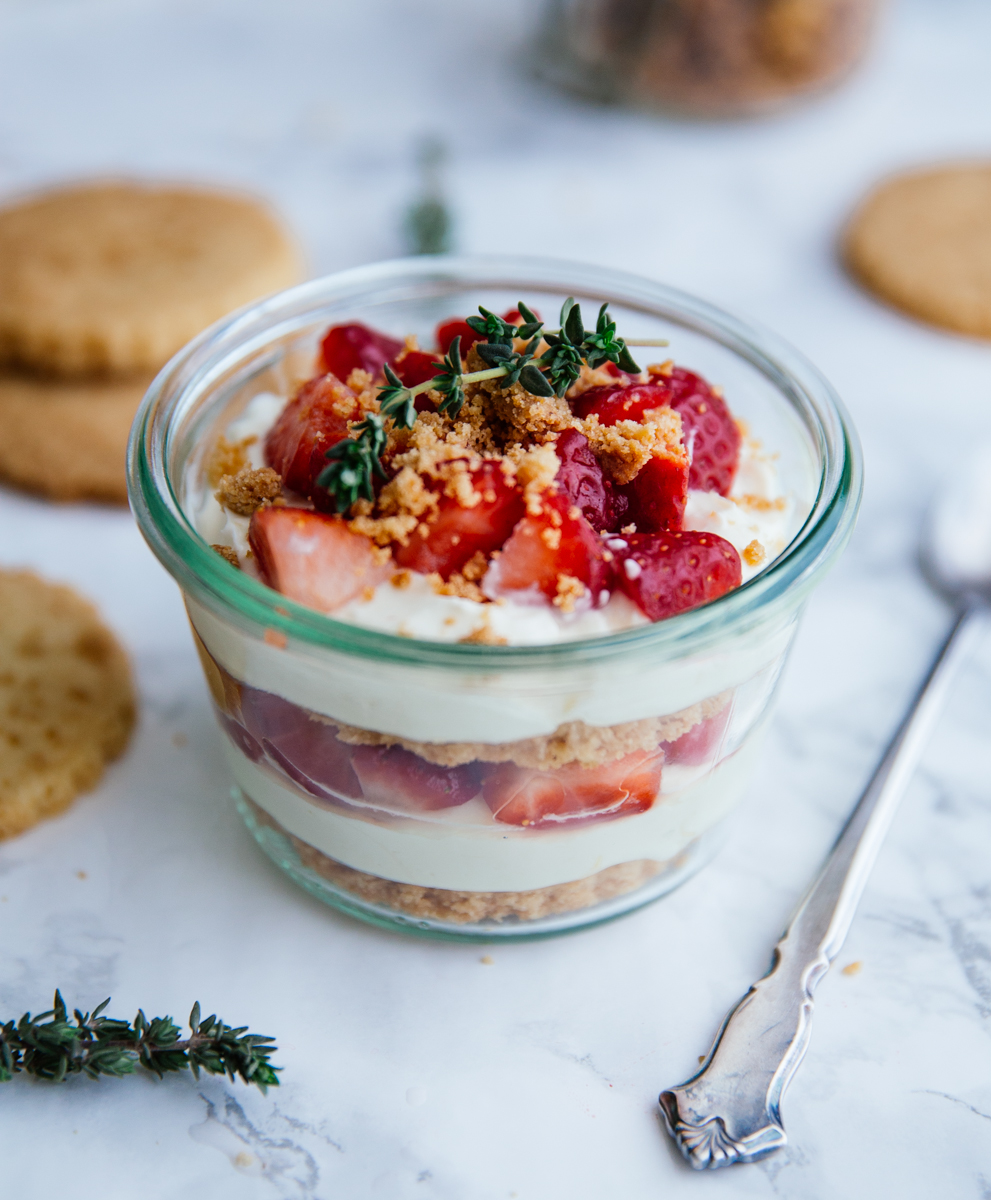 I believe that the best way to enjoy strawberries is simply by washing them and devouring them on the spot; to frills, no gimmicks, no extras. And still, here I am adding to them; delicately sweet shortbreads, perfectly crumbly and irresistibly buttery, layered with a light almost cream, made with Greek yogurt, thick mascarpone and maple syrup. It is a good fit though; all these layers and different textures, they are distinct companions to these rose jewels, without however overwhelming them. Stay with me if you please.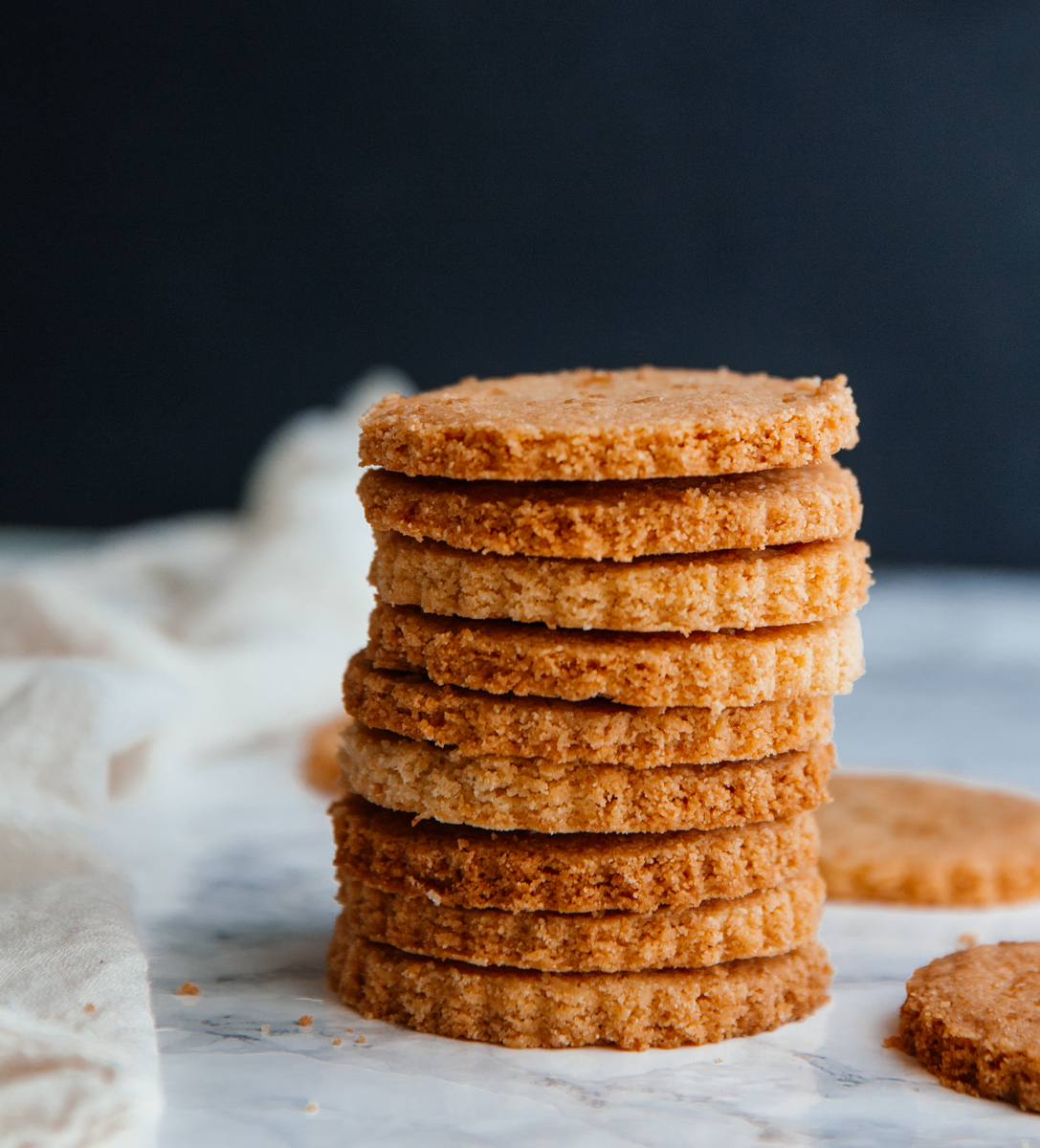 My love of butter has been declared here numerous times, boldly, loudly and passionately. For lack of a more lyrical explanation, I simply can't get enough of it. The more it finds its way into my desserts, the better. For the past few years I've been using sugar very sparingly, without missing it one bit, but butter is a whole different beast. I seldom cook with it, but I find myself utterly weak when it comes to baking. Pies, cookies, cakes and cheesecakes, there needs to be butter in there. Here, it really is vital. A tasty shortbread, for all the few ingredients it requires, needs good butter, sugar and a touch of semolina. A little mixing, a little patience and almost no time in the oven and you're left with what (my) dreams are made of. Sweet, buttery, crumbly dreams.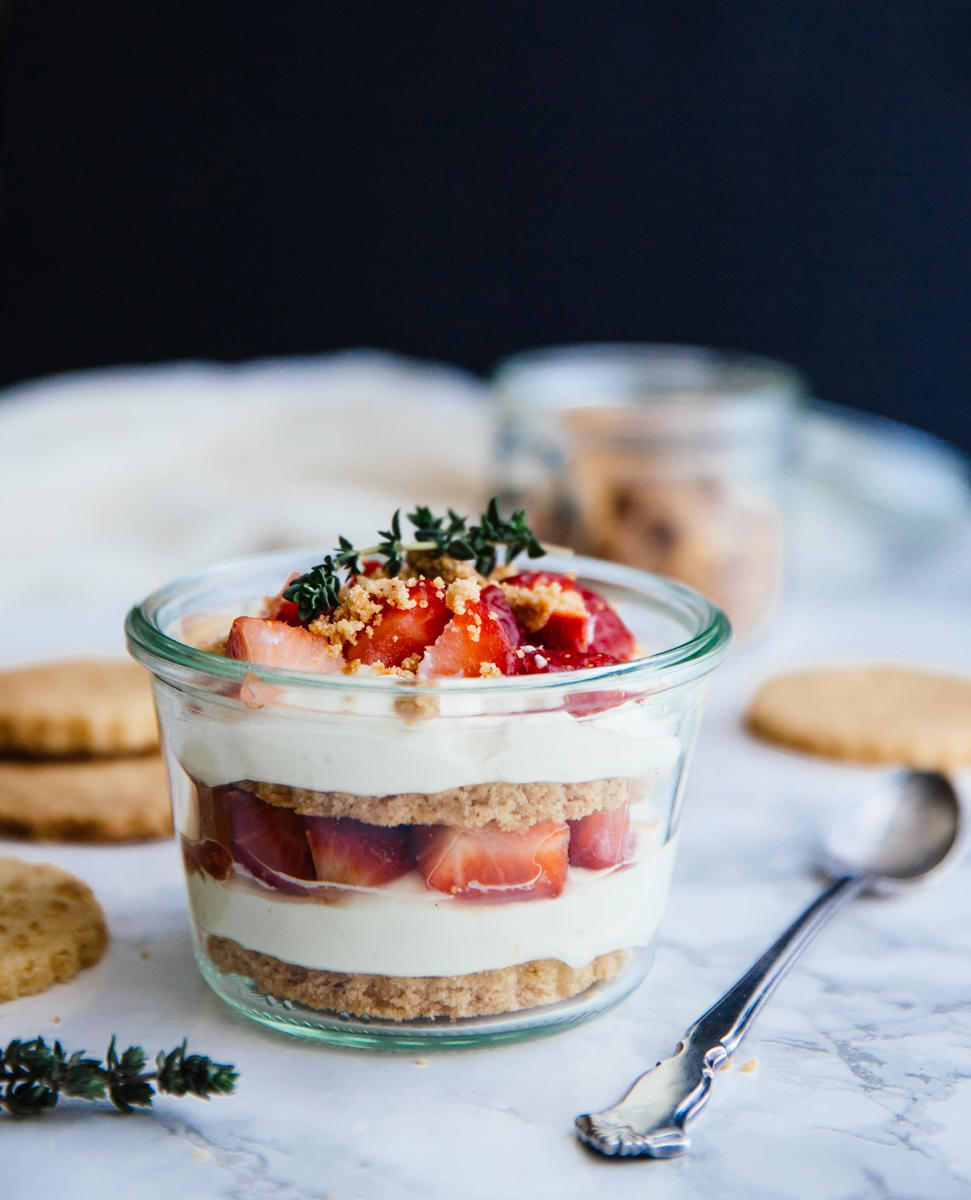 So there's sweet, juicy strawberries, macerated with fragrant thyme, lemon juice and dark maple, our dreamy shortbreads, straight out of the oven, golden and crisp- all we need is something to bring them together. As much as I love butter, I am not quite as enthusiastic about cream(s)- I find Greek yogurt can easily hold its own instead in many recipes; here, it is combined with thick mascarpone, lemon zest and extra maple, for a delightfully creamy consistency, subtly sweet and exactly right when paired with them other two. And so it goes: shortbread, cream, strawberries. And again. Dreamy.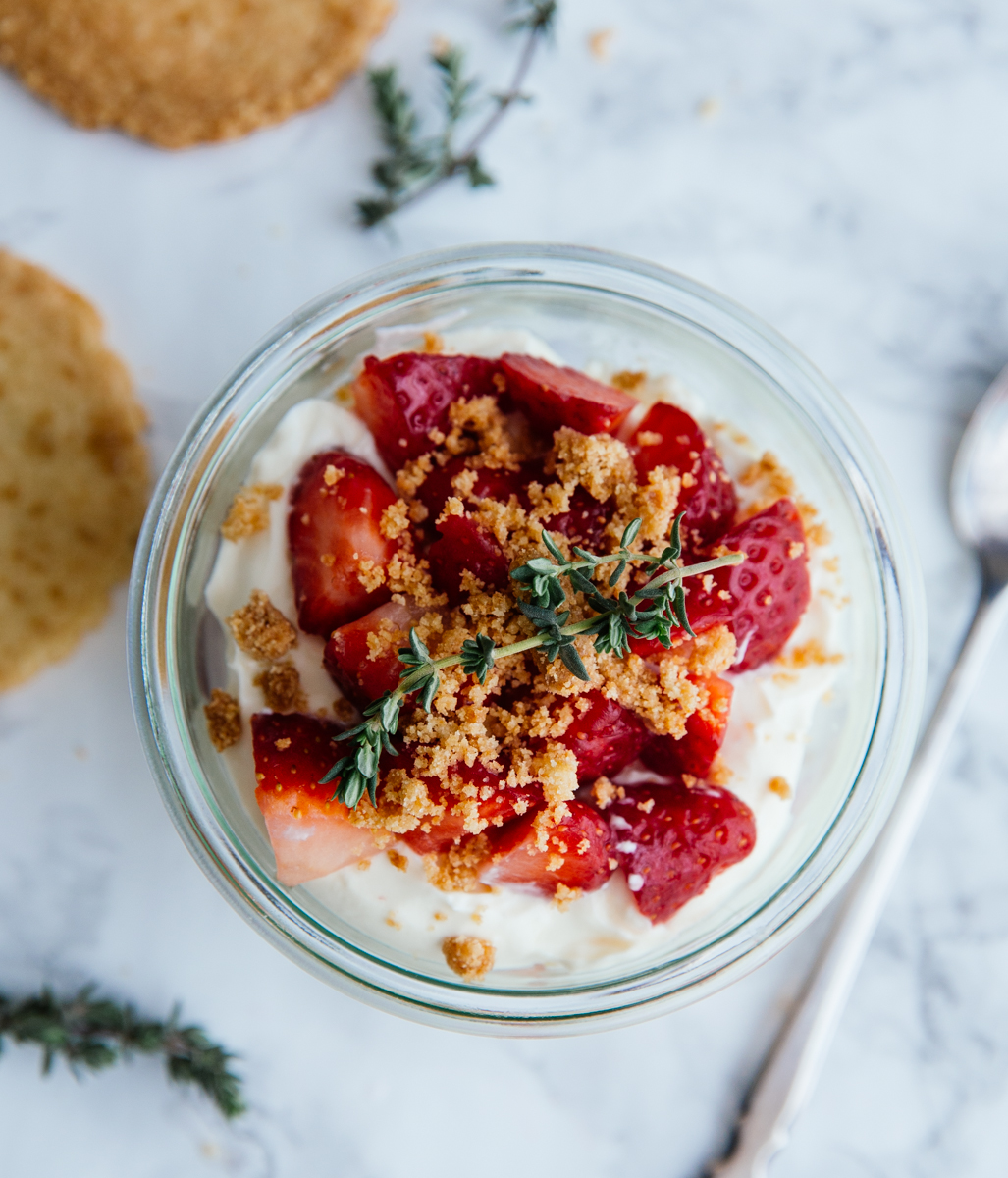 Shortbreads, strawberries & cream
WHAT
for the shortbreads*:
225 gr flour
a pinch of salt
100 gr caster sugar
225 gr flour, cold, in big chunks
100 gr semolina
25 gr demerara sugar
for the strawberries:
200 gr strawberries
1 teaspoon thyme, leaves picked
1 tablespoon lemon juice
2 tablespoons maple syrup
for the 'cream':
200 gr mascarpone
200 gr half fat Greek yogurt
1 tablespoon maple syrup
zest from 1/2 lemon
to serve: shortbread crumbs, thyme springs
HOW
Make the shortbreads: preheat the oven to 180ºC (160ºC FAN) and line two baking sheets with parchment paper.
Place the flour, salt, caster sugar, butter chunks and semolina in a food processor and pulse until they come together in a dough.
Lightly flour a surface and roll our to about 2cm thickness and cut out cookies (try to work quickly to keep the butter from getting too warm). Place on the baking sheets, sprinkle demerara sugar on top and bake in the preheated oven for 15- or until golden brown. Remove from the oven, let them cool in their trays for 5′ and then transfer on a wire rack to cool completely.
While the cookies are baking, macerate the strawberries: wash, hull and quarter them. Toss them gently with the maple syrup, thyme and lemon juice and set them aside for about half an hour, allowing the ingredients and aromas to come together.
At that time, also make the cream, by combining the mascarpone, yogurt, maple and lemon zest (use a spatula or spoon). Set it aside until ready to use (or refrigerate if your kitchen is too hot).
To assemble (ta-dah!): start with a shortbread, top with a big dollop of 'cream' and follow with about a tablespoon of the strawberries (don't leave out the delicious juices). Repeat and finish off with some cookie crumbles and a small thyme spring.
The shortbreads will keep in a cookie tin or jar for about 5 days.
*(I can't remember where I found this recipe, but it's the best one I've come across; if you do recognise it, give us a shout.)