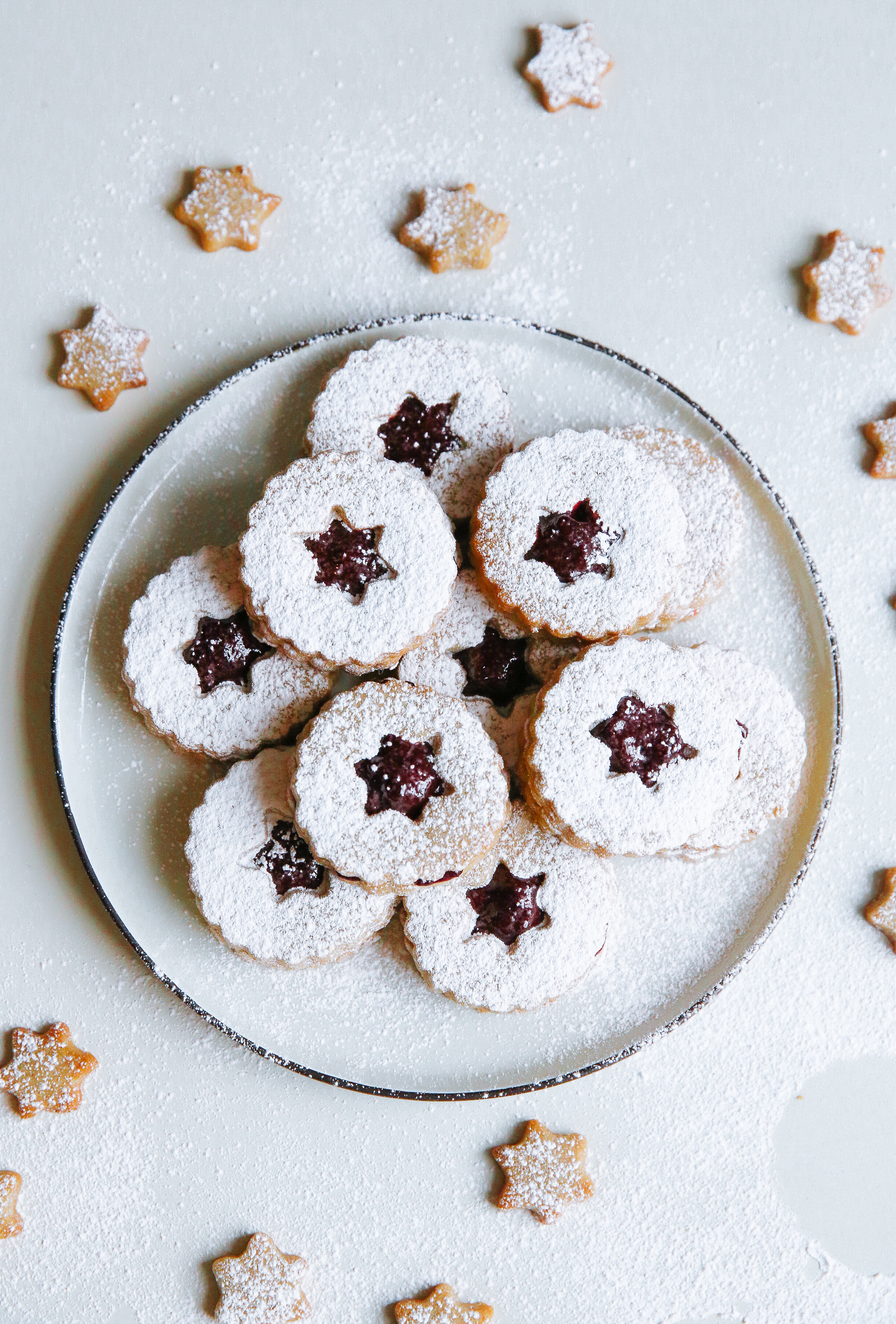 These past few days, I've been longing for some extra Christmas spirit-ness and festiveness and joy and whatnot. The house is fully (yet not full on) decorated, our Christmas jumpers are out and some most of the presents are wrapped; yet there was something missing. I couldn't put my finger on it for a while and then it hit me: baking! I hadn't done any festive baking this year. You know what I'm talking about: the kind that's easy and comforting, that makes the the house smell of cloves and cinnamon and citrus and butter, the kind that leaves you with small delicious bites, to be displayed on the coffee or dining table for everyone to enjoy.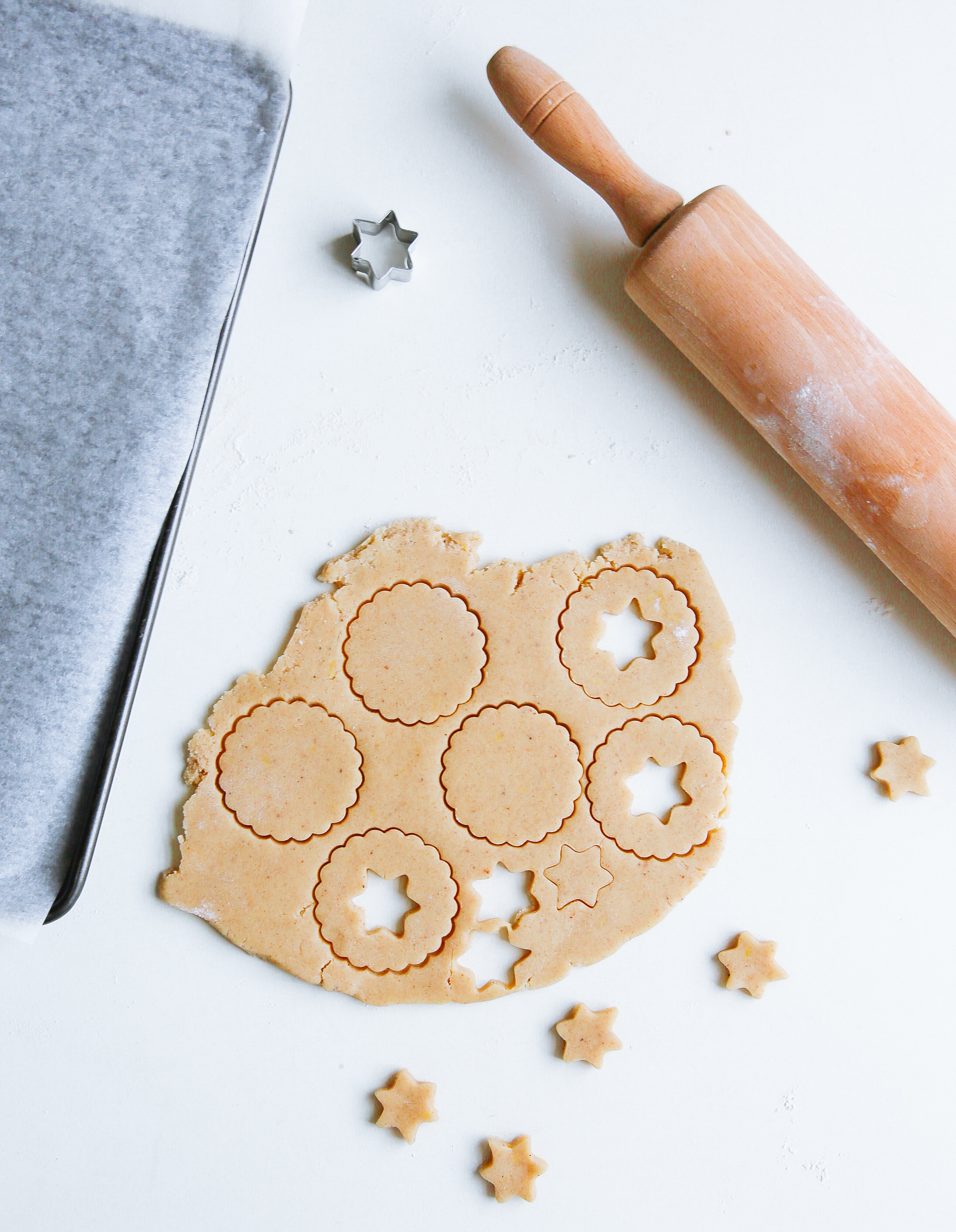 Back home, the two popular options are kourampiedes (buttery, fragrant and filled with crunchy almonds) and melomakarona (soft and sweet, drenched in honey and topped with walnuts). They are both delicious and perfect for softening (or intensifying) my homesickness. This year however, I opted for something different, yet season appropriate: linzer cookies, as pretty as they come, buttery, sweet and filled with delicious spices and lemon zest. And then sandwiched together with sweet blackcurrant jam and dusted with lots and lots of icing sugar.
And just like that, everything turned a little bit whiter, sweeter and more festive.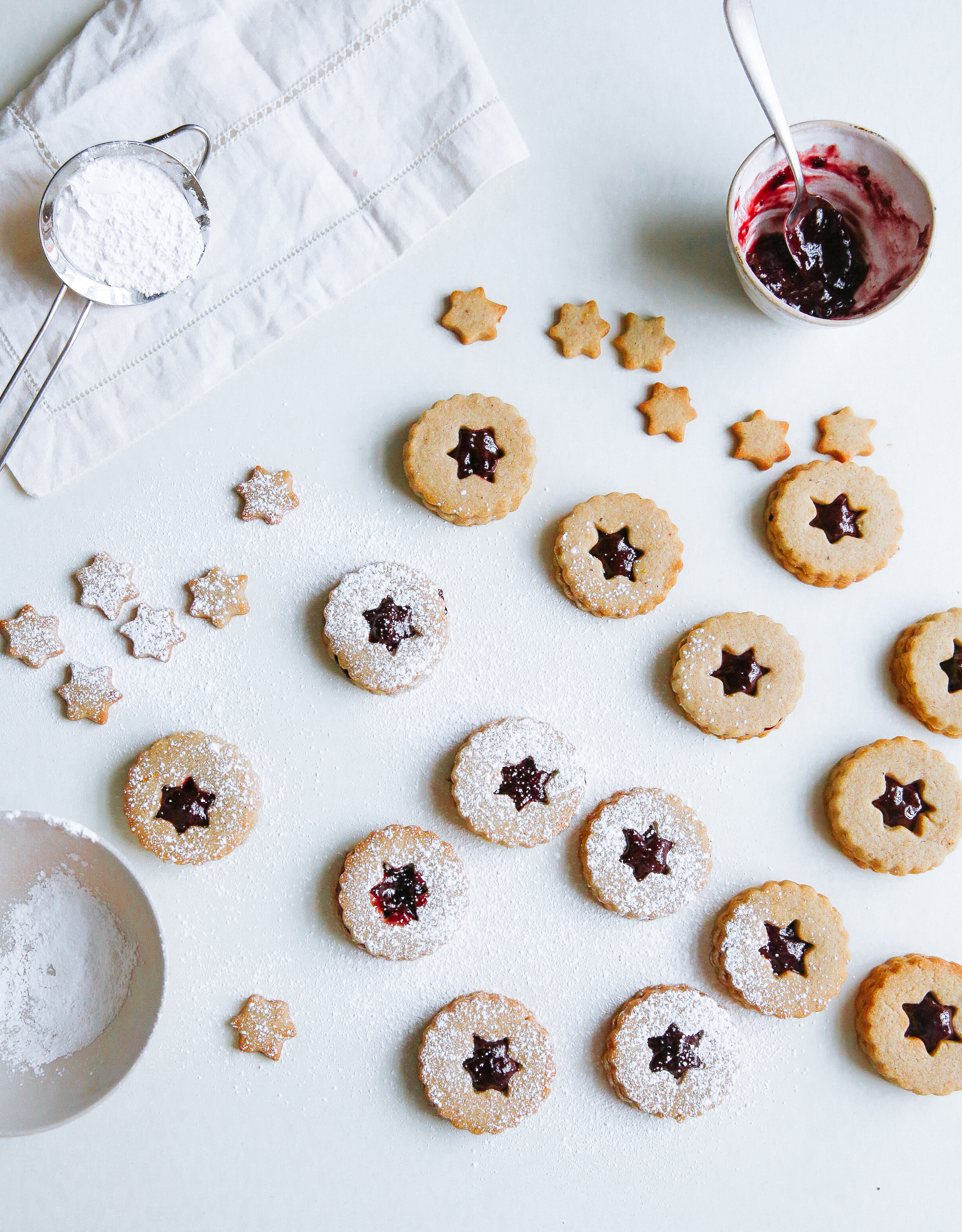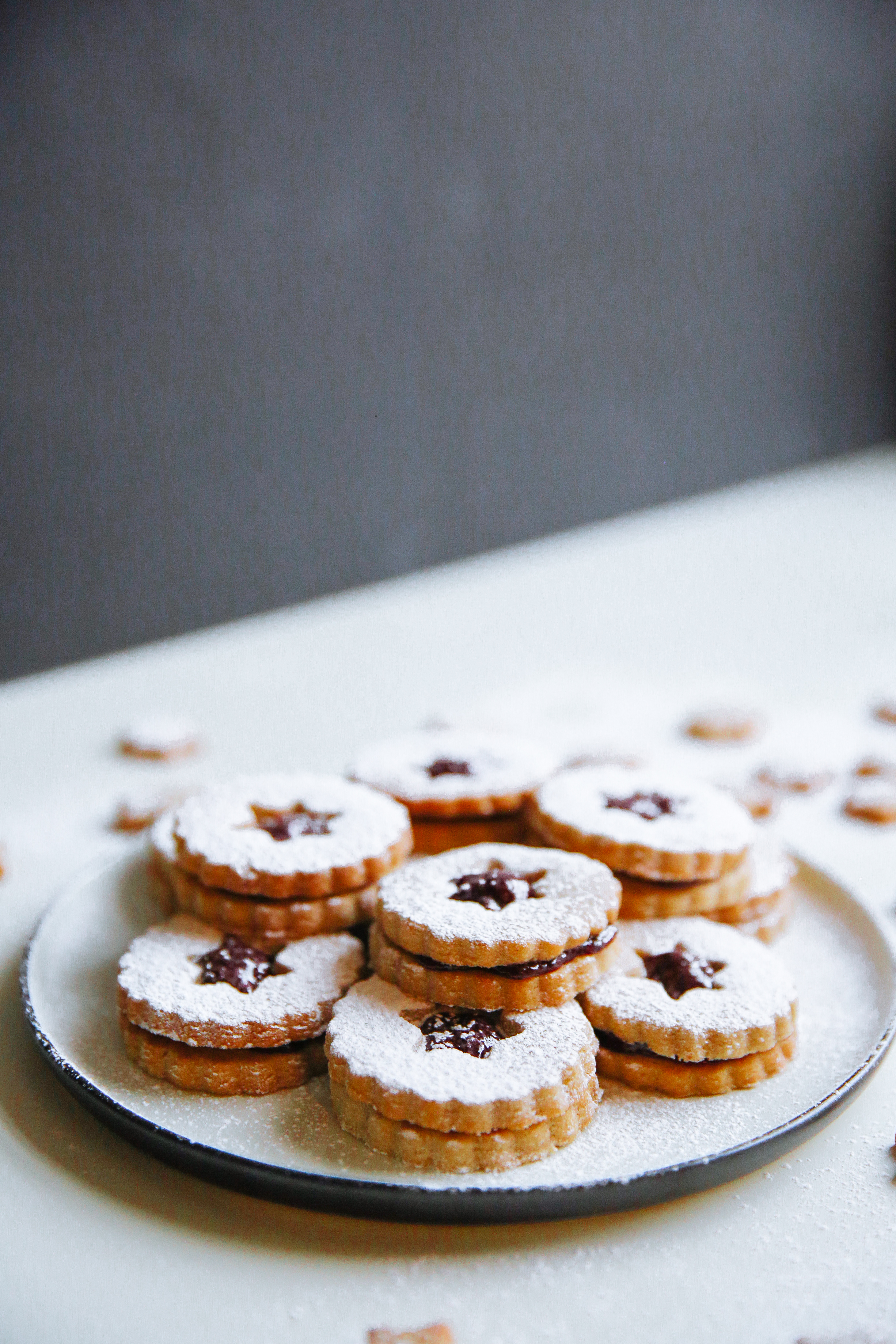 Spicy & lemony linzer cookies
INGREDIENTS
(makes about 20 5cm double cookies plus lots of cut out stars)
1 cup unsalted butter, cold
1 scant cup granulated sugar
a large pinch of salt
1 large egg
3 cups all purpose flour
1 teaspoon ground ginger
1/2 teaspoon ground cinnamon
1/2 teaspoon ground nutmeg
1/4 teaspoon ground cloves
1/4 teaspoon ground allspice
zest from 1/2 lemon
to serve: 1 cup blackcurrant jam, 1/2 cup icing sugar
METHOD
Beat the butter and sugar with the paddle attachment until pale and fluffy- about 3′. Add the egg and beat again to combine. Combine the flour, salt, spices and lemon zest and then slowly add to the mixer. Beat until the dough just comes together. Flatten, wrap in clingfilm and place in the fridge for one hour or up to 24 hours.
When ready to bake, preheat the oven to 180C (160C fan) and line two or more baking sheets with parchment paper.
Take the dough out of the fridge and roll out on a floured surface to about 1.5 cm thickness. Using a cookie cutter, cut out circles and in half of them cut out the middle as well (I used a small star-shaped cookie cutter for this). If at any point you feel the dough becoming too soft, place in the fridge for about 15′ and then carry on as before.
Place the cookies on the baking sheet and bake for 8-10′ or until just golden around the edges, rotating halfway through.
Allow the cookies to cool completely and then spread about 1 teaspoon jam over the full circles and top them with the cut out ones, pressing gently so they stick together. Dust generously with icing sugar.