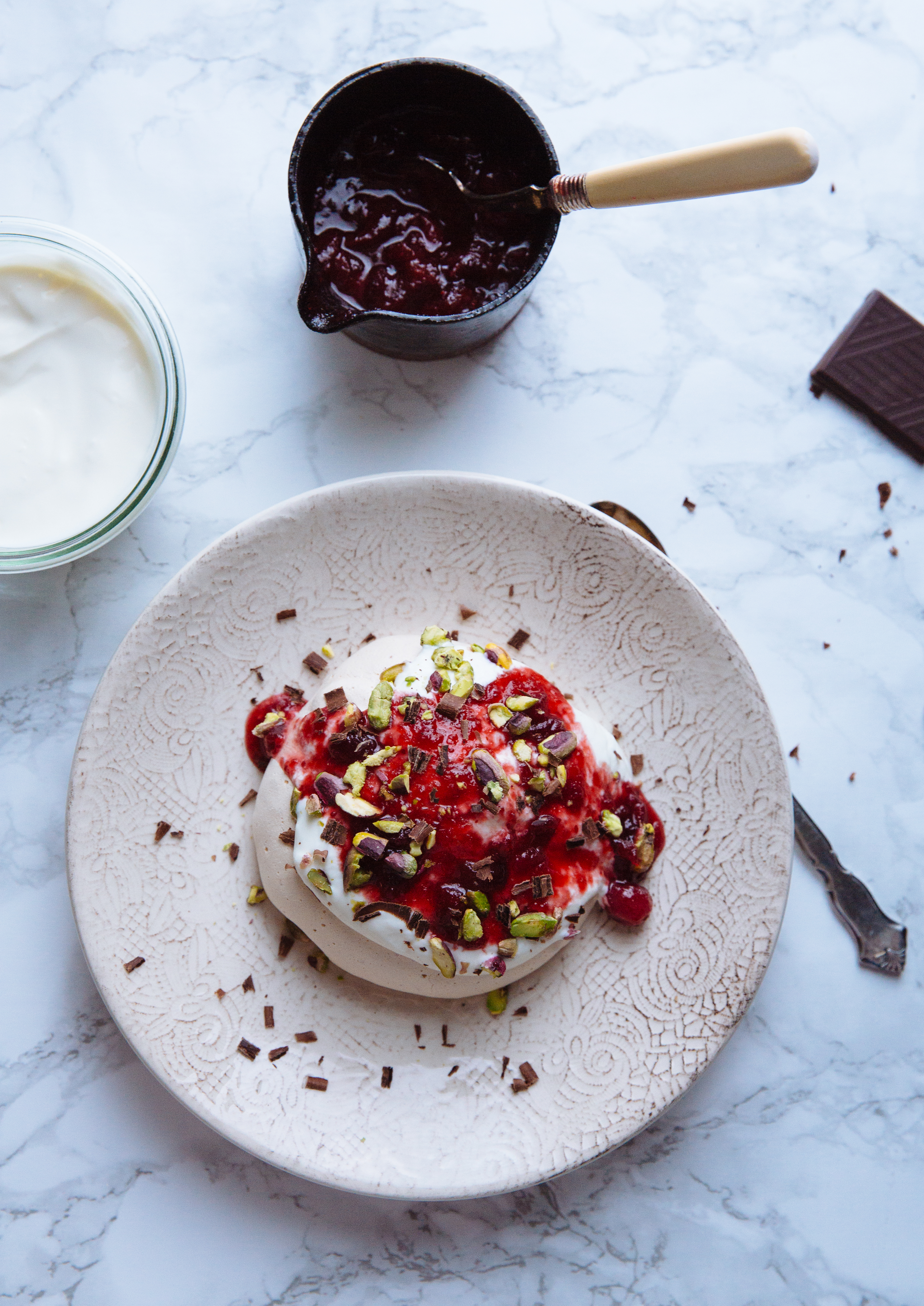 I've been doing a lot of baking the last couple of weeks. Maybe it's because of the cold and gloomy weather, which increases my longing for nesting and quiet nights in. So I bake. I measure, stir and fold; I go back to familiar recipes and test out new ones. I gather ingredients– sometimes carefully, lovingly, savouring their looks, taste, smell and texture; other times, I hurry and grow impatient- yet even then, when the kitchen and my spirit seem to be on fire, when my mind is not quite there- even then, there's some kind of magic in the process: in seeing ingredients change before my eyes, coming together, a whisk here, a fold there and there really is magic. Or something close to it, something you can savour, be somewhat proud of and share with others.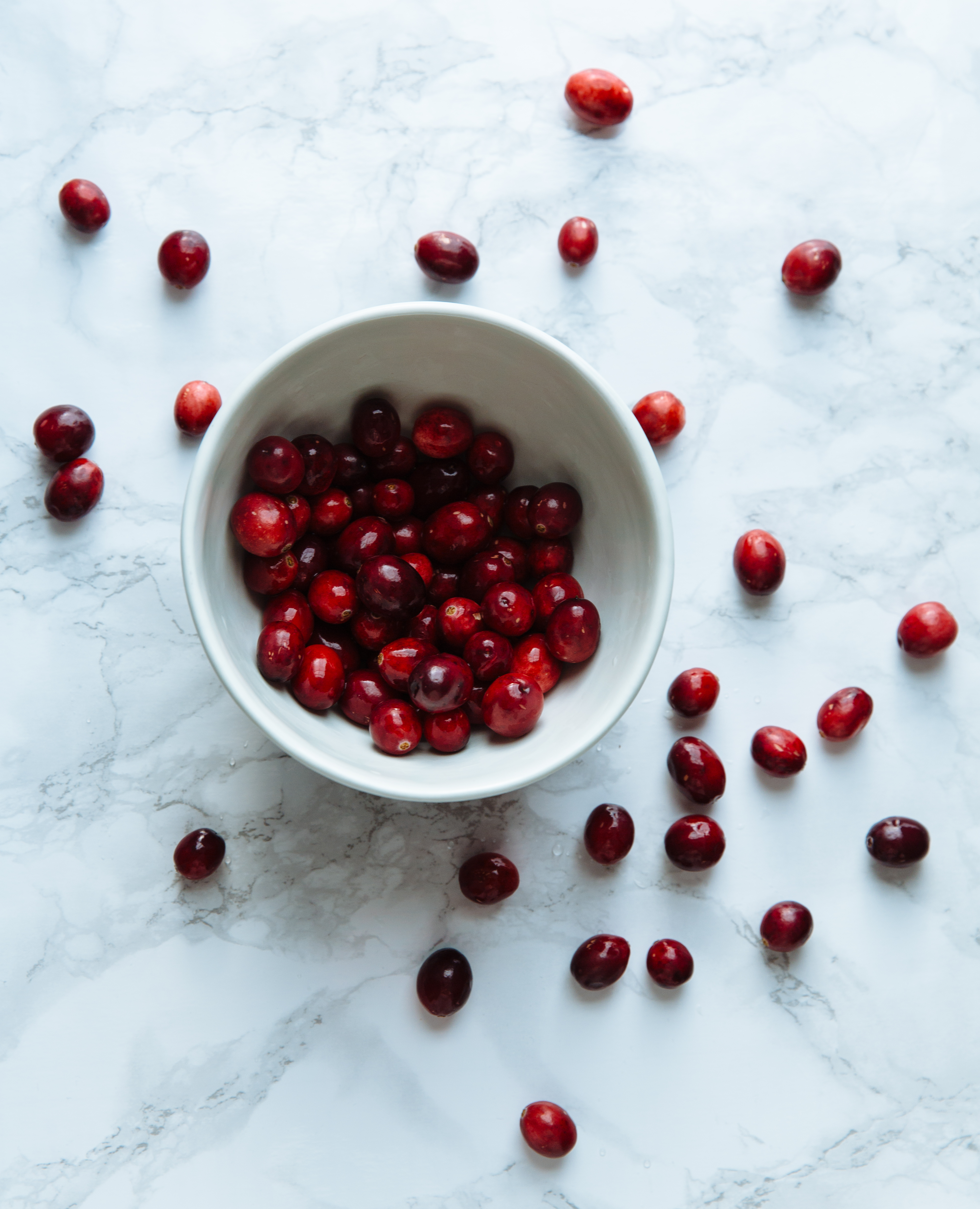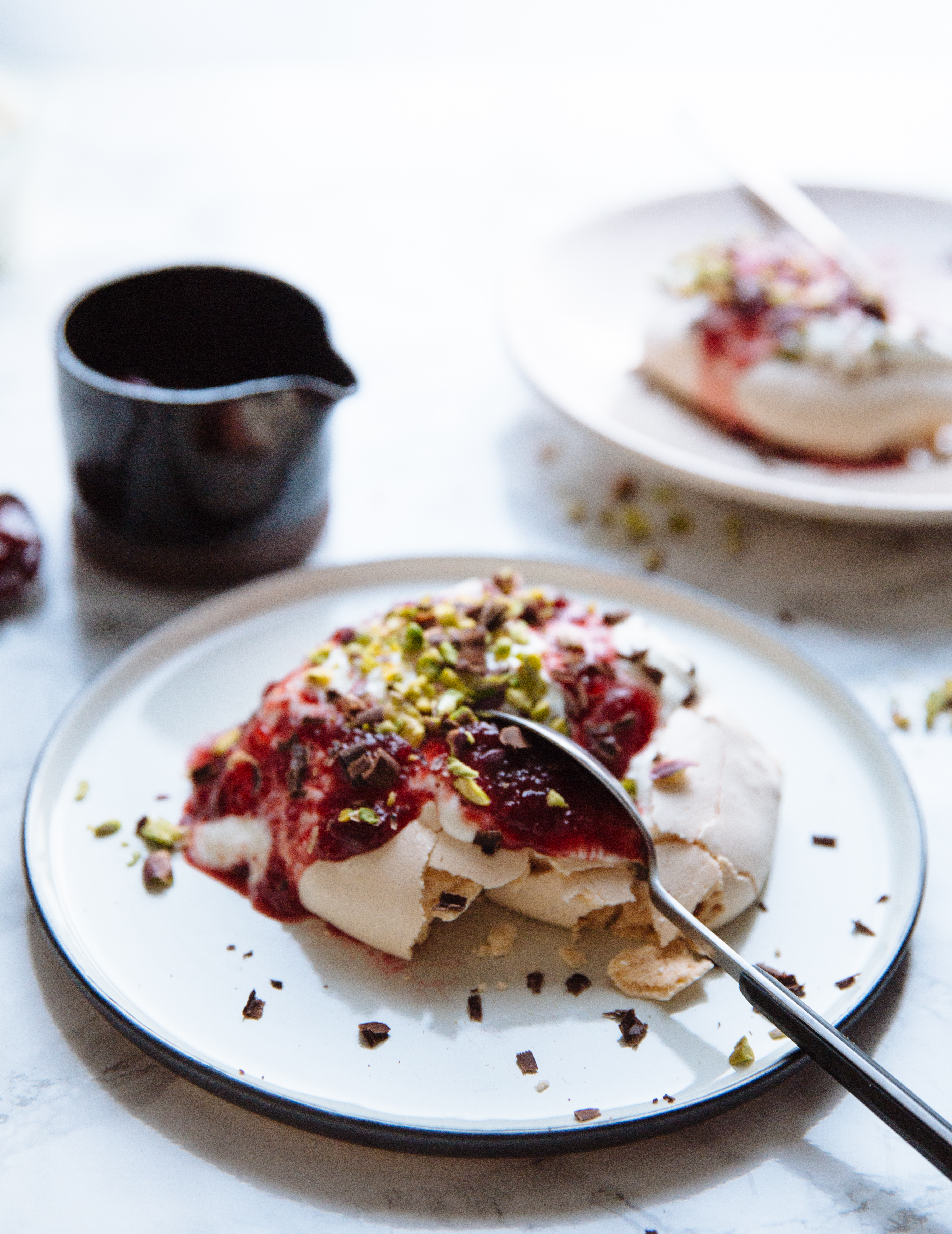 Meringues and pavlovas are not my favourite of desserts, yet I love making them. There's measuring, stirring and folding. There needs to be patience and no messing about. There's so little to work with (eggs and sugar and not much else) yet the process always fascinates me: I can barely keep my eyes off the mixer bowl while the eggs turn from a watery unappealing mess to soft peaks; and then stiff peaks, perfectly white and a little sticky and so beautiful.
I spoon them onto a tray carefully and take a few steps back again, allowing them to be transformed yet again to little clouds, hard on the inside and sticky and soft on the inside. And when the waiting is over, I grow impatient again and start playing with ruby red cranberries, perfectly wintery orange zest and strong, fragrant whiskey.
And so I bake: pillowy yet sturdy meringues topped with creamy Greek yogurt, a sweet & tart quick cranberry sauce, emerald pistachios and bittersweet chocolate chunks. Layers and colours and textures, winter and comfort and patience on a plate.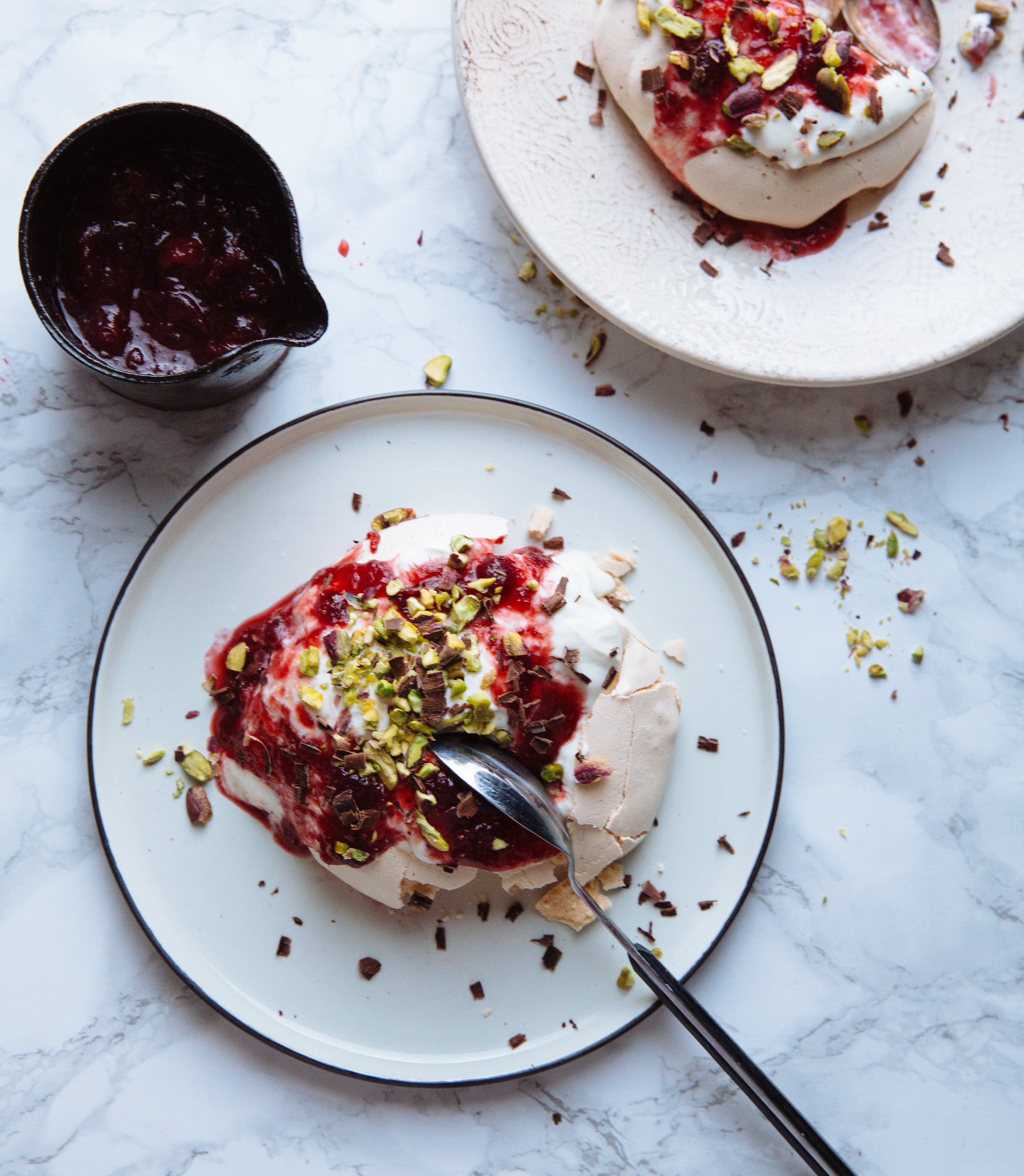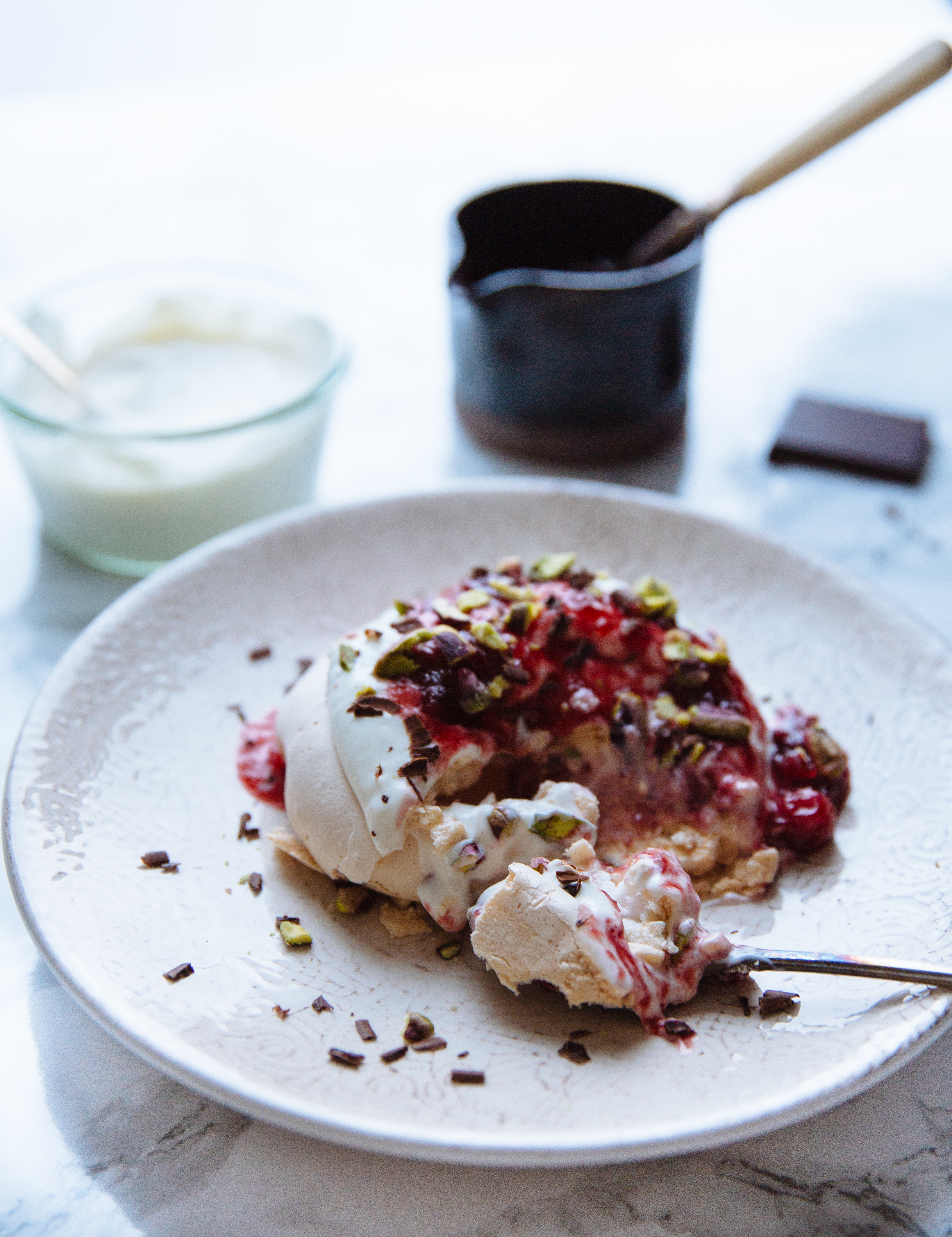 Cranberry, dark chocolate & pistachio pavlovas
INGREDIENTS
for the meringues:
3 large egg whites, at room temperature
160 gr caster sugar
1/2 teaspoon white wine vinegar
a small pinch of salt
1/2 tablespoon cornstarch
for the cranberry sauce:
150 gr fresh cranberries
1/2 cup orange juice
60 gr muscovado sugar
1 tablespoon whiskey
100 ml filtered water
1 large piece of orange peel
to serve:
1 cup full fat Greek yogurt
1/2 cup roughly chopped pistachios 
1/3 cup finely chopped dark chocolate
Preheat the oven to 110C (fan).
Make the meringues: start by wiping down the mixer bowl with some lemon juice and kitchen paper- you want to remove and possible traces of oil.
Add the egg whites and beat with the whisk attachment on low until frothy. Add the vinegar and salt, increase the speed to medium and beat until soft peaks form.
Increase the speed slightly more and add the sugar, one tablespoon at a time, allowing it to incorporate before each addition.
Turn the speed up to high and continue beating until stiff peaks form- about 3′.
Add the cornstarch and beat for another 5′.
Line a large baking sheet with parchment paper and spoon six large dollops of the mixture onto the pan. Bake for 50-55′, or until the meringues are set on the outside. Don't open the oven door but do keep an eye on them. If they start turning brown, turn the heat down slightly.
When they are done baking, leave in the oven door ajar until completely cool.
While the meringues are cooling to room temperature, make the cranberry sauce: combine all the ingredients except the whiskey in a small sauce pan. Bring to a boil and then lower the heat to a simmer; add the whiskey and simmer for 8-10′. Remove from the heat and allow the mixture to cool.
To serve: place a meringue on a plate and top with a spoonful of greek yogurt, another spoonful of the cranberry sauce and a good sprinkle of pistachios and dark chocolate.