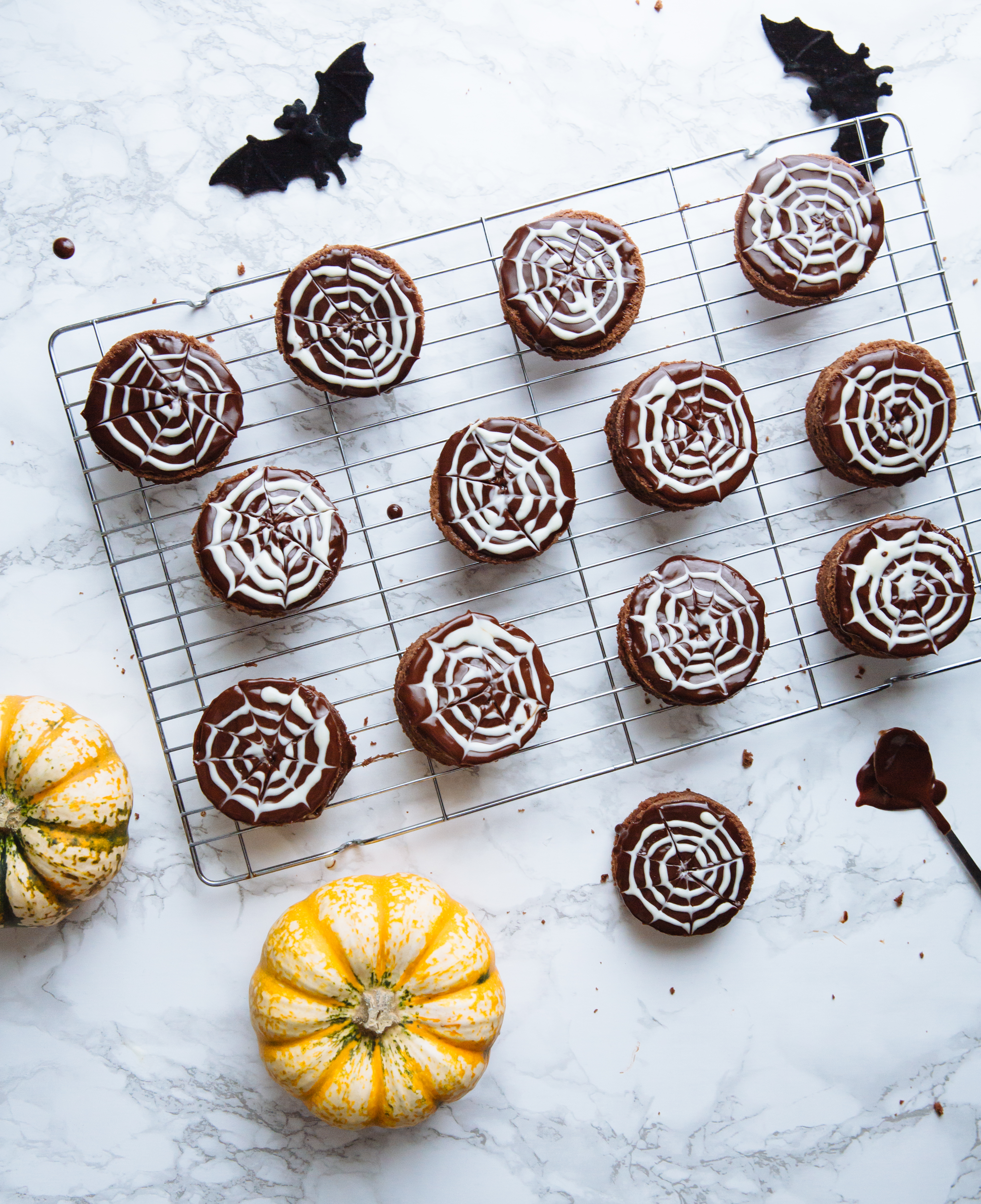 Less than a week. That's how long there's left before Halloween- not that I'm counting. For the past few years, this time in October I get all excited and giddy and spend a ridiculous amount of time decorating the house, testing recipes (this candied salty cashew popcorn and these fruity and spicy cookies are among my favourites) and doing research for my costume. Last year, Halloween was admittedly a bit of a bust. No matter how excited I was, not matter how many bat-shaped things I'd eat make, not matter how spookily dreary London was, the happy/haunted feeling I so love was just not there.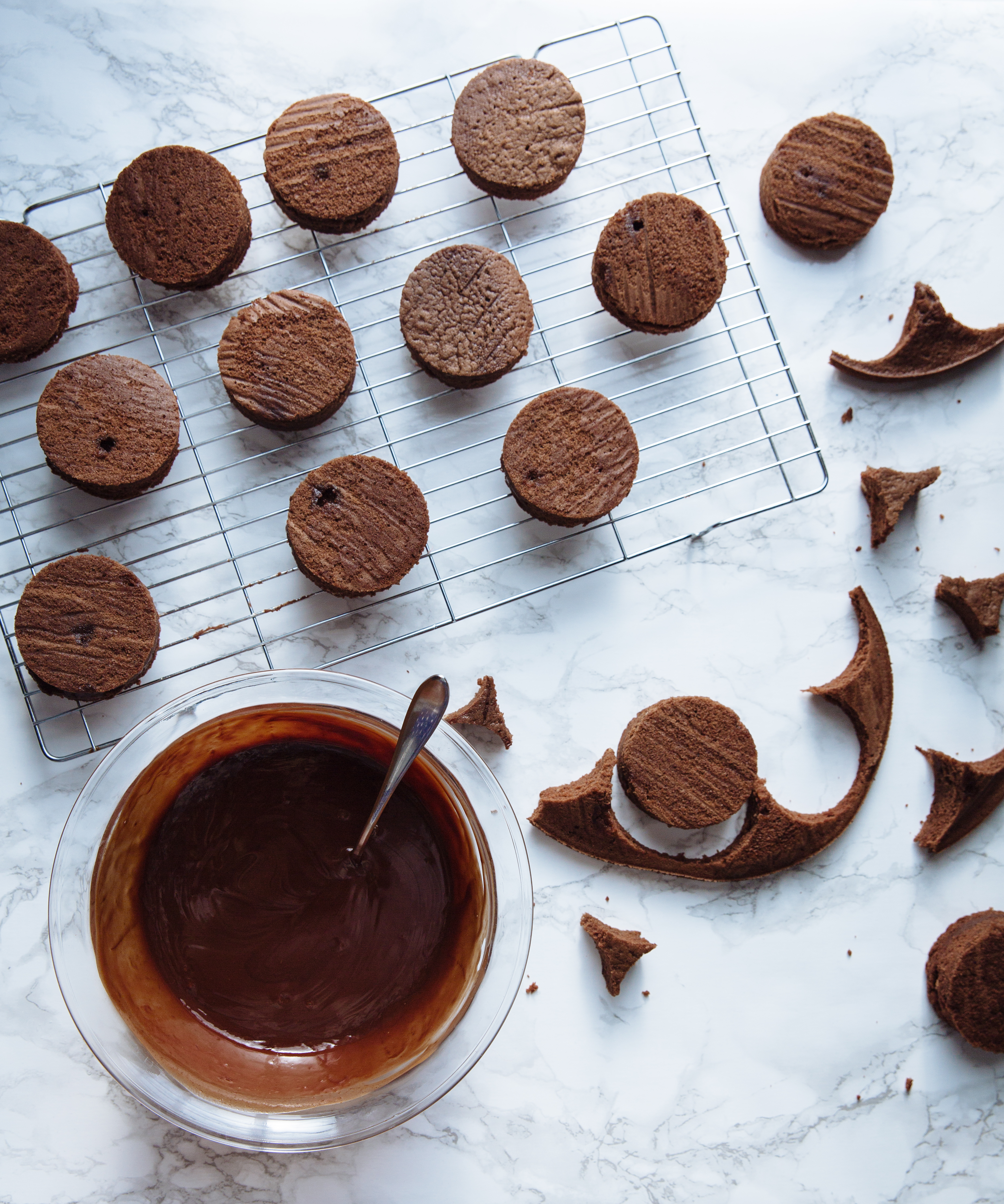 This time around, I again have super high hopes. And while I'm trying to keep the house decor to a chic minimal, I have gone all out in the baking department with more spooky desserts I know what to do with. Seriously, there really is such a thing as so much chocolate and candy in one house.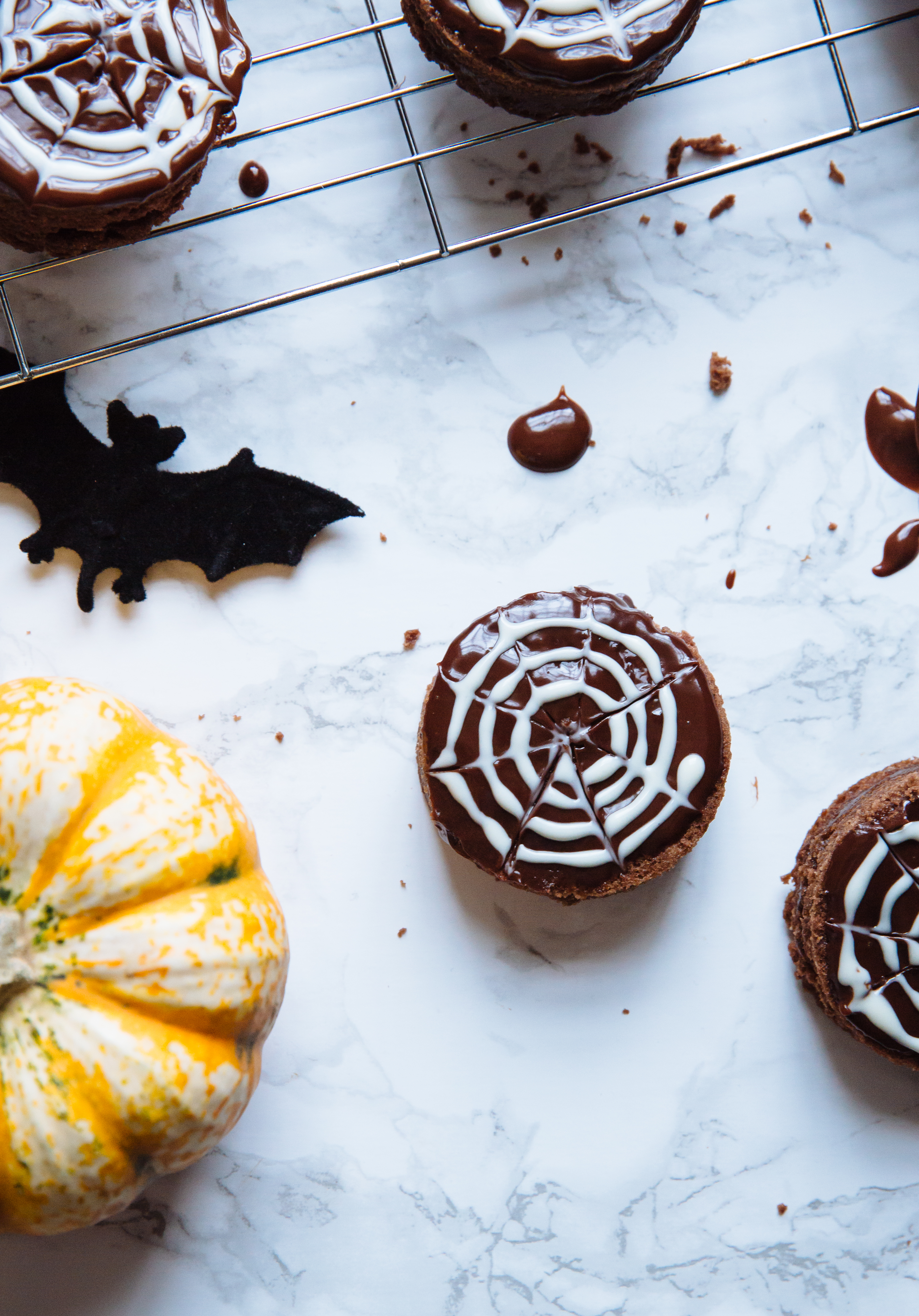 On that note, here they are, my little spider cakes, made with lots of love, even more chocolate and a quite unsteady hand. Coconut milk and oil for subtle aroma and to balance out said chocolate for a soft, almost brownie like cake. A simple icing with lots of plain chocolate, cream and just enough honey to make things super glossy and kinda caramel-y. White chocolate and a toothpick to finish off our spider cakes before we let them set and get back to our pumpkin carving and placing yet another skeleton against a mirror. Boo time is the best time.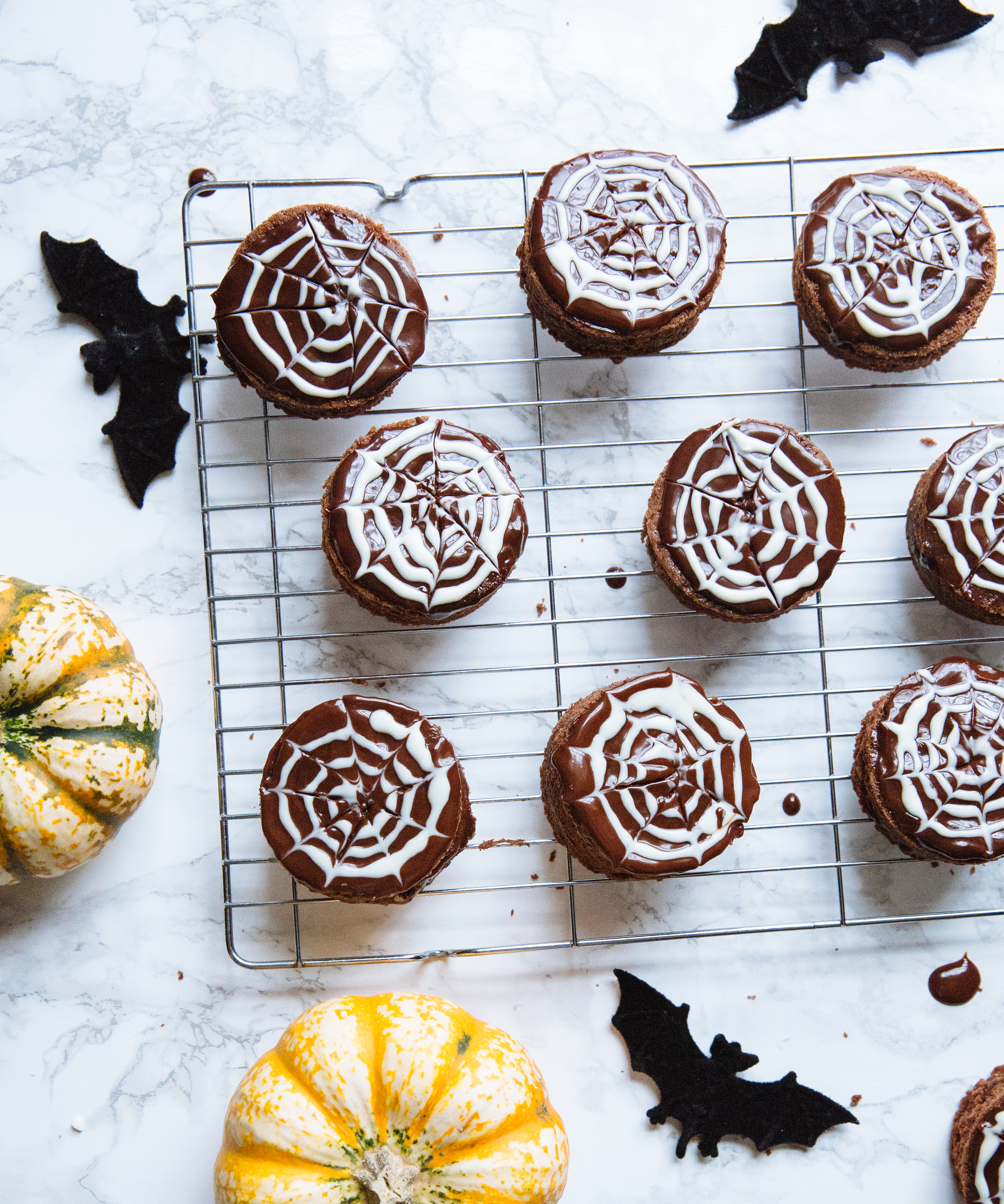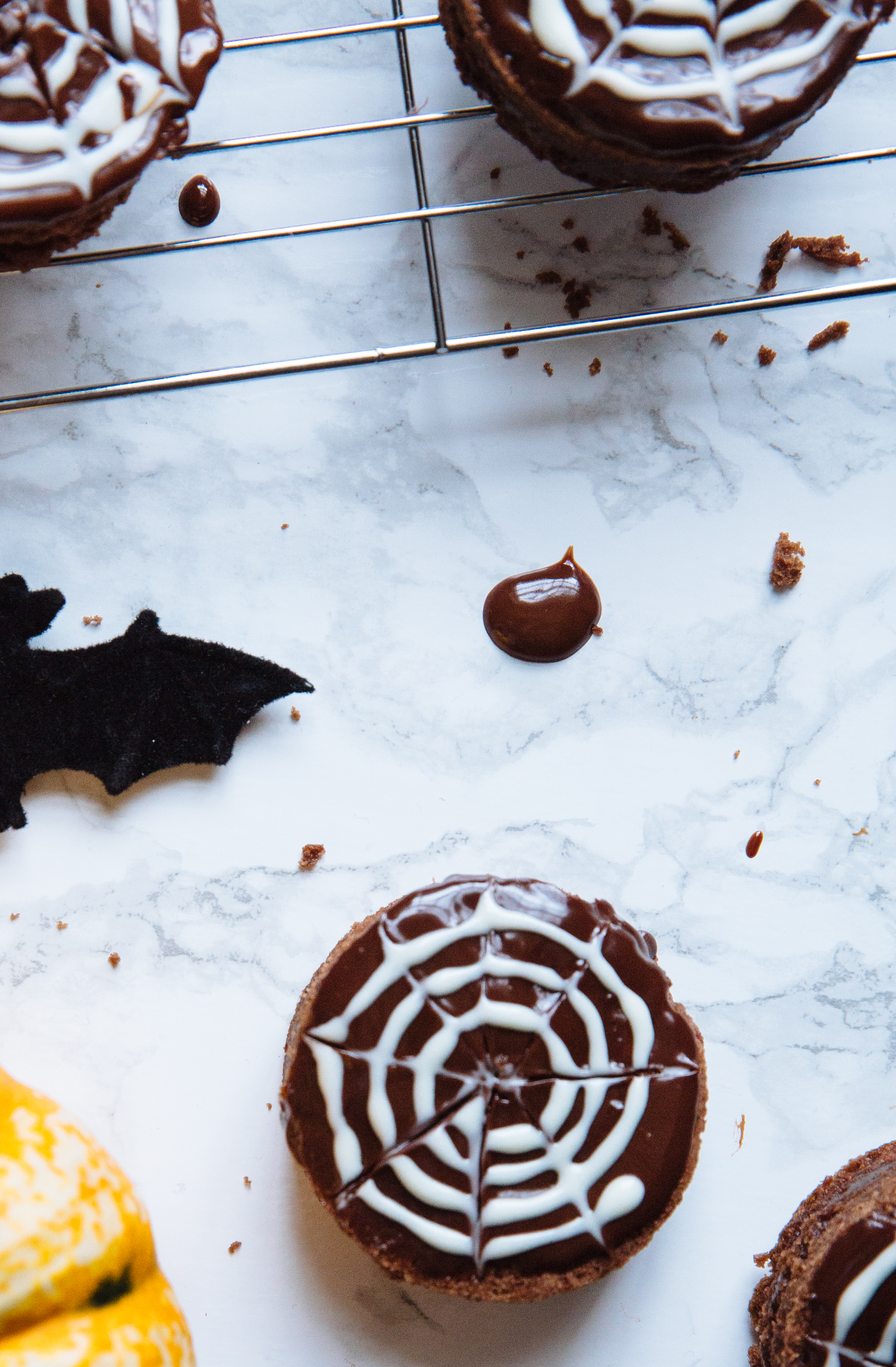 Spider cakes
batter (enough for two thin round cakes or one thick one- I made two):
1/2 cup coconut oil, soft
1 1/2 cups caster sugar
3 medium eggs
a pinch of salt
3 cups all purpose flour
2 1/2 cups cocoa
1 1/2 teaspoons baking powder
1 teaspoon baking soda
1 1/4 cups milk (I used coconut but any other dairy or dairy free option would do)
1 teaspoon vanilla extract
chocolate icing:
300 ml double cream
200 gr plain chocolate
2 1/2 tablespoons honey
spider webs: 60gr white chocolate
METHOD
Preheat the oven to 180C (160C for air), line two (or one) round baking pans with parchment paper and butter their sides. Set aside. Combine the dry ingredients and set aside as well.
Beat the coconut oil & sugar until fluffy, add the eggs one at a time and beat well to combine.
Reduce the speed to low, add the dry ingredients and incorporate. Add the milk and increase the speed to medium, beating for a couple minutes until fully combined.
Divide between the two pans and bake for about 25′, or until an inserted skewer comes out clean.
Allow the cakes to cool in their pans for 15′ and then carefully invert on to a wire rack to cool completely.
While the cakes are cooling, prepare the frosting: place the chocolate, cream and honey in a medium bowl, over a pot of simmering water (the bottom of the bowl should not touch the water). When everything is melted and combined, remove from the heat and set aside to slightly cool. Repeat with the white chocolate and once melted, transfer to a piping bag.
Using cookie cutters, cut smaller cakes and cover their tops with the chocolate icing using a large spoon or offset spatula. Take the piping bag and starting from the centre, pipe a spiral out towards the edge of the cake. Take a toothpick and starting from the centre again, pull through the circles towards the edge. Repeat all around the cake and then frost the rest of the cakes.
Allow the icing to set for about 30′ and keep in the fridge- for up to 5 days.