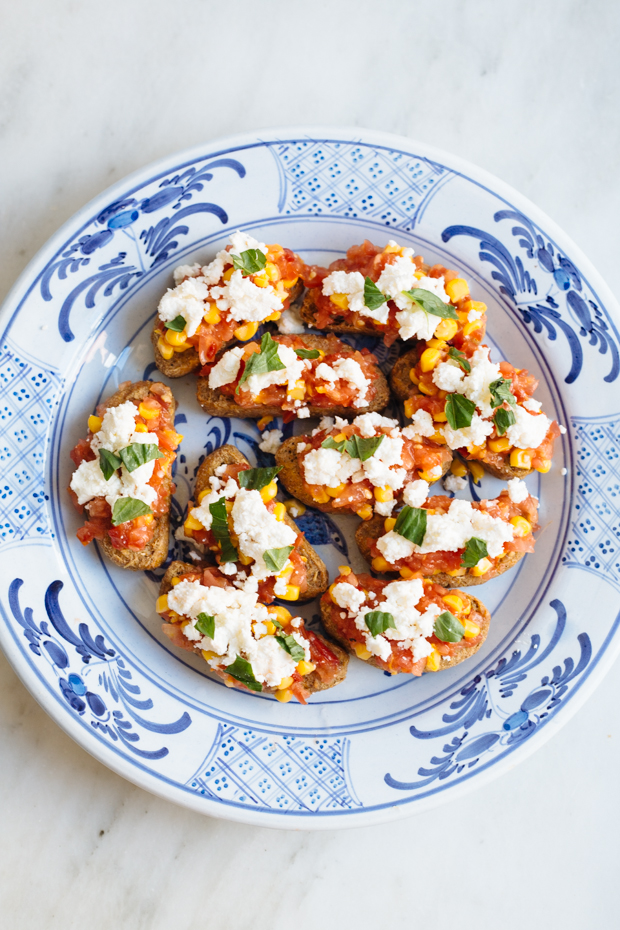 With the exception of a super rainy, gloomy Saturday, the weather in London has been almost unseasonably sunny and hot- and the forecast for this week is similarly bright and promising. We won't be around for it, but luckily California also promises a beautiful Indian summer. And while I kinda can't wait for pumpkins and apples galore, I'm happy to enjoy the beautiful summer produce for a little while longer. My favourites at the moment: juicy tomatoes and crisp corn on the cob.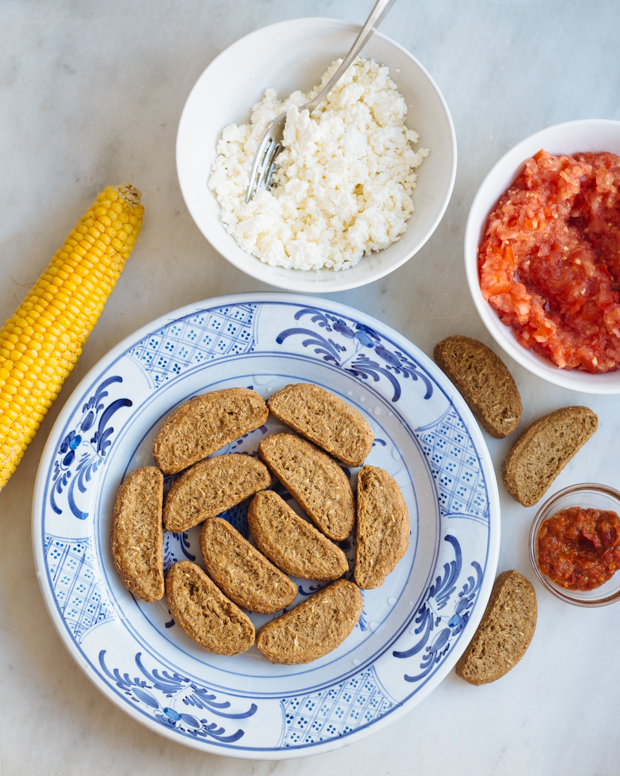 Every summer, I rave about tomatoes again and again and corn is almost equally close to my heart. Here, they are combined in a variation of one of my favourite Greek dishes: dakos. Dakos is essentially crunchy and delicious rusks made of wheat, barley or a combination of the two, topped with fresh tomatoes, grated or chopped, tossed with extra virgin olive oil, some vinegar and topped with feta crumbles, oregano and/or fresh basil and often capers too. It's the perfect little summer bite, filled with fresh, seasonal ingredients, crunchy, juicy and smooth all at once.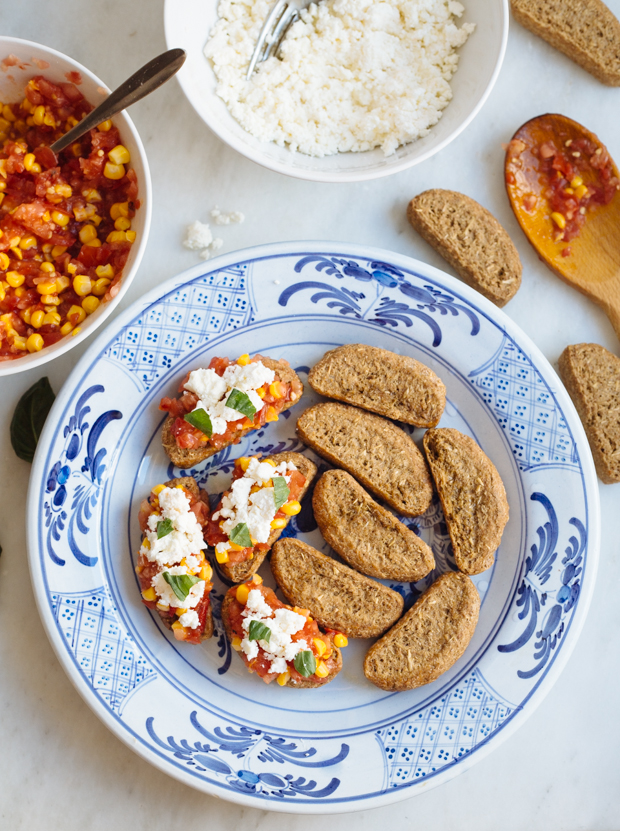 For this version, I've spiced up the tomatoes with some spicy storebought red pepper salsa, mixed the feta with some ricotta for extra smoothness and decided at the last minute to swap the capers for corn- my sister had literally just walked in with the most beautiful corns on the hob and I could not resist their looks. Plus, a little extra subtle sweetness goes perfectly with the saltiness of the cheese and adds the perfect pop of colour to the dish.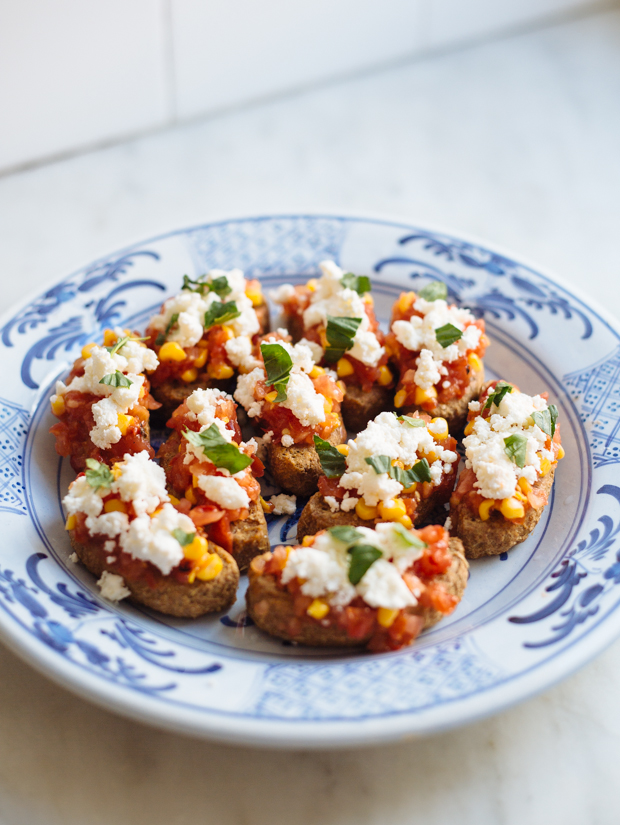 If you cannot get a hold of the rusks (or decide you want to skip them, seeing as they are ridiculously expensive outside Greece), you can use a whole grain baguette, crisped up in the oven and if you can whip up your own salsa, things will of course get extra tasty. Anyway you go, you really can't go wrong with this (new) summer favourite, a play on red and yellow, the perfect dish for this perfect (still) summery weather.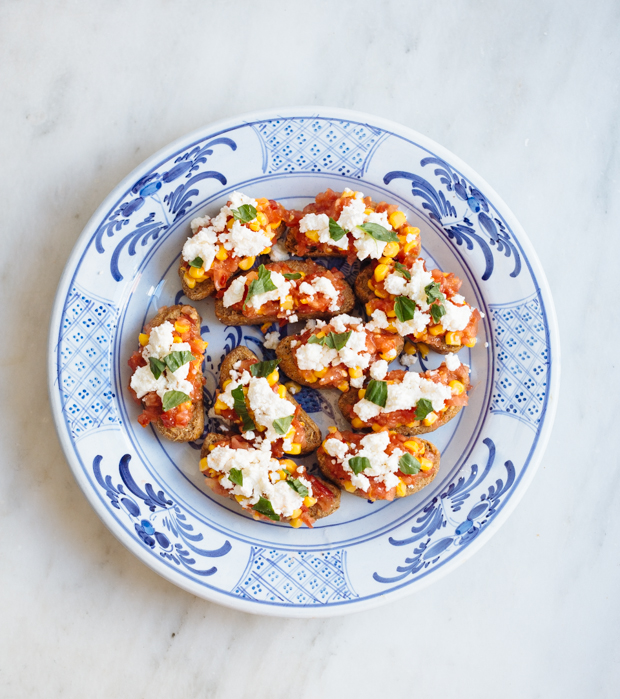 Tomato & corn dakos
INGREDIENTS (enough for at least 20 pieces)
3 medium tomatoes
1 large corn on the hob
1-1/2 red pepper spicy salsa (or pesto)
1/2 cup feta, crumbled
1/2 cup ricotta
salt and pepper, to taste
extra virgin olive oil
to serve: fresh basil leaves, torn
METHOD
Preheat the oven to 200C (180C for air). Place the corn on parchment paper and rub with some olive oil, salt and pepper.
Combine the two cheeses. Quarter the tomatoes, place them in a food processor and pulse to a very thick pulp. Put through a strainer to remove most of the liquid and then combine with the salsa. Remove the corn from the oven, allow to cool and combine the kernels with the tomatoes and salsa. Taste and add some salt if needed.
Very briefly run the rusks under cold tapper water and place on a serving dish. Drizzle with some olive oil and top with some of the cheese, followed by about a teaspoon of the tomato and corn mixture. Drizzle some extra oil if needed, ground some black pepper and top with the torn basil.