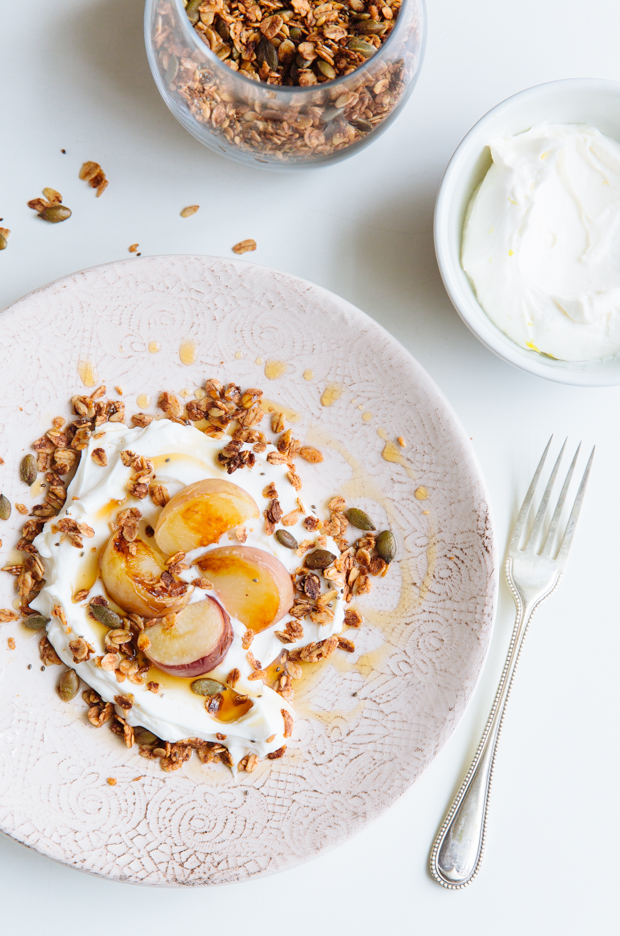 When summer approaches and along with it come all the beautiful seasonal fruit, peaches somehow escape me at first. I go crazy over strawberries, blueberries, blackberries and raspberries; I'm smitten with nectarines and then, in the middle of said love affairs, I see peaches. And every time, I just can't explain why the escape me- especially the small, flat ones. They are so cute and pretty and aromatic, I want to grab all of them, take them home, look at them for a few days and then play with their soft, pink skin. Are you with me?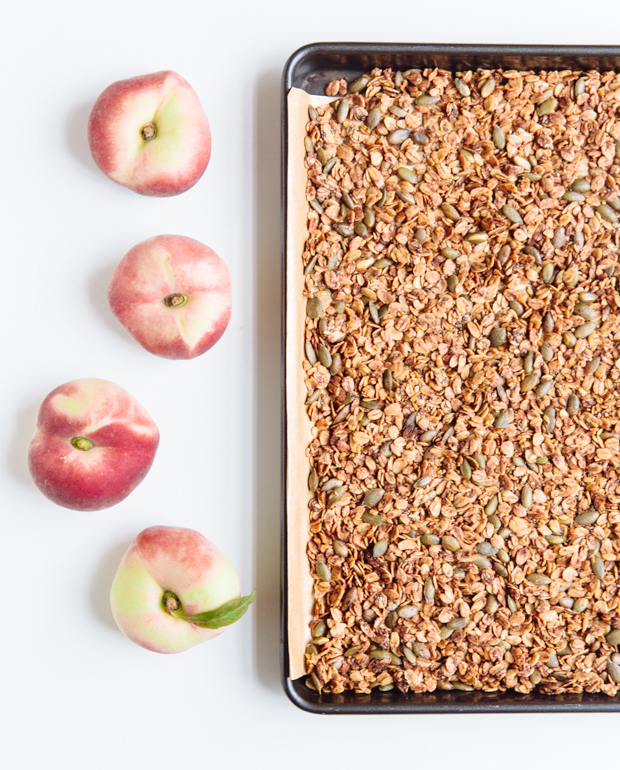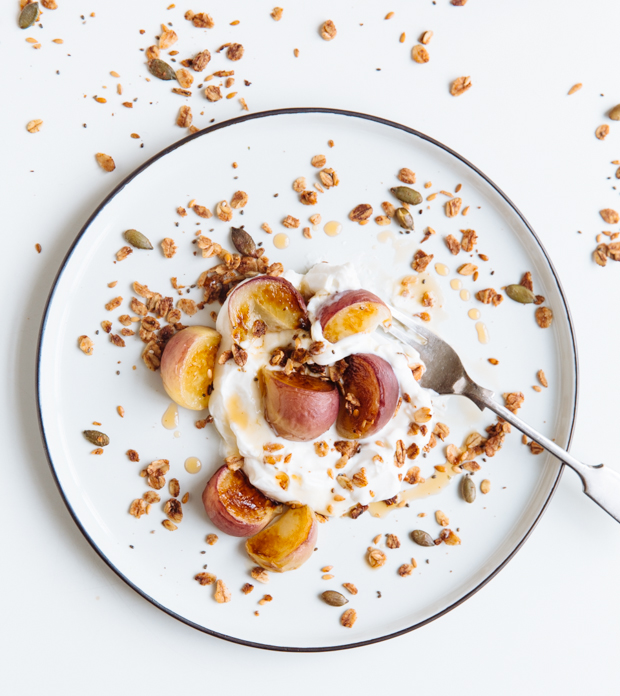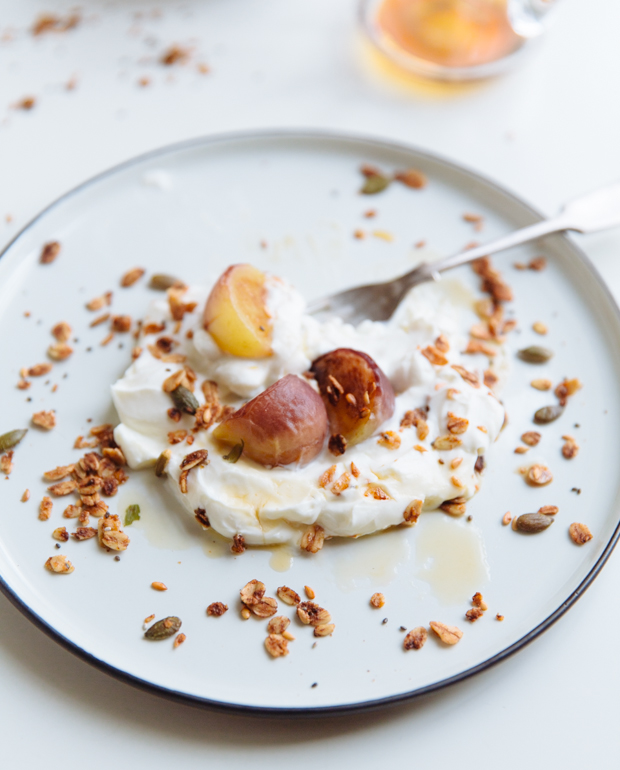 This year, berries have stolen my heart once again, I've already eaten my weight in melons and following my family's tradition, I'm waiting to cut the summer's first watermelon with my folks. And peaches! Ignored at first, they've once again sneaked their way into my fridge and into my heart.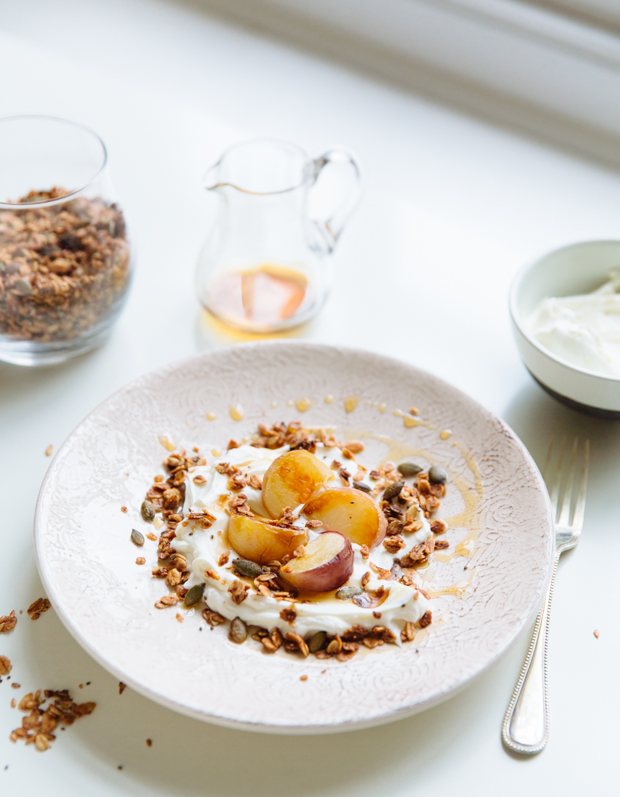 For this dish of baked peaches & mascarpone you'll need to do so little, it's ridiculous. Beautiful peaches brushed with a touch of coconut oil and maple and baked until golden and soft; then, simply served over a big dollop of mascarpone and yogurt and a good sprinkle of delicious, crunchy homemade granola for the perfect kinda decadent breakfast or treat. Peaches, you pretty little summer devils, we've done it again, we've made magic together!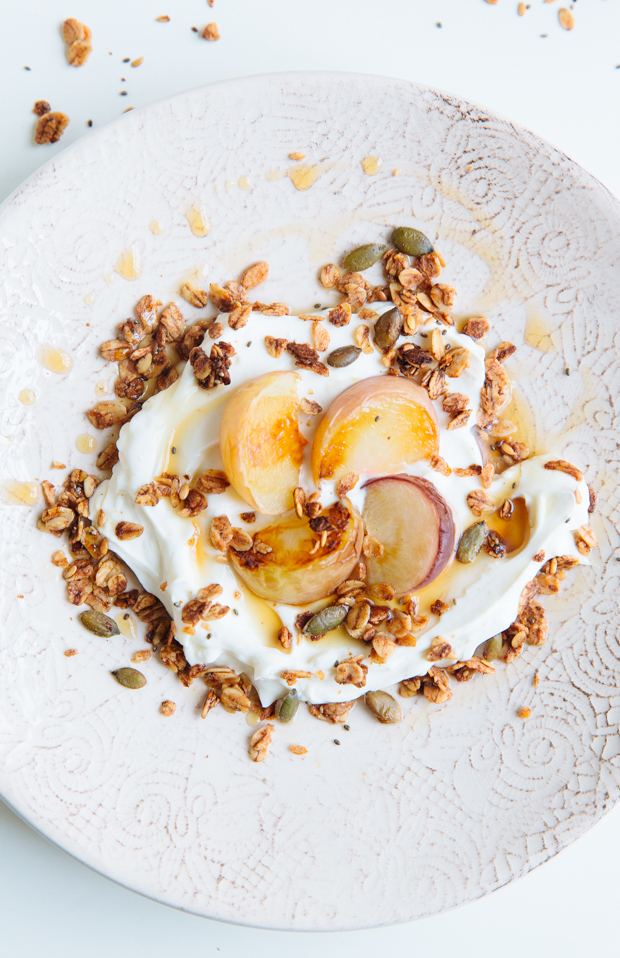 Baked peaches & mascarpone
INGREDIENTS
granola:
3 cups old fashioned rolled oats
1 cups seeds (I used a mixture of pumpkin, linseed and chia)
1/2 teaspoon cinnamon
a pinch of salt
2 tablespoons coconut oil
2 tablespoons honey
1 1/2 tablespoons maple syrup
1/2 teaspoon pure vanilla extract
4 peaches (& extra coconut oil and maple to coat)
200gr mascarpone
3/4 cups half fat Greek yogurt
1/2 teaspoon lemon zest
METHOD
Prepare the granola: preheat the oven to 170C (150C for air) and line a large baking sheet with parchment paper.
In a large bowl, combine the oats, seeds, cinnamon and salt and set aside.
Place the coconut oil, honey and maple in a small sauce pan and heat over medium heat until the honey has dissolved, about 5′. Remove from the heat, add the vanilla and stir.
Pour the liquid over the oat & seed mixture and fold to coat well.
Spread on the baking sheet in a single layer and bake in the preheated oven for 10′. Take out, stir and spread again and bake for another 8′, or until golden brown and crunchy.
Remove from the oven and set aside to cool.
Cut the peaches in wedges, coat with some coconut oil and maple and place in the oven for about 10′, or until golden and soft. Remove from the oven and set aside.
Fold the mascarpone, yogurt and lemon zest together and add a big dollop on each plate. Top with peach slices, granola and extra maple syrup and serve.