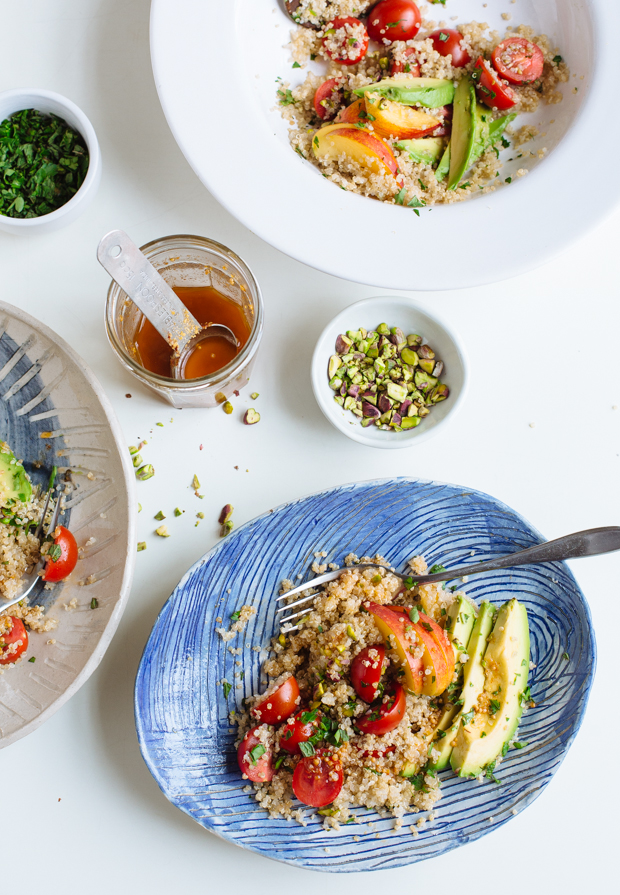 One of the things I love more about the summer months is how my appetite and cooking changes. When it's cold, I enjoy heartier, somewhat heavier dishes and I'm happy to spend hours in the kitchen making soups, bread or decadent desserts. As soon as it gets a little warm though, all I crave is speedy, refreshing meals with light textures. I mostly lean towards salads and I'm always impressed by the countless combinations one can come up when it comes to fresh vegetables and fruits. So, these days, that summer has finally arrived here in London (I mean, kinda- rain still keeps us on our toes) my cooking is almost exclusively dedicated to all sorts of things light, colourful and quick. From this one pot pasta and the easiest, hands down most delicious molten chocolate cake, to this avocado, nectarine & pistachio quinoa salad.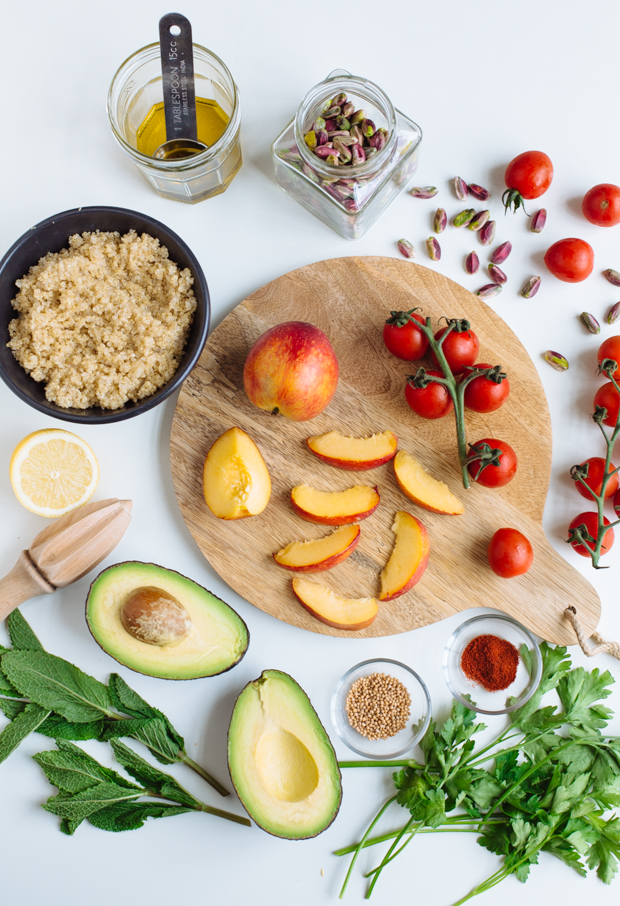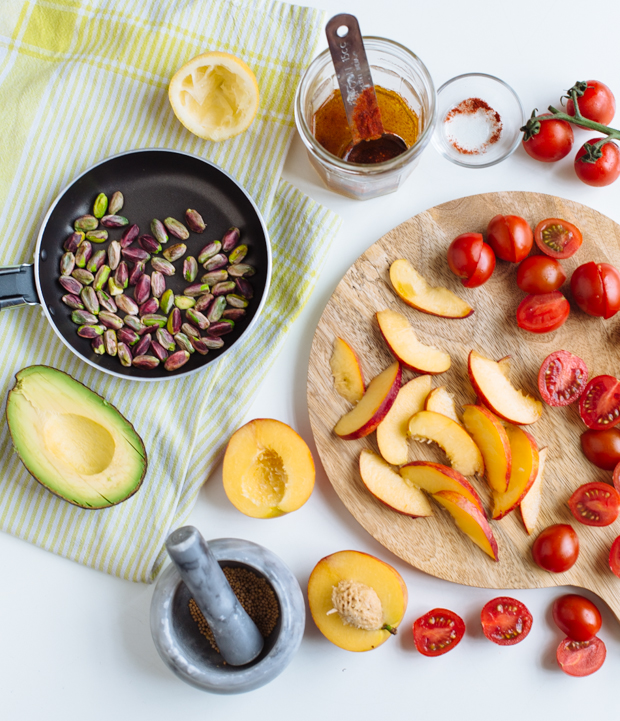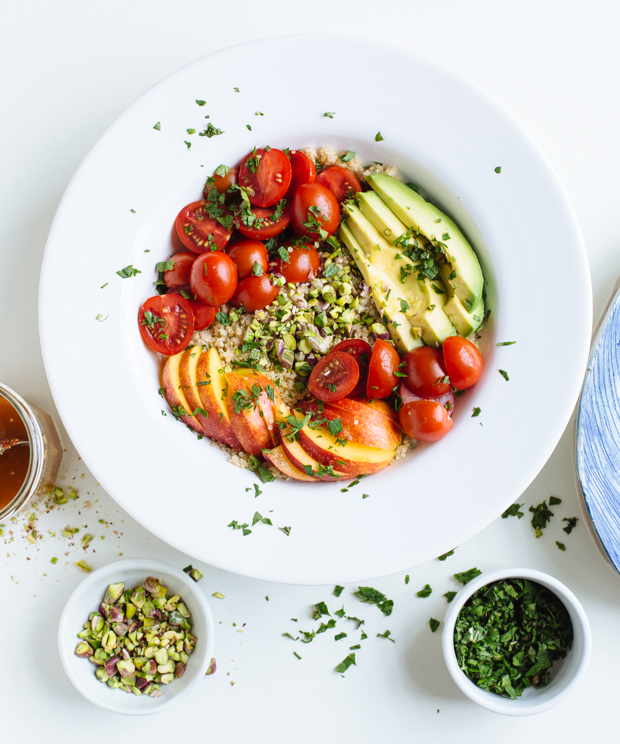 We really don't need a recipe here- just the finest looking, freshest ingredients. A little chopping, a little whisking and they'll all come together in the easiest, prettiest way. Cooked quinoa, juicy tomatoes and nectarines, two perfectly ripe avocados for smoothness and goodness, lots of herbs for freshness and tons of taste and a handful of toasted pistachios for fanciness and texture. We'll also add mustard seeds and paprika for a light kick in our lemony dressing, just to finish things off nicely, quickly and very very summery.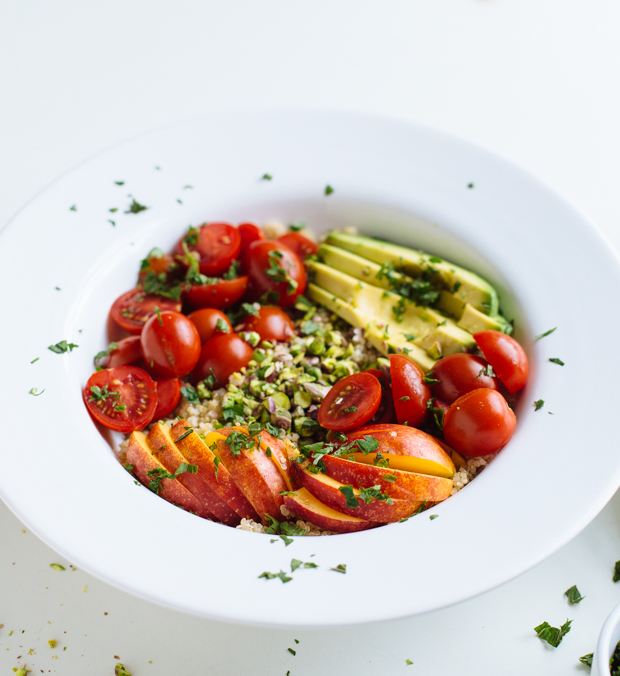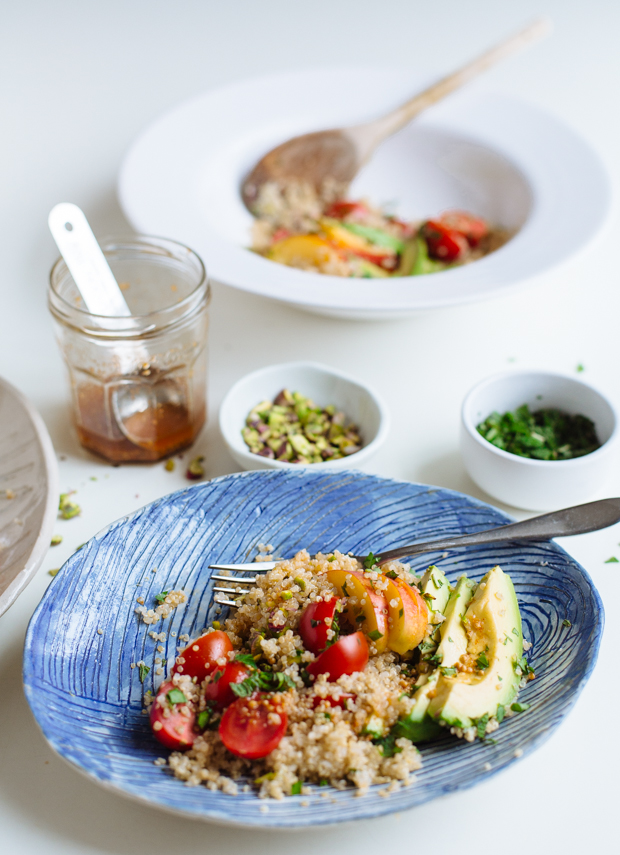 Avocado, nectarine & pistachio quinoa salad
INGREDIENT
1 1/2 cup cooked quinoa
1 1/2 cups cherry tomatoes, washed and halved
2 nectarines, sliced
2 avocados, sliced
3 tablespoons fresh lemon juice
3 tablespoons extra virgin olive oil
1/2 teaspoon honey
1/2 teaspoon smoked paprika
1 teaspoon mustard seeds, toasted and crushed*
sea salt flakes and freshly ground black pepper to taste
1/3 cups pistachios, toasted*
METHOD
Place the quinoa in a large bowl and top with the tomatoes, nectarines and avocado slices.
Whisk together the lemon juice, olive oil, honey, paprika and mustard seeds. Season to taste with sea salt and black pepper.
Drizzle over the quinoa salad and top with the toasted pistachios.
*For the pistachios, place in small nonstick frying pan and toast over medium heat until fragrant and very lightly golden. Remove from the heat and set aside. For the mustard seeds, place in the same pan and cook for about 3′. Let cool slightly and crush.