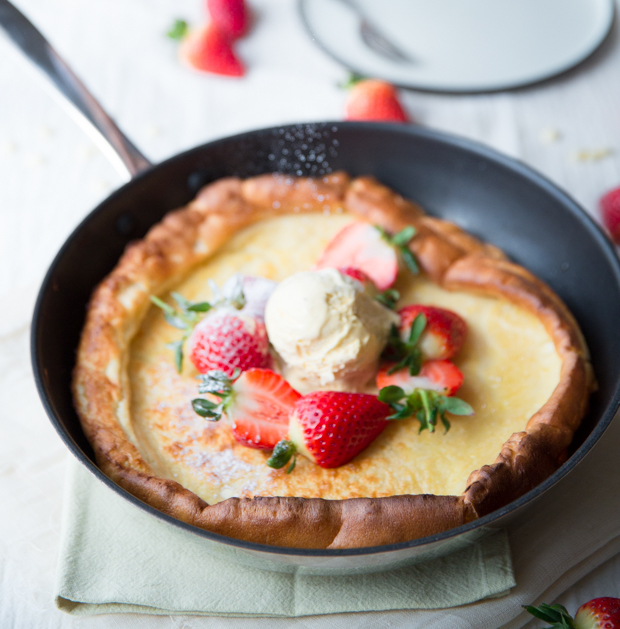 I think I first came across the photo of a Dutch baby on Pinterest and was instantly smitten. I mean, what's not to love? A giant pancake, perfectly puffed, perfectly golden brown, perfectly dusted with icing sugar. It really was love at first sight. The following day, I had my first go at that beautiful XL pancake and fell deeply, madly in love. I haven't stopped making them since and our love affair grows stronger every time.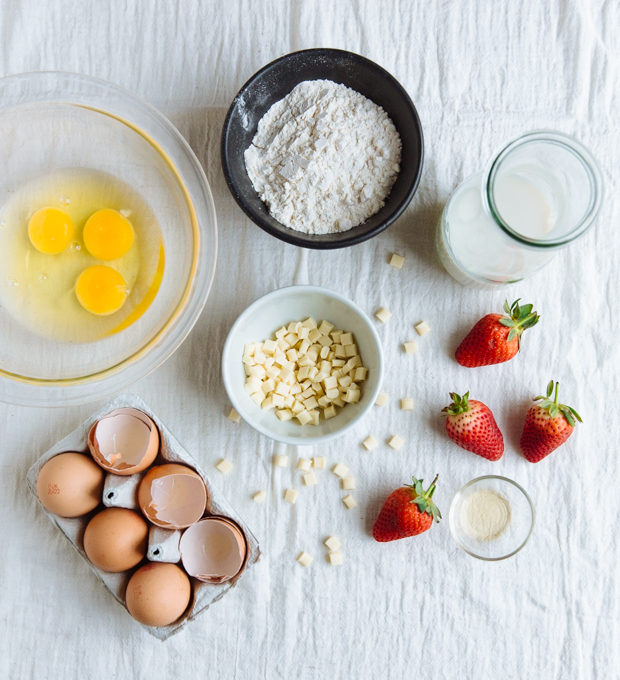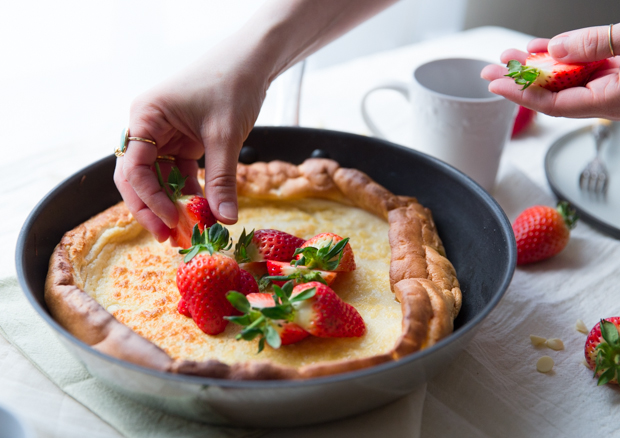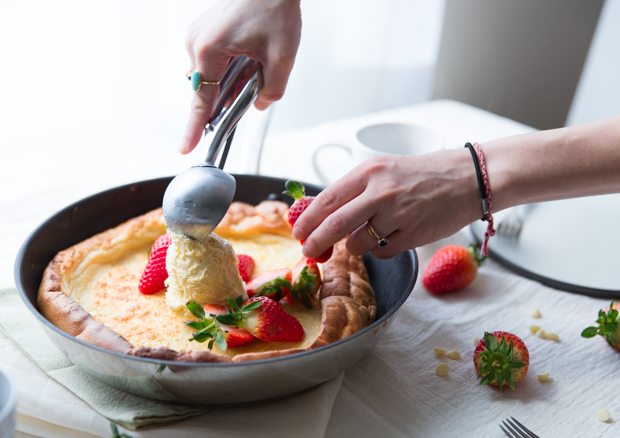 They are so ridiculously easy to make, and as they require only a few humble ingredients, chances are you'll be good to go at pretty much any given moment. Uh- oh, we're all in trouble…
Of all the variations I've attempted in the batter, this one is my favourite: lots of eggs, half fat milk, a drop of pure vanilla extract and only a touch of sugar- which allows for all sorts of sweet additions later on. A little beating, a little swirling of some butter in a hot pan and you're done: all you need after that is a very hot oven and some patience.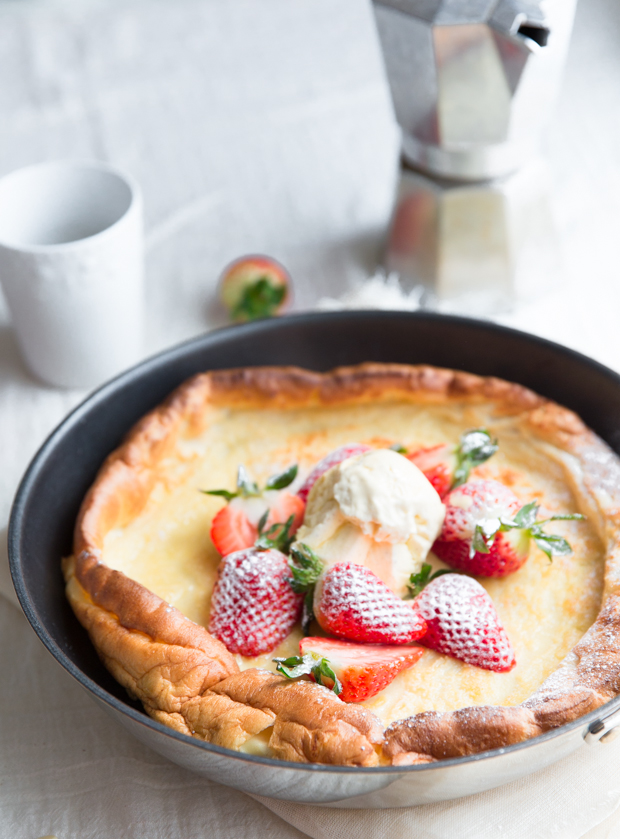 This bad boy right here, apart from the above, also has a big handful of white chocolate chips and is finished off with juicy, perfectly sweet strawberries (white chocolate + strawberries = a match made in heaven), a subtle dust of icing sugar and (optionally but, really, kinda obligatory) a big ball of Madagascan vanilla ice cream.
For all y'all not yet in love with Dutch babies… You know what to do.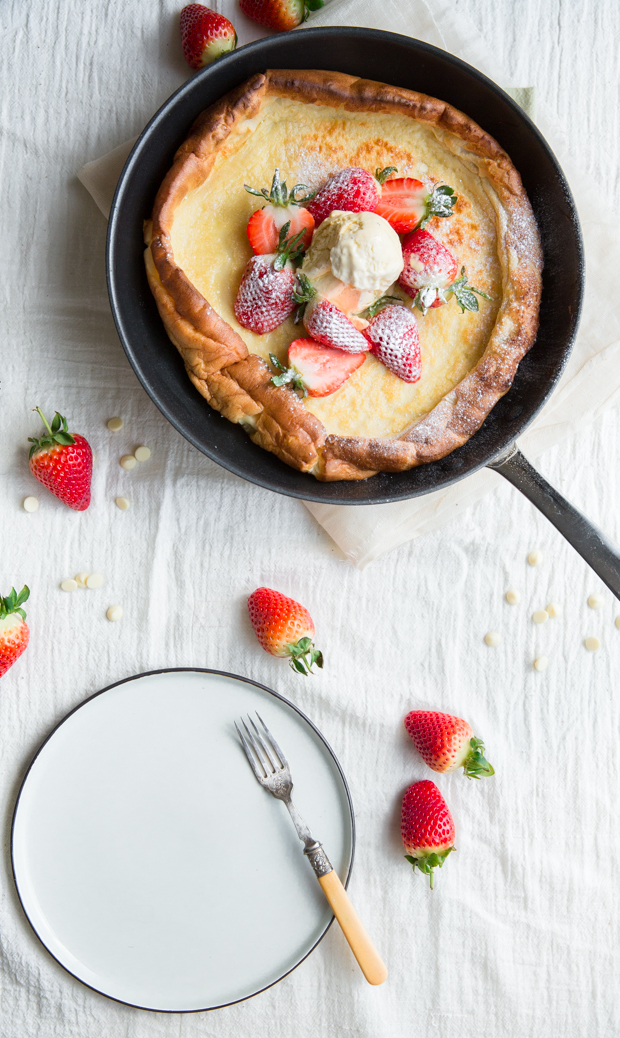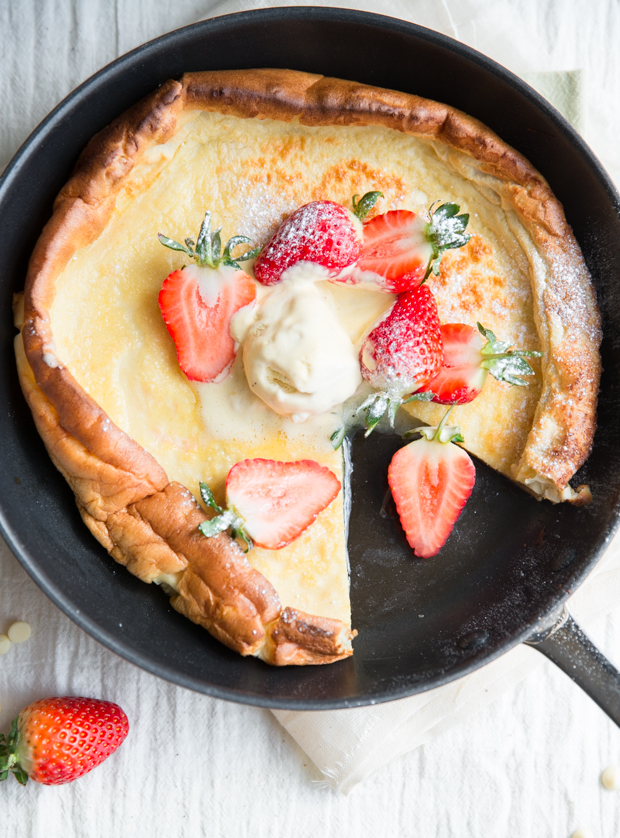 P.S. This white chocolate & strawberry Dutch baby was especially made for my good friend Calliope, aka Madame Gâteaux, aka a total sweetheart and one of the most talented pastry chefs out there. She specialises in afternoon tea, served with delicious treats and bursting with a nostalgic 1950s flair, and can bang out cakes like this like it's no big deal (knowing her, it's probably not). We're currently working on a very sweet project together, coming your way soon-ish. In the meantime, you can drool over her desserts and learn tons about afternoon tea here or, if your Greek is a little rusty, discover all about her here.
White chocolate & strawberry Dutch baby
INGREDIENTS
130gr all purpose flour
1 tablespoon golden caster sugar
a pinch of salt
4 large eggs
1 cup half fat milk
1 teaspoon pure vanilla extract
1/2 cup white chocolate chunks
1 tablespoon unsalted butter
to serve:
about 10 fresh strawberries, washed and halved
icing sugar
Madagascar vanilla ice cream
METHOD
Combine the flour, sugar and salt and set aside.
Beat the eggs by hand or with a handheld mixer until pale and frothy. Add the milk and vanilla extract and beat until incorporated.
Add the dry ingredients slowly and fold with a spatula until just combined. Set aside for at least half an hour or overnight, kept in the fridge.
Preheat the oven to 250C (or as high as your oven goes) with a large frying pan in it. Once the oven is very hot, carefully remove the pan and drop the butter in it, swirling quickly so it melts and covers the bottom evenly.
Pour the batter in and top with the white chocolate chunks.
Place the pan back in the oven, reduce the heat to 220C (200C for air) and bake until the center is cooked and the edges are golden brown and puffed, 10-15′.
Carefully remove from the oven, put on the table (the edges will drop a bit- be cool, it's meant to happen) and top with the halved strawberries, icing sugar & ice cream