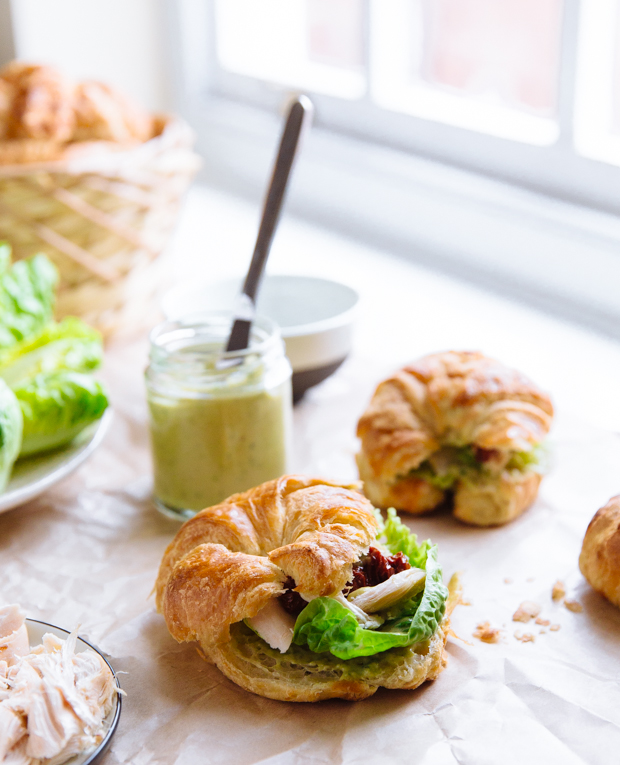 I've been wanting to share the recipe for these caesar salad croissant sandwiches for quite some time. It's so delicious, so easy to prepare and so good for sharing!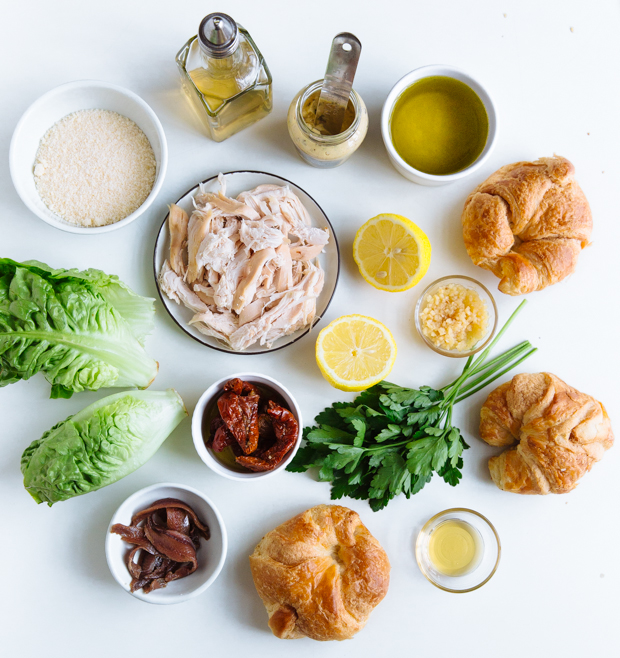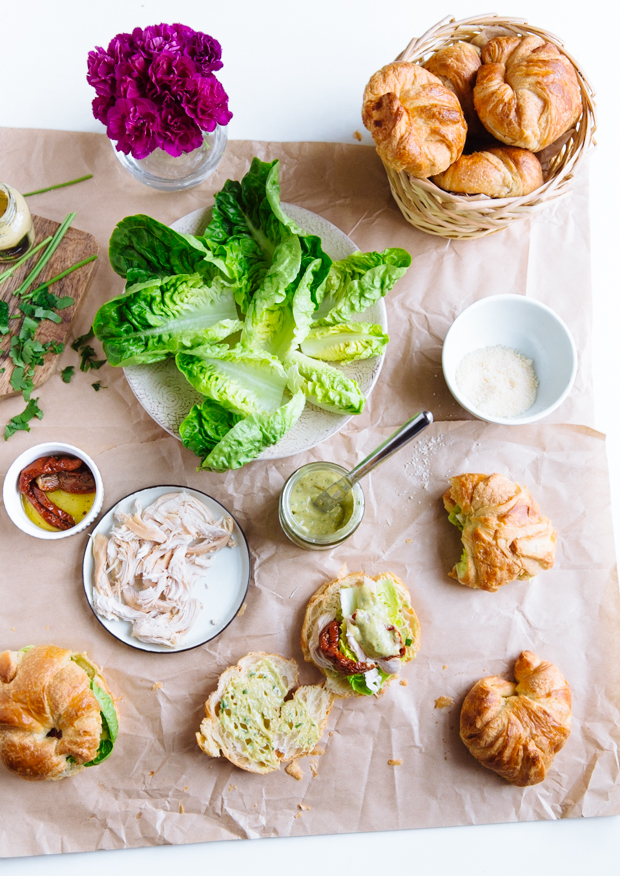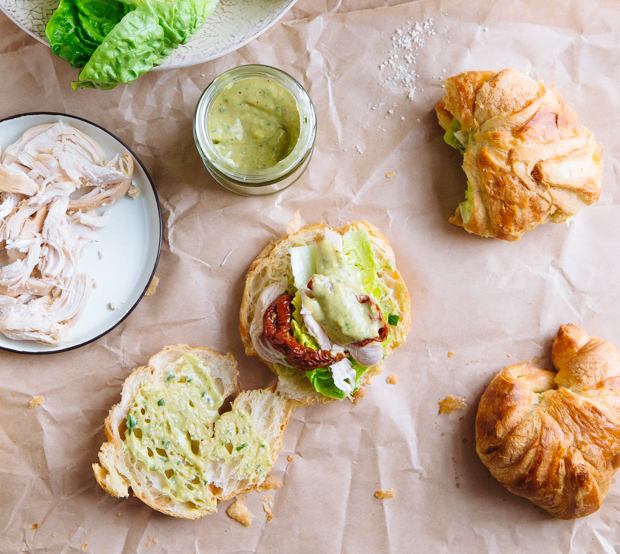 Greens, vegetables and herbs are just gorgeous on their own and when combined they make for dishes filled with beautiful colours and interesting flavours. I usually prefer salads which are seasonal and light on the dressing, allowing the ingredients' textures and flavours to shine through. From this marbled egg, rice & asparagus one, to my favourite noodle bowl, warm or chilled in a jar, or even on top of crunchy bread, when it comes to salads, I like to keep things simple, fresh and colourful.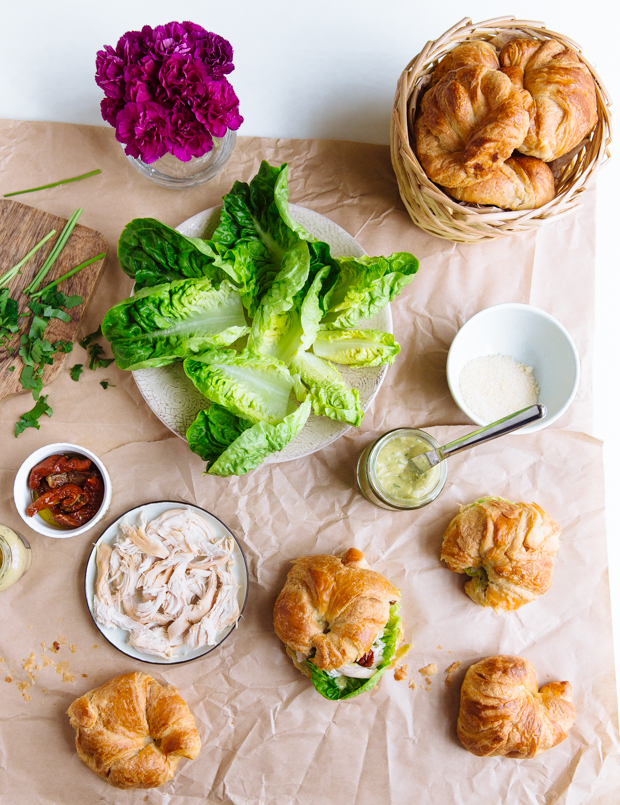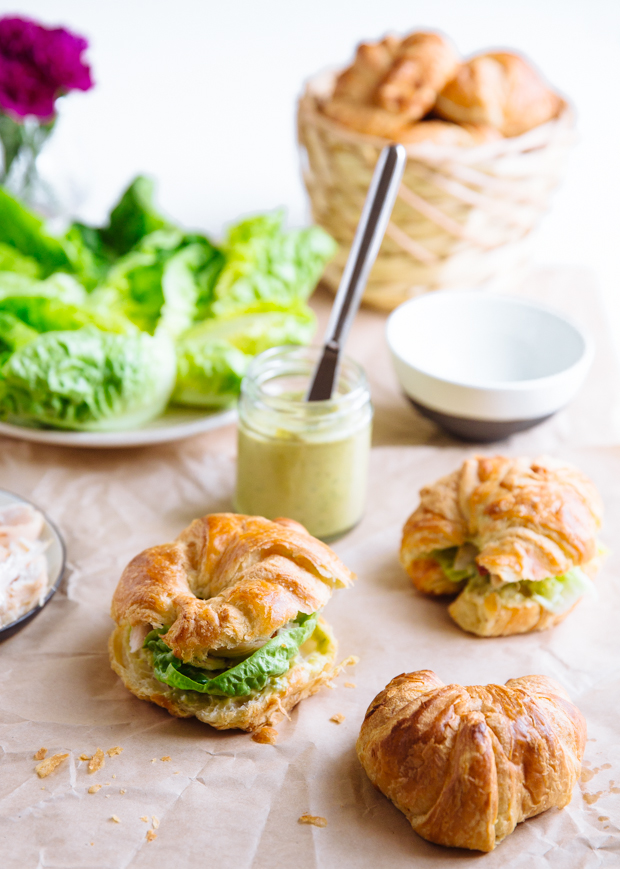 All bets are off though when it comes to Caesar salad. I've been a fan of it since college, when my cooking was limited to making approximately one (usually unsuccessful) dish per week, and most of meals consisted of takeaway, lots of desserts or quick bites around the city. Caesar was my top choice when eating out and my favourite version came from a burger joint close to my house. It was delicious, definitely not healthy, with too much parmesan cheese and a delicious lemony dressing.
Since then, and probably because I'd consumed it so many times, I've kinda kept away from it. Still, it remains my favourite indulgent salad and this version is packed with lots of delicious ingredients and served as a filling of small, chubby, buttery croissants (because, if there's one thing I love more than salads, it's a croissant). Anchovies, lemon juice, vinegar & mustard, honey for balance and a touch of garlic are combined to a thick paste and finished off with fresh parsley, a good dose of salty parmesan and lots of extra virgin olive oil. The dressing is thick and creamy, kinda like a spread, perfect for spreading on our croissants. Combined with crunchy and bright gem lettuce leaves, shredded chicken and sun dried tomatoes, these mini caesar salad croissant sandwiches are absolutely irresistible, a little decadent and perfect for sharing.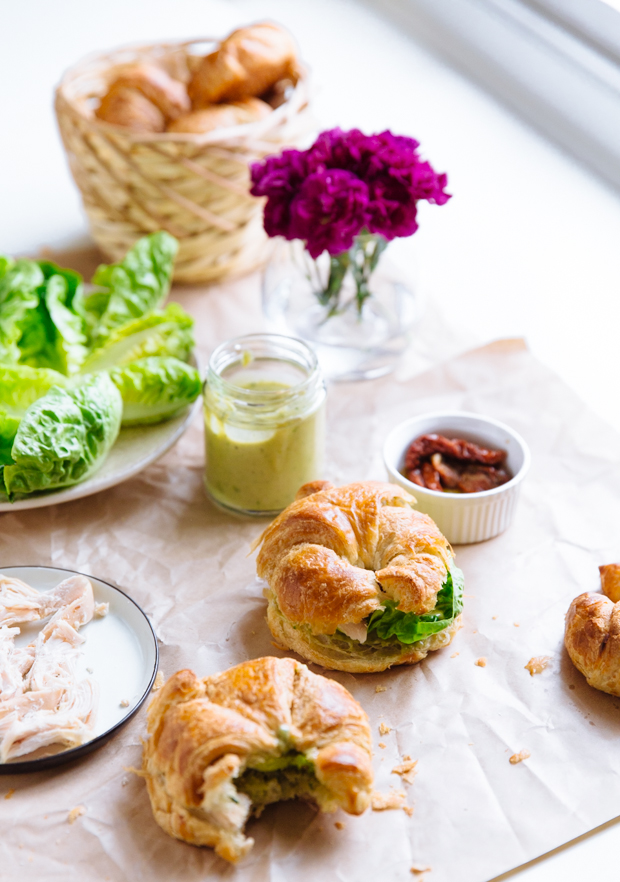 Caesar salad croissant sandwiches
INGREDIENTS (for 8 small croissants or 4 large ones)
for the dressing:
6 anchovies (for a tin)
1 tablespoon mustard (I highly recommend this Parmesan/ Basil Maille)
1 teaspoon runny honey
juice for 1/2-1 lemon
1/2 tablespoon chopped garlic
2 tablespoons white wine vinegar
1/3 cup finely grated parmesan
1 heaping tablespoon parsley, minced
1/2 cup extra virgin olive oil
for the sandwiches:
8 small croissants (or 4-5 large ones)
8 leaves gem lettuce, washed and patted dry
1/2 cup sundried tomatoes
1 large chicken breast, shredded (use rotisserie chicken, or quickly cook it in the pan- I always follow this recipe)
METHOD
To make the dressing, put all the ingredients in a blender and blend until roughly combined. Add the parmesan and parsley and blend once again. Finally, add the olive oil slowly (about 1 tablespoon at a time), until the mixture is very creamy and well combined.
To assemble the sandwiches: cut the croissants lengthwise and generously spread each side with the dressing. Top the bottom side with a lettuce leave, a couple sundried tomatoes, a few pieces of shredded chicken and extra dressing, if liked. Cover with the top side and enjoy.