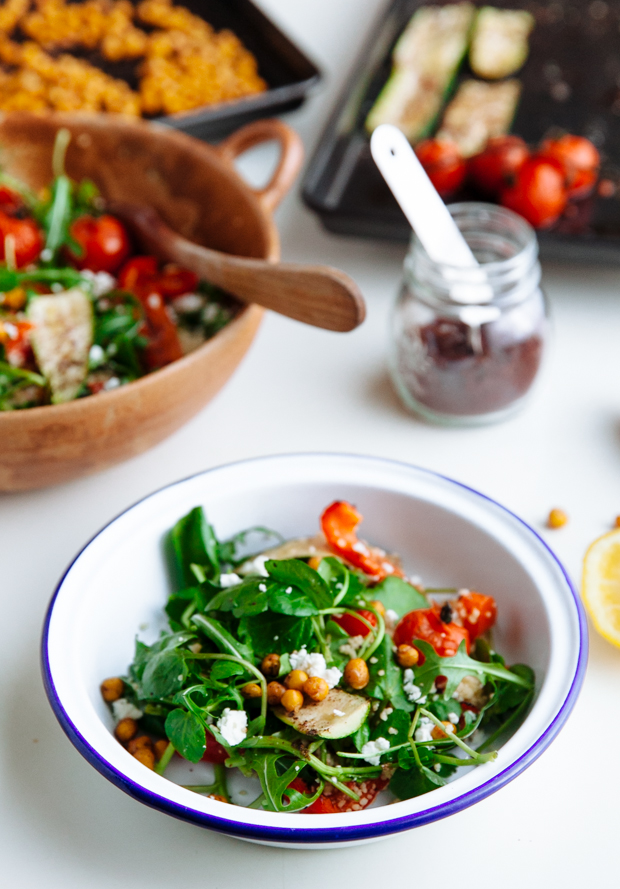 Probably my favourite way to come up with dishes is by making use of ingredients I already have in hand. While I'm very focused when I prep and cook, before I'm ready to get in the kitchen, I'm often found in a super enthusiastic, semi-chaotic, ultimately exhausting state: fresh produce, pretty Pinterest photos, new techniques, ideas from friends- you name it, they all to blame. When however I am trying to come up with an easy lunch or dinner recipe on the spot and having to rely on what's available right there, right now, that's often when more concrete, realistic inspiration strikes. Limited to specific ingredients and with the a little help from fresh herbs and spices, I'm inspired to combine everyday staples in new ways. The result is not always a showstopper (hell, sometimes it's not even edible), but sometimes… sometimes it ends up becoming your new favourite dish, like this vegetable couscous with crunchy sumac chickpeas.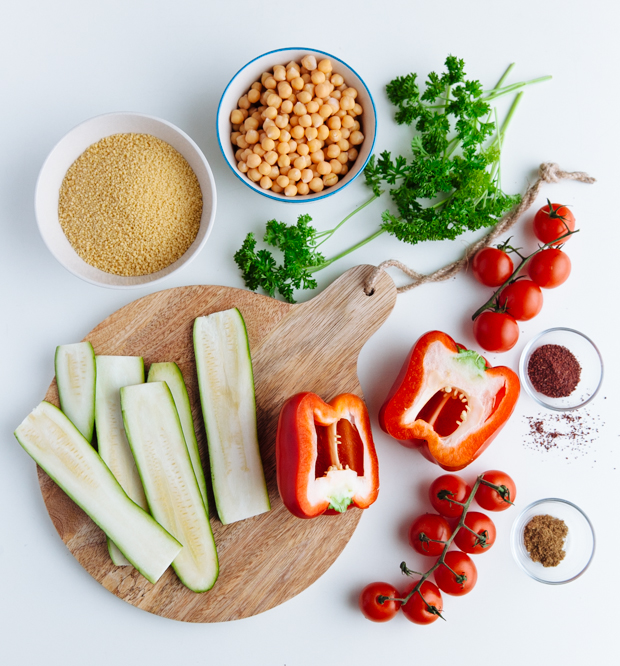 Fluffy couscous tossed with beautiful vegetables roasted with extra virgin olive oil, cumin and sumac until tender, fresh peppery greens, feta crumbles for saltiness and, to top everything off, my favourite recent mistake: crispy chickpeas! These little nuggets of excellence were not initially part of my dish; I was also making some hummus to go with the couscous, but in need of extra flavour, I chucked them in the oven along with the vegetables. And I forgot about them. When I took them out frantically, they were crunchy and delicious and I must have eaten over half of them on the spot. The rest went into the couscous and have been a part of it ever since.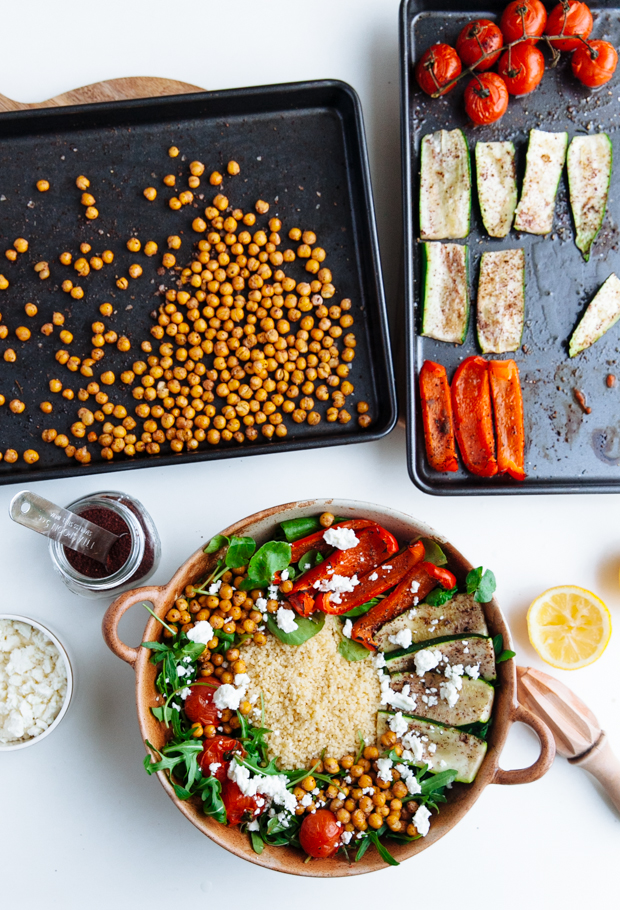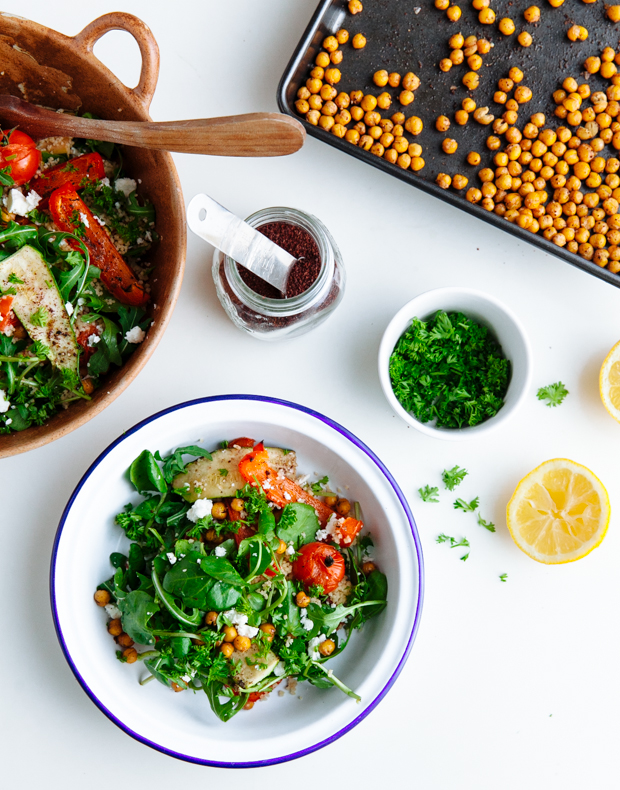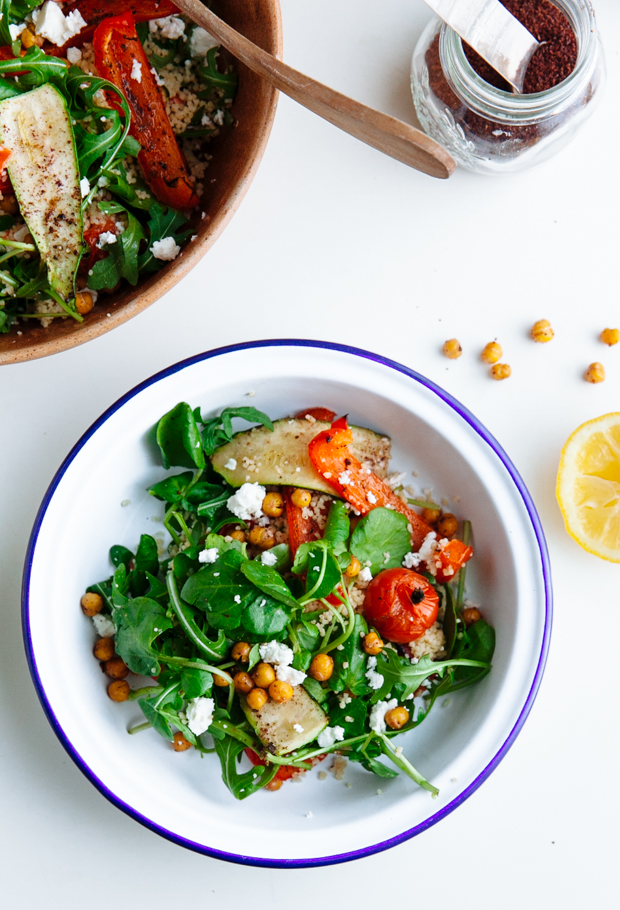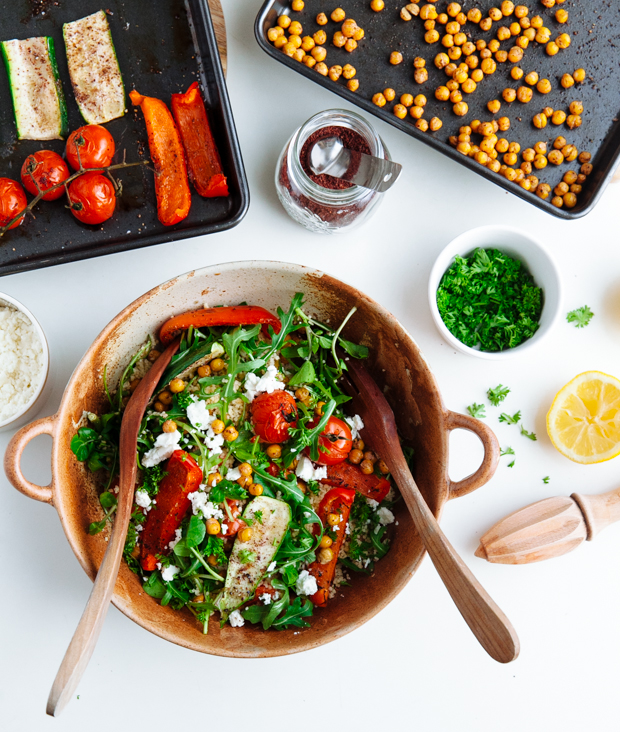 Take home message of the day: stay focused; love your pantry, it will love you back; make mistakes- even better if they're edible ones.
Vegetable couscous with crunchy sumac chickpeas
INGREDIENTS
1 can (400g) chickpeas
1 large red bell pepper, washed, seeded and cut in thick wedges
1 medium zucchini, washed and cut in thick wedges
12 vine tomatoes
3 tablespoons olive oil, divided
1 teaspoon sumac, divided*
1/2 teaspoon cumin, divided
freshly ground black pepper
sea salt flakes
1 cup couscous 
To serve:
1 big handful fresh watercress, washed and patted dry
1 big handful fresh rocket, washed and patted dry
100g feta cheese, crumbled
1/3 cup fresh parsley, minced
extra salt, pepper & sumac to taste
*Currently my new favourite spice- subtle lemony and delicious, it's fantastic in warm or cold salads, fries, and savoury pies and can liven up a dip.
Turn the oven on to 180C (160C for air).
Drain the chickpeas, rinse under plenty of water and drain thoroughly. Place on a baking tray, add half of the olive oil and spices, salt and pepper to taste and toss well to combine.
Line the pepper & zucchini wedges on a baking tray and add the remaining olive oil and spices, salt and pepper.
Place both trays in the oven for 10′. Take out, toss the chickpeas and add the vine tomatoes to the vegetable tray. Put back the oven for another 10′. Remove the vegetables, but give the chickpeas another 5′ minutes or so, allowing them to get very crispy.
Cook the couscous according to pack instructions and fluff up with a fork.
Combine the vegetables and couscous in a large bowl and add extra salt and pepper if needed. Add the watercress and rocket leaves and top with the crispy chickpeas, feta crumbles, minced parsley and a pinch of sumac.