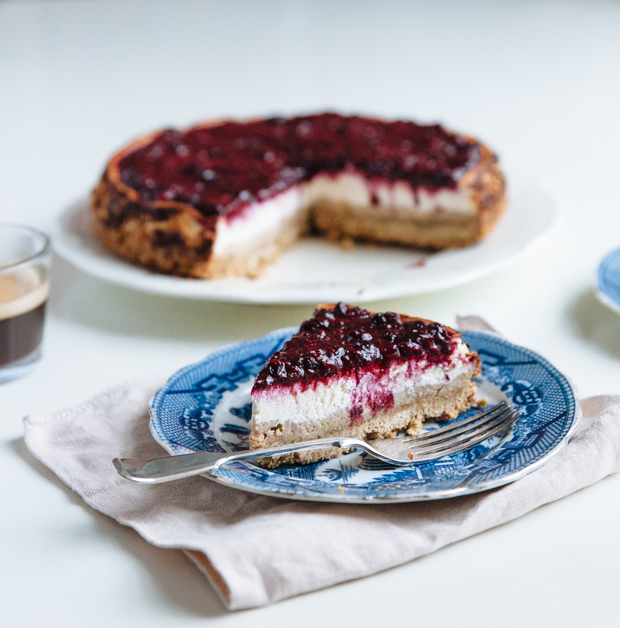 Beware, people, V-Day is upon us, with all its red and pink over the top cheesiness and ridiculousness. And honestly, I couldn't be happier. Because for me, first and foremost, Valentine's day is the perfect day for a crazy delicious dessert. Like this cheesecake. But let me explain.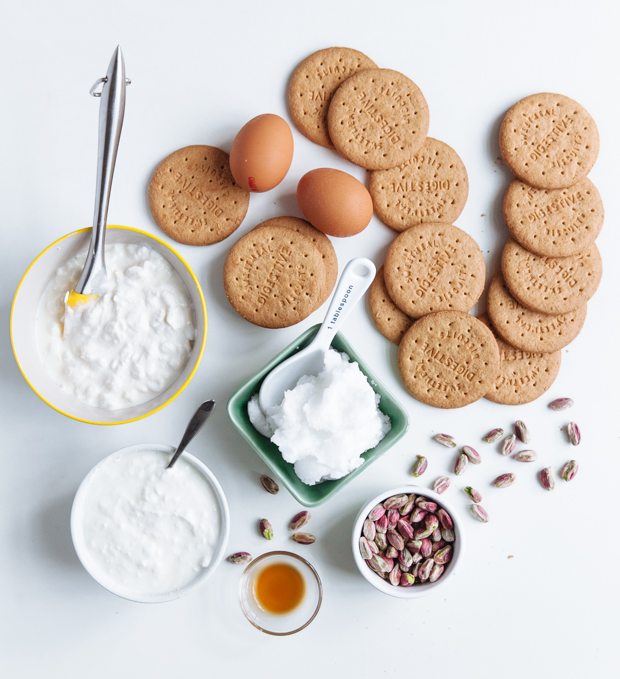 This year, V-day is quite tricky: between Mike running around like a headless chicken trying to wrap up projects before leaving for LA for a month, me being head deep in a new business venture and both of us realising that we're way behind on the buttloads of stuff we need to plan for our summer wedding, the 14th of February has taken a backseat.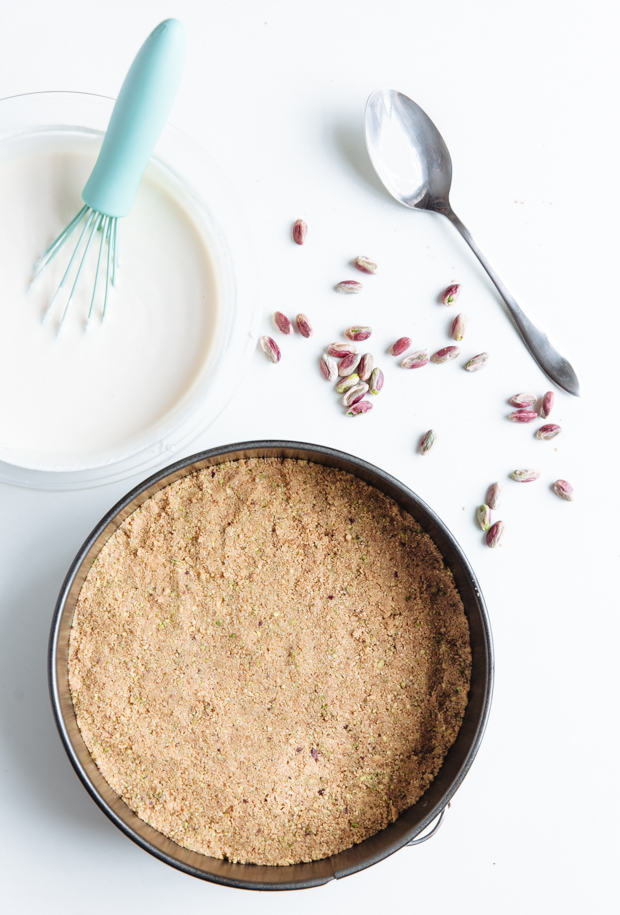 We'll be spending the actual day with lots of good friends (and lots of good food), but since I'm not one to ever pass on any occasion involving hours leisurely spent at home, a little melodrama and lots of dessert, I've declared this Saturday to be our official V-Day. As there's a high chance Mike will be working and I'll be spending it alone, watching Gilmore girls and burying my sorrow in the best ever mac and cheese, I wanted to also come up with a dessert that would be worthy of the day's over-the-top-ness and double as a shoulder to cry on.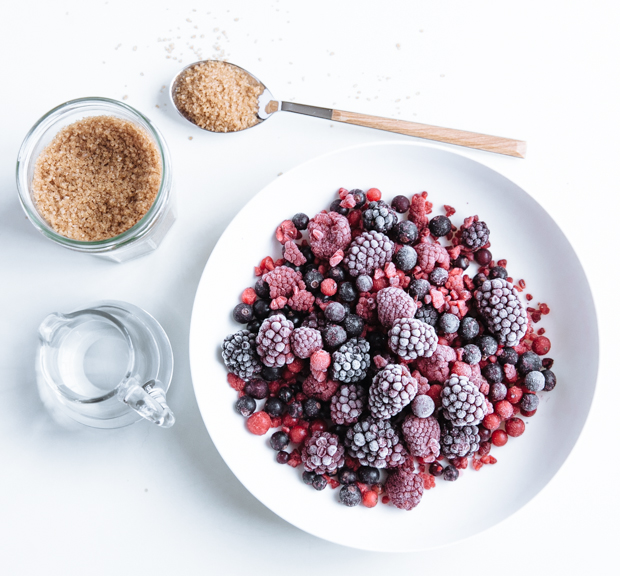 So for this year's festivities, it's a mixed berry, coconut & pistachio cottage cheese cake. Of course it's cheesecake, it has to be. You know what I mean right? Crumbly cookie base + velvety filling + juicy topping, bursting with fruity flavours and sweetness= the King of desserts. For a long time (like, a really long time) I considered cheesecakes to be super light. Blinded by those dreamy layers and the absence of chocolate, I had convinced myself that each (pretty generous) slice kinda equaled fruit.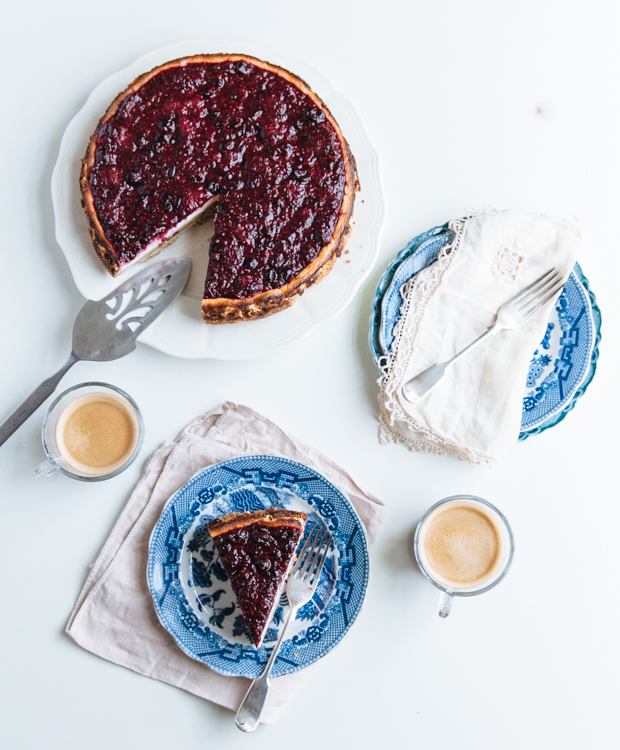 I've since come to my senses and made peace with the fact that cheesecake is not a light dessert. But since it's so damn dalicious and so damn close to my heart, I've experimented with different combinations of ingredients; the whole point was to make it lighter, without losing any of the delicious taste.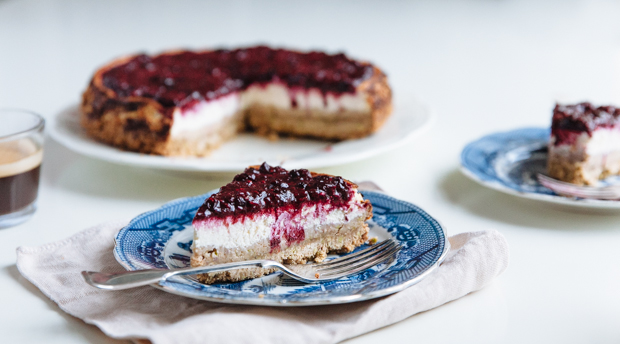 And I think I've got it (it's a V-Day miracle!)! Starting from the bottom and working our way to the top: extra virgin coconut oil combined with a mixture of digestives and pistachios for a perfectly crumbly base with the perfect texture and a subtle hint of coconut; a mixture of cottage cheese and yogurt instead of cream cheese, for a filling that's smooth and subtly cheesy, sweetened with honey and thickened with a couple eggs; frozen mixed berries, bursting with sour sweetness and combined with delicious demerara sugar for a topping that feels fresh and not overly sweet- just enough to balance out our silky smooth cheese filling.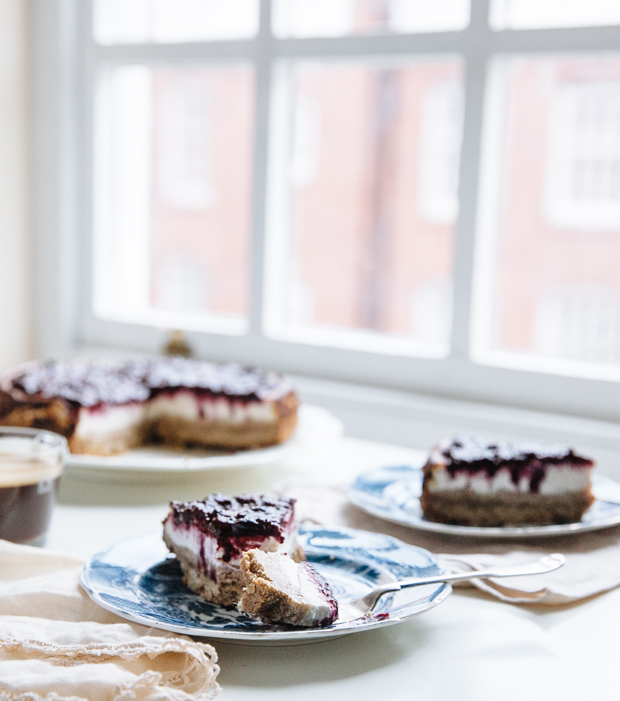 So there you have it, a light, healthy-ish mixed berry, coconut & pistachio cottage cheese cake for the win, for Valentine's day or any other day deserving a bit of delicious sweetness, one to be enjoyed with friends, partners or all by your lonesome.
P.S. For a delicious V-Day appropriate savoury dish, try this heart-shaped gouda, smoked ham & porcini pie. And if you're absolutely set on celebrating with chocolate, how about these cream cheese & peanut butter chocolate delights?
INGREDIENTS
Base:
400gr digestives
1/2 cup unsalted pistachios
8 tablespoons extra virgin coconut oil, melted
Filling:
2 1/2 cups cottage cheese
1 cup half fat yogurt
2 large eggs
1/4 cups honey
1 teaspoon vanilla extract
2 teaspoons cornstarch
Topping:
2 1/2 cups frozen berries
3 tablespoons demerara sugar
3 1/2 tablespoons water
Line a round baking pan with parchment paper and oil the sides. Set aside. Turn the oven on to 180C (160C for air).
To prepare the base, place the digestives in a food processor pulse until finely crumbled and place in a large bowl. Repeat with the pistachios and combine the two together. Mix in the melted coconut oil and combine. Place the mixture into the pan and push with your fingers to evenly coat the bottom. Set aside while you prepare the filling.
Give a quick wipe to the food processor and add the cottage cheese; pulse until smooth and mix in the yogurt, honey, vanilla extract, eggs and cornstarch. Beat well to combine and pour over the base.
Place in the preheated oven and cook until the edges are set, around 50′.
While the cake is in the oven, prepare the topping: combine the berries with the sugar and water and bring to a boil. Reduce the heat to a low simmer and cook until thickened- about 8′. Remove from the heat and set aside to cool.
Remove the cake from the oven and allow it to cool to room temperature. Carefully remove from the pan and place on a serving plate. Top with the berry mixture and refrigerate for at least a couple of hours or overnight.