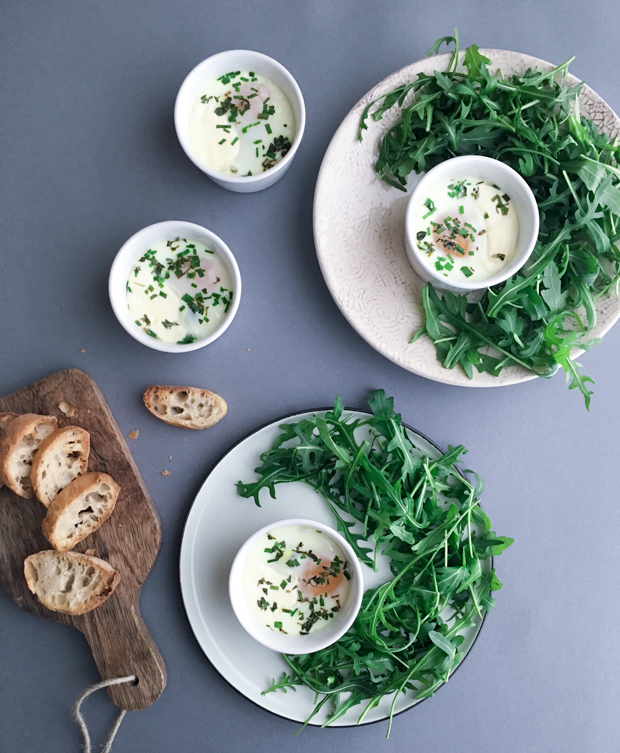 The last week or so has been kinda different; Mike's in LA on business (and by business I mean the freakin' OSCARS, for which Stutterer, the little gem he did the cinematography for, has been nominated WON AN ACADEMY AWARD! Wait, what?!?) and I'm in London, up to my eyeballs in work . Since he left, things have been infinitely more quiet, the house impressively decluttered and my days significantly less fun.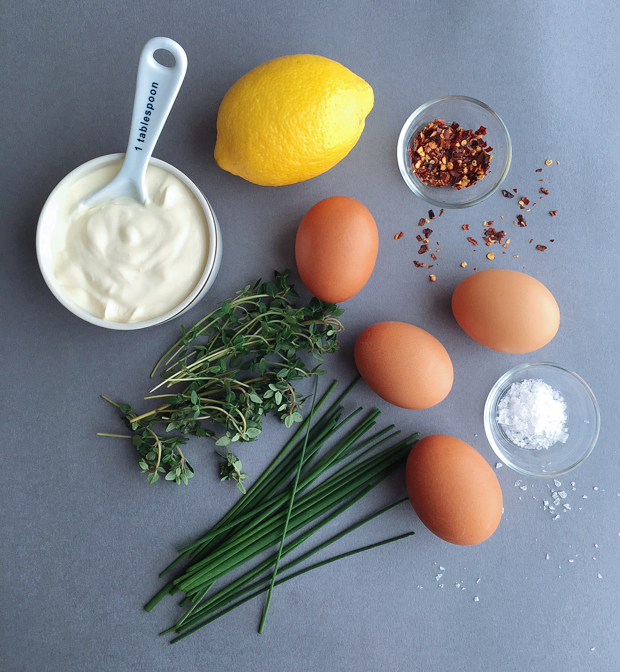 Between missing him and marveling at our now super tidy apartment, I've also been keeping very busy, both with work and with catching up with friends. See, I haven't only been blessed with a very talented, kind and funny man, but also with many friends, equally talented, kind and funny. These past few days, I've shared our home with some of them, over too much wine & cheese, gossip, make-up sessions and sleepovers. Two of these were spent with one of my oldest friends and both times I made the poor guy eggs. Since he had asked me for a dish which had not yet been featured here, I made these delicious lemony & spicy eggs en cocotte- to satisfy his request and to keep up with my latest egg obsession.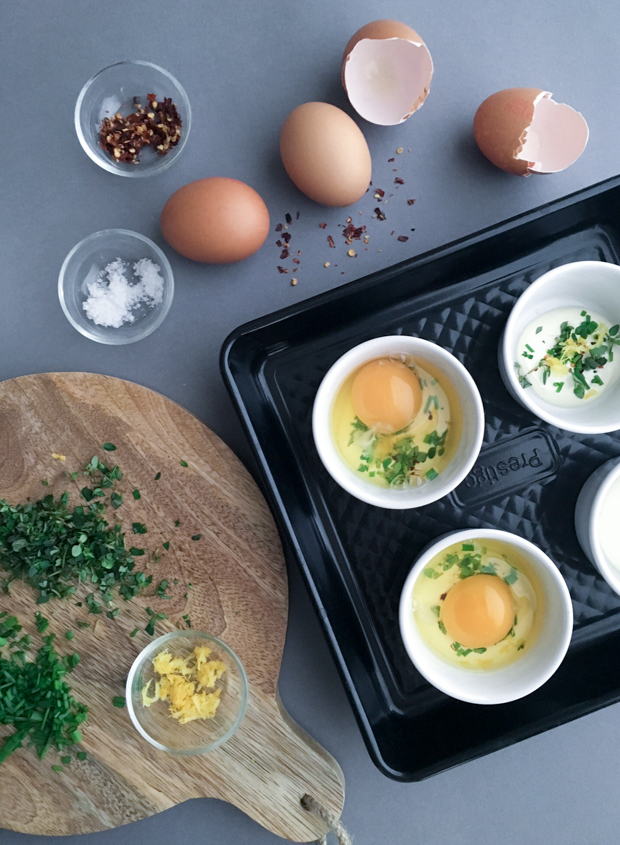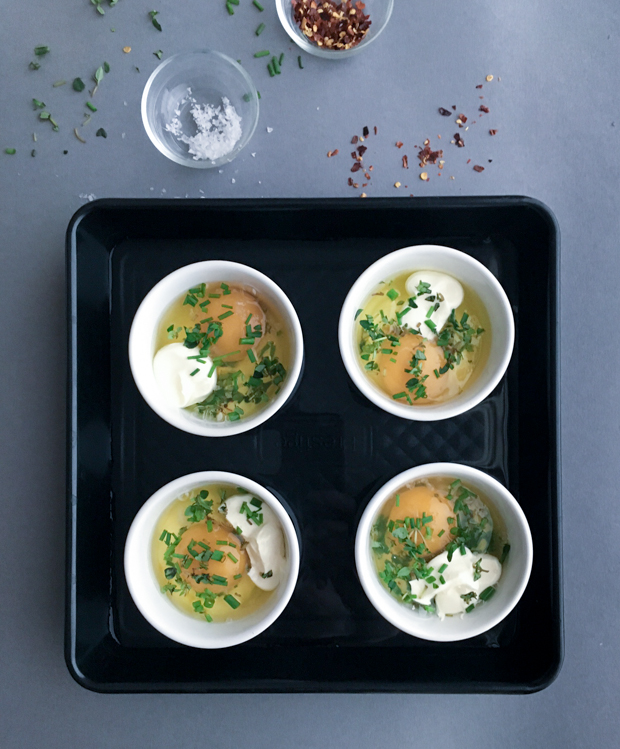 I love eggs cooked in the oven: they're foolproof, allow for lots of experimentation and make for a light, yet hearty dish. Eggs en cocotte in particular are not only easy on the eyes, but also ridiculously easy to make. They require almost no prep and only about 15′ in the oven, placed individually in small ramekins (cocottes) atop a bain marie until the egg whites are set and the yolks deliciously runny. Yet, the end result looks gorgeous, delicious and super satisfying. You can go so many different directions – here I've added some crème fraîche for some indulgent richness, chilli flakes for touch of heat, balanced out with lemon zest and lemon thyme and finally some fresh chives which I always love with eggs. And there you have it, almost too pretty to eat, definitely too tasty to only have one.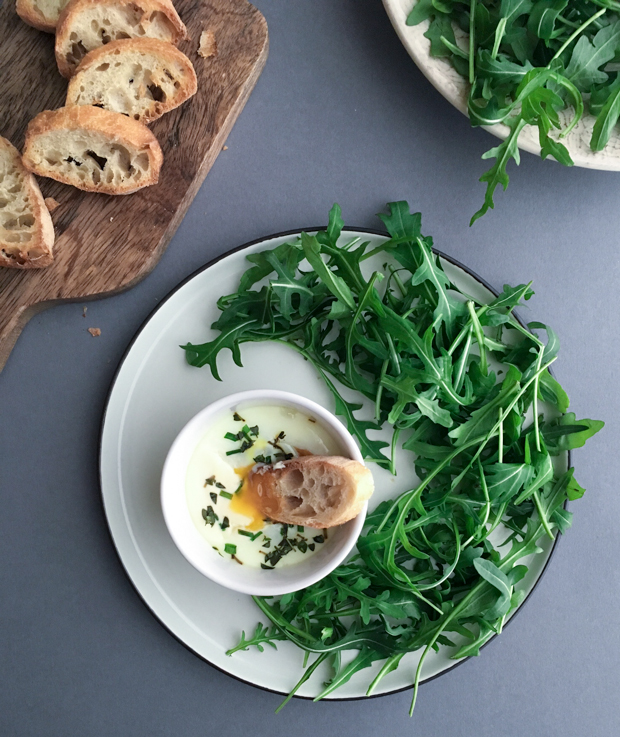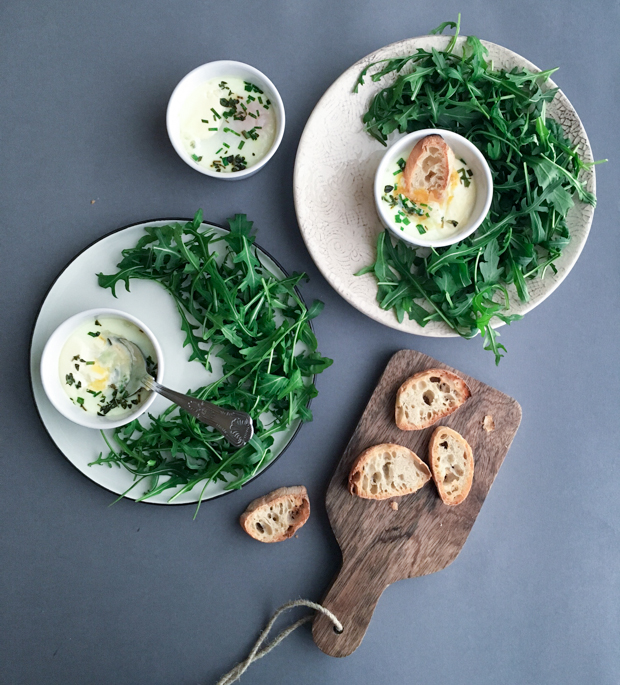 Lemony & spicy eggs en cocotte
4 medium organic eggs
4 tablespoons crème fraîche
3/4 tablespoon fresh lemon thyme, minced
3/4 tablespoon fresh chives, minced
3/4 teaspoon lemon zest
a scant 1/4 teaspoon chilli flakes
4 teaspoons crème fraîche
sea salt flakes to taste
Preheat the oven to 180C (160C for air). Place four small ramekins on a baking dish and set aside.
Spoon one tablespoon crème fraîche in each ramekin and top each with some lemon thyme, chives, lemon zest, chilli flakes and a pinch of sea salt flakes (reserve a little of each to finish off the eggs).
Break one egg in each ramekin, top with a teaspoon of crème fraîche and the remaining herbs, zest, chilli flakes and seasoning.
Fill the baking dish with hot tap water halfway up the ramekins and carefully place in the oven. Bake until the egg whites are set and the yolks to your liking (13-15 for runny, 16- 18 for soft and 20 for hard- I baked these for 14′).
Take the baking dish out of the oven carefully and allow the eggs to sit for a couple minutes. Carefully remove from the dish and wipe down the bottom with a towel. Serve immediately- preferably with toasted crusty bread slices on the side.