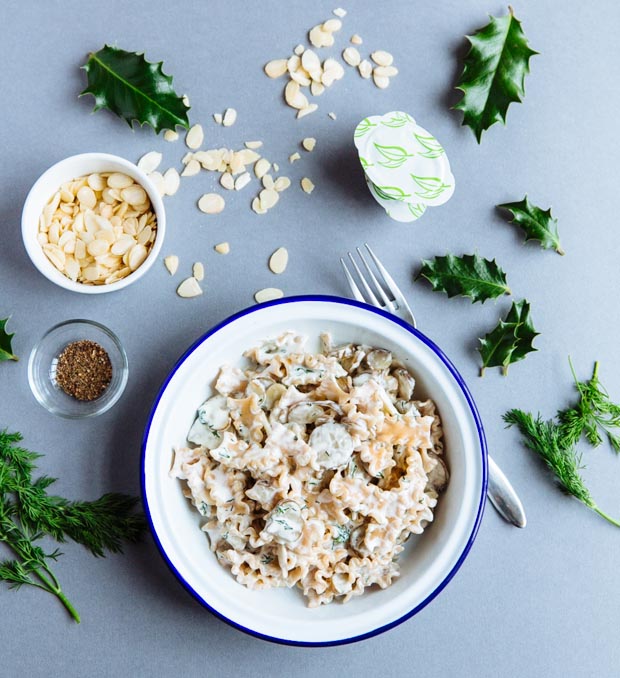 Happy Monday everyone! Today is the last day of the BHMA Food Blog Awards competition. Maybe by now you've had enough of it: enough mentions, shout-outs, recipes featuring Knorr stocks (which are delicious btw,  competition or not). But bear with me just for a tinsy bit longer. Bear with me just long enough to tell you a little bit about this delicious pasta dish.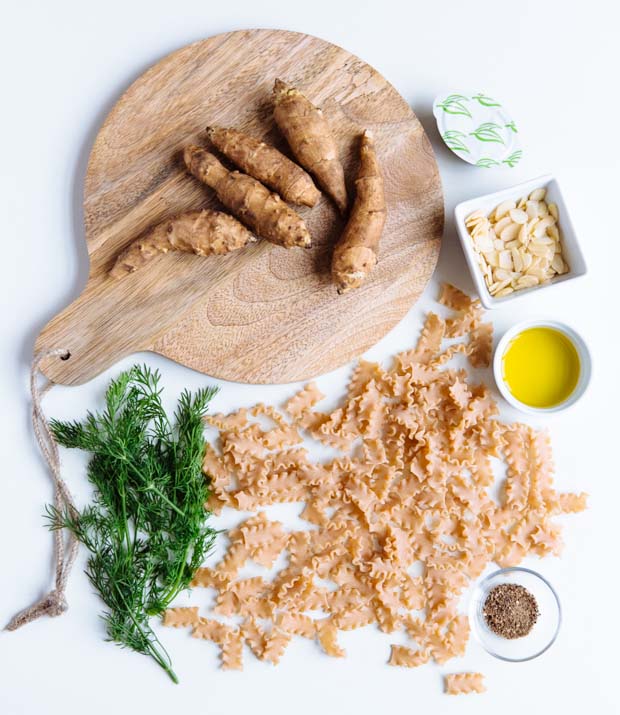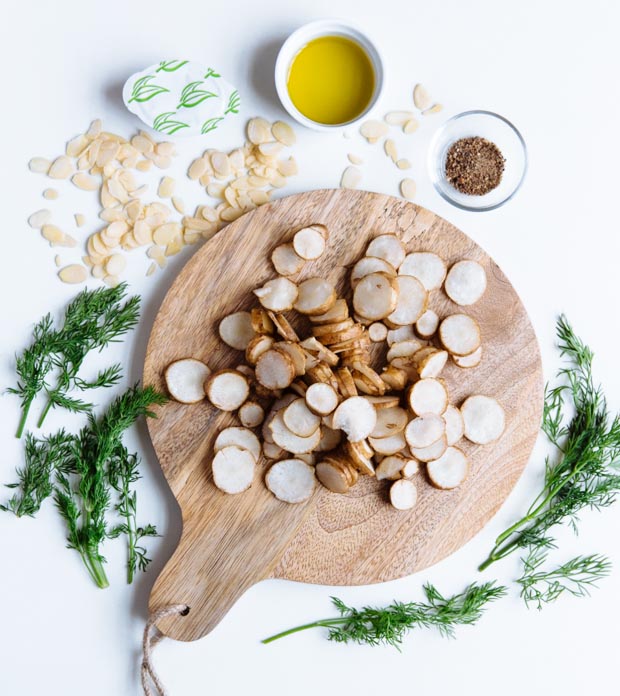 Pasta is my favourite thing ever. Ever. Like, if I could have one dish, everyday, for the rest of my life, it would be pasta. It's a pretty safe bet, isn't it? So many varieties of pasta, endless sauce combinations and lots of grated cheese on top- what more can one ask for? So yeah, I'm down, pasta every.single.day.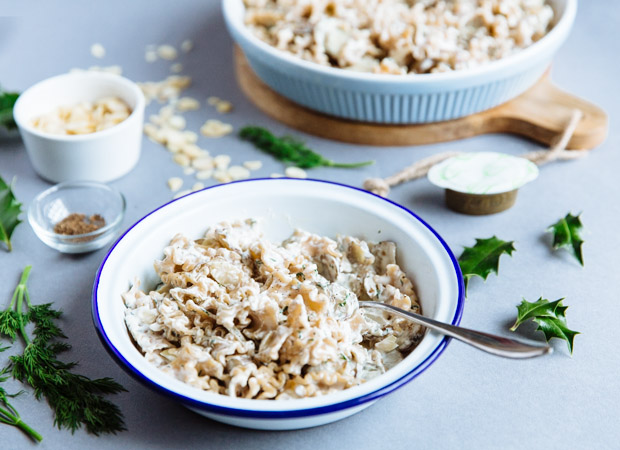 Today's pasta is simple, quick and filled with interesting flavours. The star of the show is (drumroll, please!) sunchokes! I discovered these beautiful little knobs of deliciousness not too long ago, and I've been using them way too often. Super flavourful, earthy, a little sour and quite addictive, they're just the thing to elevate an casual pasta dish to something quite spectacular.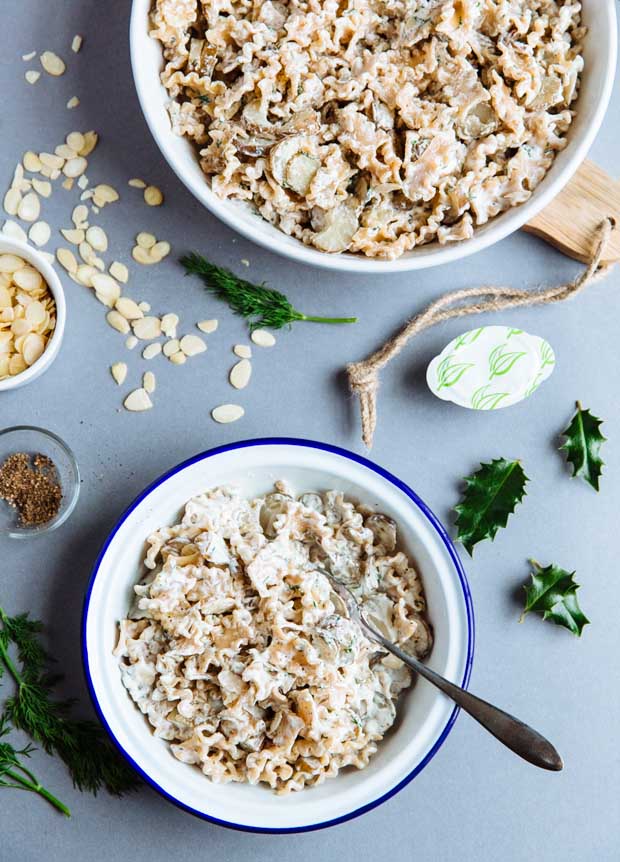 And we don't want to mask their unique flavour, so the rest of our ingredients have to be few and low key: almond flakes, delicate dill and a splash of single cream to bring the whole dish together. And that's it. No fuss, not much prep, no fanciness, just tons of taste. Whole wheat short pasta to scoop up our sauce and match the beautiful colour of the sunchokes- boiled until al dente in lots of salted water along with a herby Knorr pot for extra flavour and lots of freshly ground black pepper.
And there it is. Bliss in a single dish. So, yeah, trust me: pasta for the win, for ever and ever.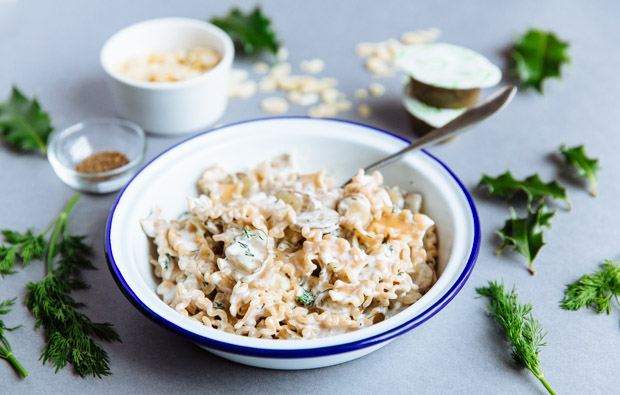 Creamy sunchoke, almond & dill pasta
400 gr sunchokes
1 herbs Knorr pot*
1 1/2 tablespoons extra virgin olive oil
250 gr whole wheat short pasta (I used Mafalda, because I love their beautiful ribbon shape- but any other variation would do) 
sea salt (for the pasta water)
a small bunch fresh dill, roughly chopped
1/3 cup almond flakes
1 1/2-2 cups single cream
freshly ground pepper & sea salt to taste
Prepare the sunchokes: you don't have to peel them, just wash them thoroughly and gently scrub any dirt left on their skin, discarding any hard or dark knobs. Slice thinly and run under water again, to remove any remaining dirt.
Fill a large pot with water, add the Knorr pot, sea salt and turn the heat up to high. Add the sunchoke slices and cook for about 7′, just to soften them a bit.
Heat the oil in a large frying pan over medium heat. Fish the artichoke slices out of the pan using a slotted spoon and drop them into the oil. Cook for about 10, until soft, adding the almond flakes in the last 3′.
When the pasta water is boiling, add the pasta and cook according to the pack instructions, until al dente, reserving 1/2 cup of the water and setting it aside.
Drain the pasta and then combine with the sunchokes in the frying pan; add the chopped dill, single cream, the reserved pasta water (you may not need to use it all), sea salt and freshly ground pepper to taste. Cook for about 5′.
Serve with extra black pepper if needed.
* This is the last recipe created with Knorr, as part of the BHMA Gourmet Food Blog Awards. All opinions are my own.