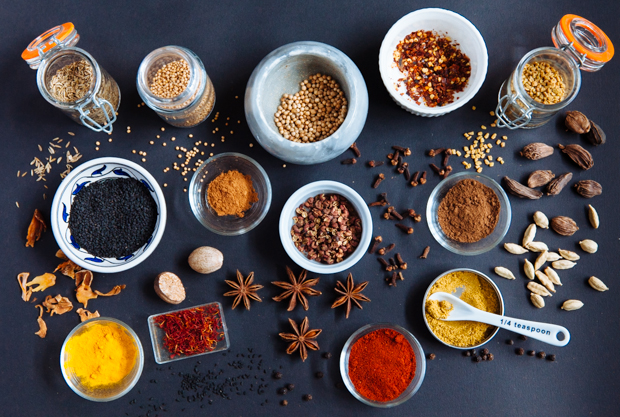 I often think that cooking is like putting together an outfit. Your basic ingredients are the garments and spices are all the little things that make an outfit special, like a great hat, a colorful scarf, a beautiful simple belt, a distinct piece of jewelry, a nice deep red lipstick or a killer pair of pumps. Your outfit would be ok without them, but, adding one or more of those accessories instantly elevates it and makes it shine. Same with spices: you can do without them, but honestly, why would you when just a pinch of this and a dash of that can make a simple dish all that more interesting and appetising?
So let's talk about these little gems which can take out cooking to a whole new level. My favourite brand is Bart, as all their spices are super fresh and aromatic (plus they come in the cutest containers) and here are some of favourites which don't only make a difference in my dishes, but also get me excited about cooking!
Favourite Spices
cinnamon: known and used since antiquity, cinnamon has a strong aroma, a deep sweet taste and a light spice; it is most often used in desserts (try this easy and delicious cinnamon & plum galette), but also elevates savoury dishes, such as thick sauces and meat stews or those of Middle Eastern origins.
cloves: these dried flower buds of an Indonesian tree are sweet and intense; they love apples and oranges, hence they are often used during the colder months both for sweet and savoury dishes. Combined with Cointreau they make a damn good hot chocolate.
Allspice is most commonly used ground and it's the dried berry of the West Indian homonymous tree. Its flavour, peppery with hints of cinnamon, cloves and nutmeg, is a great addition to desserts or savoury dishes, like in this spicy beetroot relish.
nutmeg: this warm and spicy 'nut' is perfect for sweet baked goods, but also adds a delicious hint of warmth and sweetness to cheese sauces, like in this fancy, creamy & crunchy mac and cheese.
mace: I discovered and became enamoured with mace quite recently. Similar to nutmeg in taste (they're both from the same plant), with mace being a little milder and citrusy, it's perfect paired with lots of herbs and parmesan for these zucchini fritters.
Green cardamom can be added in dishes whole, or with its smalls seeds extracted and grinded. Is is wonderfully fragrant with a strong sweet & spicy hint and is frequently used in Indian savoury dishes or Scandinavian desserts, like these epic buns from the Nordic Bakery.
Black cardamom is quite different to the green variety, with a strong smoky and a little camphor-like flavour; perfect used in savoury dishes, like this flavourful chicken curry.
Coriander seeds are the dried berries of the coriander herb; they have a wonderful aroma and a mild earthy taste, significantly less intense than fresh coriander. They are great added whole or slightly crushed to chutneys and different marinades (try these quick, easy and very tasty marinated olives).
Fenugreek: the seeds of this Mediterranean plant are usually used toasted and crushed for a faintly bitter taste and a strong aroma; the leaves can also be used and are a great addition to an aromatic, spicy dish, like this tilapia curry.
curry powder: a concoction of different spices (usually turmeric, chilli powder, ground coriander, ground cumin, ground ginger and black pepper), varying in strength, it is used extensively in various Indian or Indian inspired dishes, such as this quick, easy & healthy quinoa coconut curry.
Nigella seeds are often used in Indian and Middle Eastern recipes; they have a strong peppery and herby taste and a nice crunchy texture which is perfect for these soft and flavourful naans.
Smoked paprika is made of ground sweet and spicy chilli peppers; this delicious spice is available plain and smoked & sweet and hot. It can be found in dishes of many different cuisines and steals the show in this hearty Gulash.
Chilli flakes originated in the Americas but are widely used all around the world, especially in India. They are available in different levels of heat and are often added to a variety of dishes in many cuisines; combined with fresh lime zest, they add depth and a great kick to these brownies.
peppercorns: these Indian dried fruit are probably the most commonly used spice; they come in three varieties (black, green and white) and can add different levels of heat to a variety of dishes. This perfectly simple dried mushroom risotto has only a handful of ingredients and is only seasoned with lots of freshly ground black pepper.
Mustard seeds can be found in three varieties (black, yellow and brown), depending on the plant they come from; I use the milder, most commonly found yellow ones. Lightly toasted, their acquire a soft nutty taste, ideal for deviled eggs, along with capers and a fresh green salad.
Fennel seeds are small, perky and with a mild anise scent. They are perfect in rice dishes and curries, but their refreshing flavour is also ideal when paired with blueberries and mango for a delicious, not too sweet frozen yogurt.
star anise: beautifully shaped like a star and with a strong aniseed flavour, it is used extensively in Chinese cooking, but also in sweet drinks, like this autumnal rum and apple cider cocktail.
sichuan peppercorns: very mild in taste (unlike black peppercorns and chillies), they have a fantastic slightly lemony taste and are widely used in Asian dishes. It also adds its beautiful taste in these lentil & cheddar bites.
Saffron is the most expensive spice in the world (every thread is handpicked and you'd need about 500,000 of those for a kilo); luckily, just a pinch of it is enough to add a unique flavour and a lovely pale yellow hue to a variety of dishes, from Moroccan tagines to the Spanish paella. Paired with cheddar and apple, it makes these savoury muffins all that more special.
Turmeric is available both fresh (in small, deep orange ginger-like knobs) and dry (as a bright yellow powder, which has to be handled with care as it can easily stain everything it comes in contact with); it is part of the ginger family and has antioxidant properties and a strong taste- what better way to enjoy it than in a beet, grape and date smoothie?