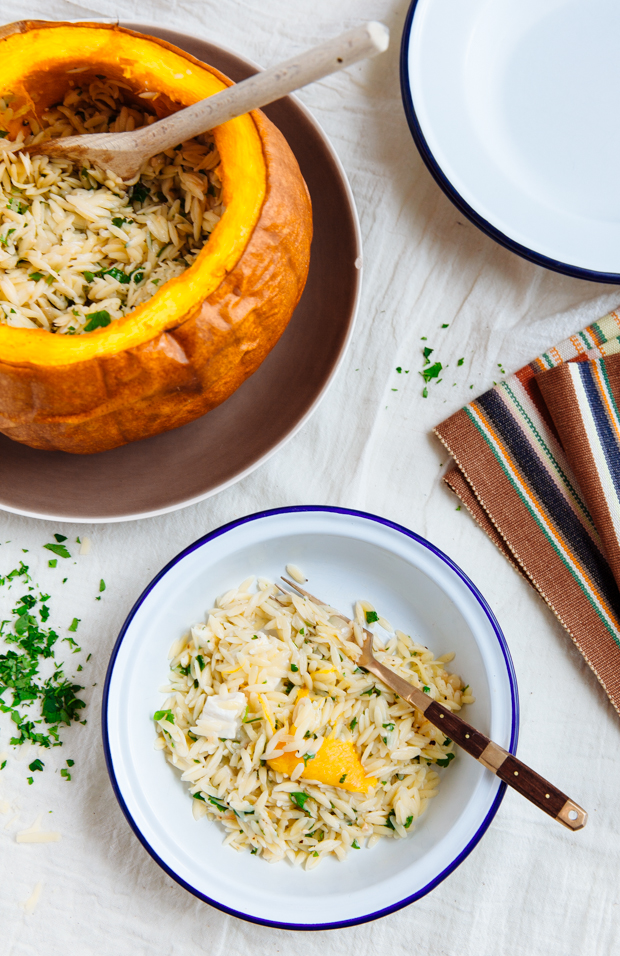 Beware people, pumpkin craziness season is upon us! All sizes, all colours and shapes, some ridiculously overprices, but all so lovely, pumpkins are currently les belles of the ball. You really can't escape them- but honestly, why would you want to? Sweet in taste and with such deep autumn-y colours, they stand out both as decorations but also as part of so many dishes, sweet and savoury as well.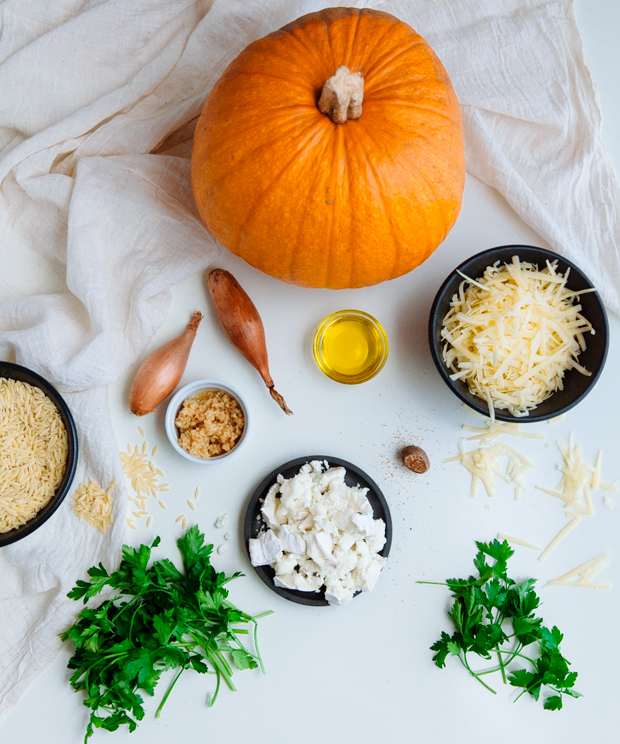 Come October, I stock on pumpkins and squashes and first use them in soups and risotto, or pasta. In a soup, their flesh gets soft and velvety and their subtle taste is the perfect canvas for the addition of different spices and herbs. In risotto and pasta, I usually pair them with sage and crunchy nuts and balance off their sweetness with lots of salty cheese.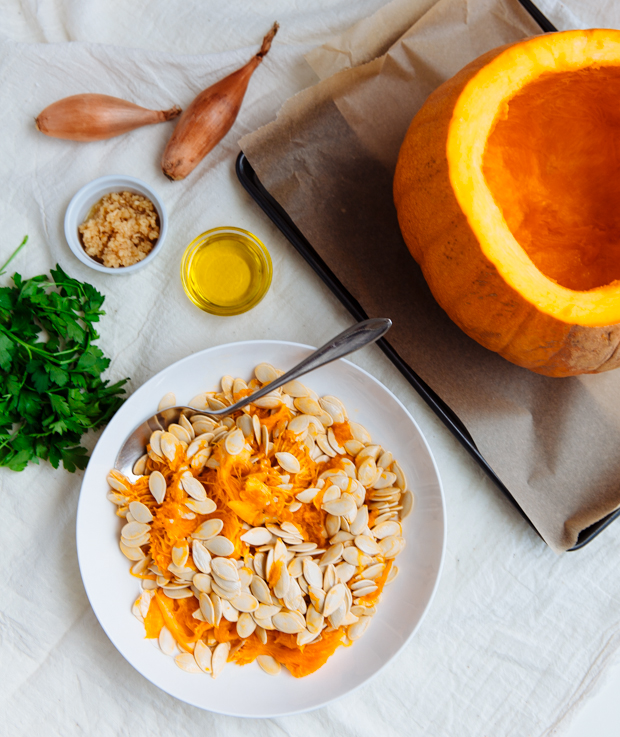 This dish is based on the same principles (spices & herbs, combined with cheesy pasta); it is however a little different. The pumpkin is first baked on its own and then filled with delicious orzo pasta and lots of cheese.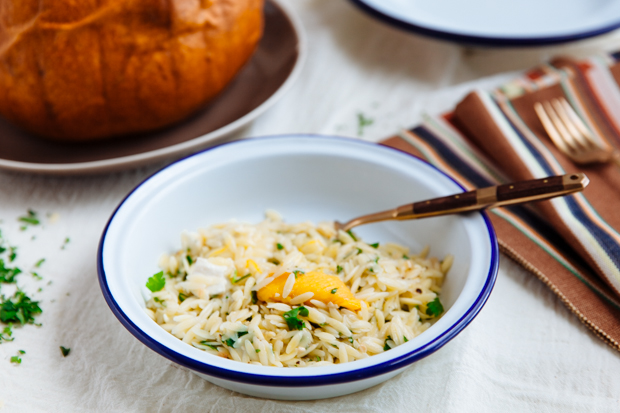 Let's start with our beautiful, chubby pumpkin. Let's scoop out the seeds (and let's make these flavourful and delicious roasted pumpkin seeds with them) and strings and brush the inside with some olive oil and a generous pinch of salt. Let's then put in the oven for half an hour, until soft, a little charred and ready for our stuffing. Very al dente orzo will be our first partner in crime and it will be tossed with sautéed sweet shallots, a touch of garlic, soft and creamy goat's cheese and delicious gruyère.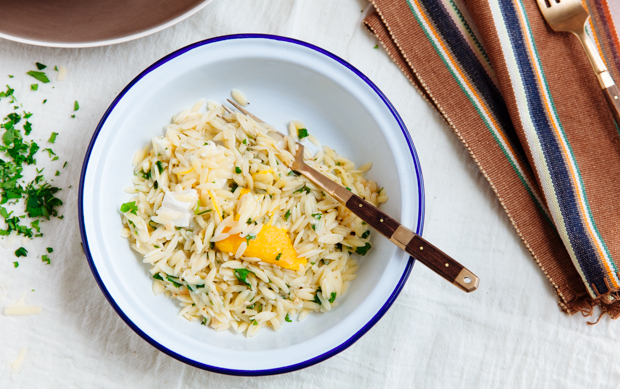 In our baked pumpkin they'll go, along with another big pinch of salt, freshly ground fragrant nutmeg, lots of black pepper and fresh parsley. And we'll bake the whole lot again, until our pasta is cooked to perfection and our cheese is melted and our pumpkin is soft enough to spoon out along with everything else. And we'll thank October for all it's crazy pumpkin-ness and do it all over again until pumpkin season's over.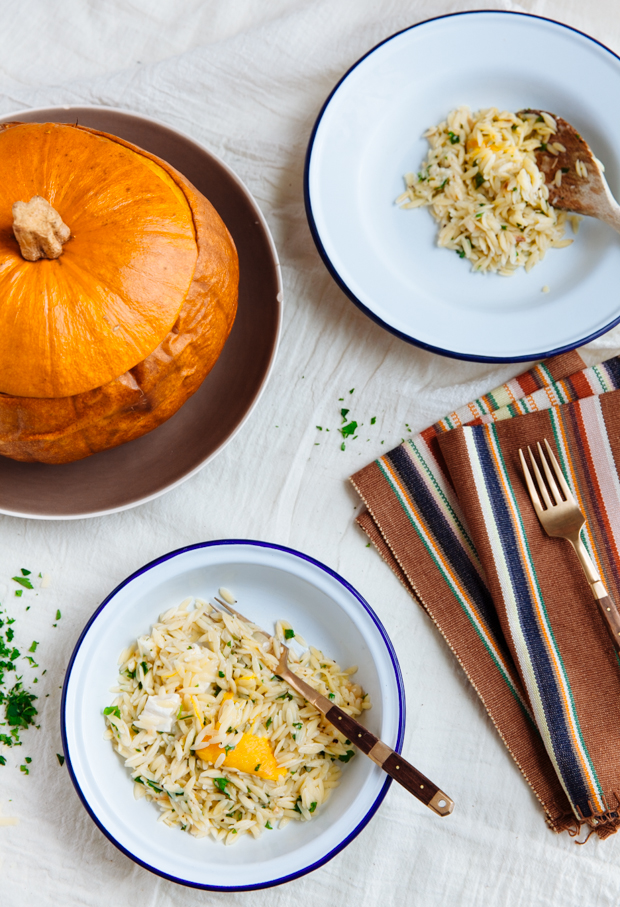 Goat cheese, gruyère & orzo stuffed pumpkin
1 medium pumpkin (about 3kg)
2 cups orzo
3 tablespoons extra virgin olive oil
2 medium shallots, roughly chopped
1/2 tablespoon minced garlic
a small bunch of fresh parsley, roughly chopped
100gr goat's cheese, crumbled
100gr gruyère, grated
1/2 teaspoon freshly grated nutmeg
Turn the oven on to  200C (180C for air). Slice the top off the pumpkin and remove the seeds and threads. Brush with one tablespoon olive oil and sprinkle generously with sea salt flakes. Bake for 30'.
In the meantime, add the orzo to a medium pot of boiling, salty water and cook until quite al dente- about 4'. Drain and rinse with plenty of cold water. Place in a large bowl and set aside.
Heat the remaining two tablespoons of oil in a medium frying pan over medium heat and sauté the shallots for about 3', until soft. Add the garlic, stir and cook for another 2'.
Add the shallots and garlic to the cooked orzo and mix in the chopped parsley and grated nutmeg and add of the goat's cheese and gruyère, reserving some for later. Toss well.
Remove the pumpkin from the oven carefully and fill up with the orzo. Add 1/3 cup water, sprinkle the remaining cheese on top, cover with the pumpkin lid and place back in the oven. Reduce the heat to 180C (160C for air) and cook for 25-30'.
Remove from the oven, let cool for about 5 and serve, scooping out the orzo, while also scraping down the cooked pumpkin flesh.