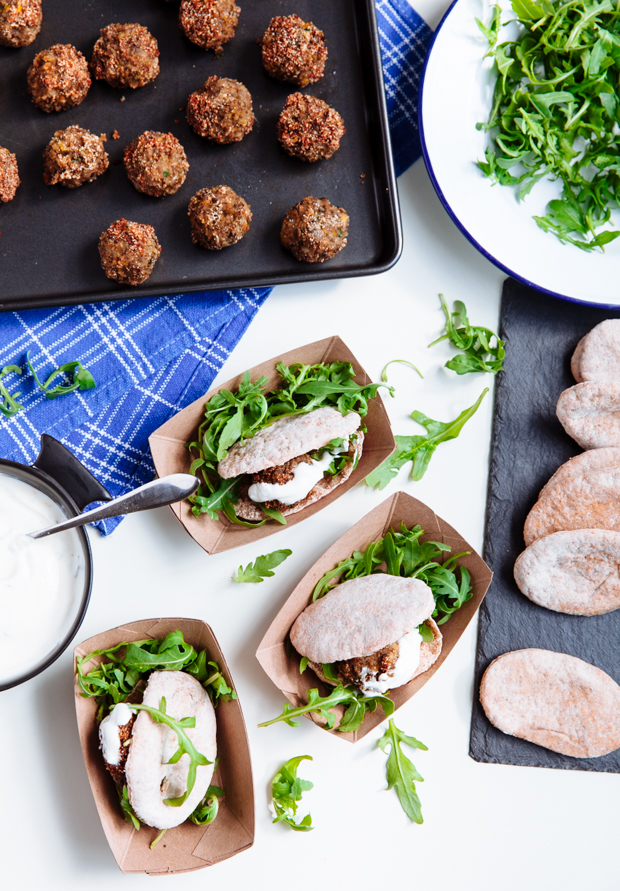 Of all the pulses out there, lentils are my least favourite. Actually, let me clarify: lentils, the way they are usually prepared in Greece -as a watery stew with onion and/or garlic, bay leaves and often times carrots- that's one of my least favourite pulse dishes. I can't bear it now, couldn't bear it when I was living at my parents' house and my mom would make her own variation, slightly thicker, with some chopped tomatoes and different spices and herbs thrown in the mix. I would overload my plate with vinegar, grab a fat slice of bread and reluctantly dig in hoping for the best.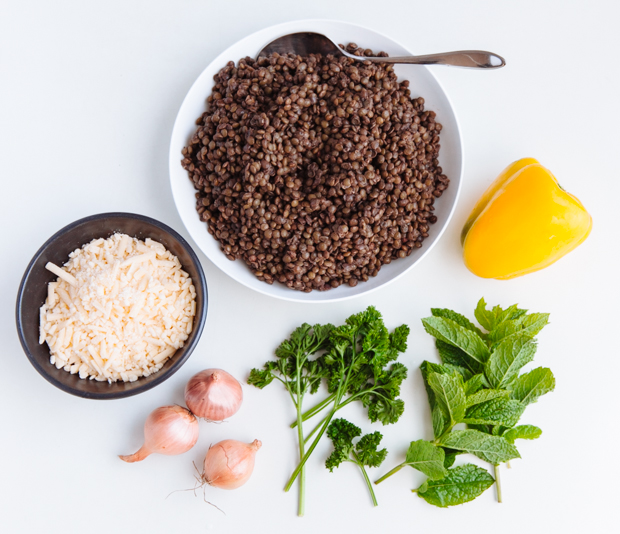 I however find lentils very appetising when they are part of a salad, paired with lots of fresh vegetables and herbs, a nice sour vinaigrette and often a chunky piece of fatty fish. As it happens though, for the last six years, I've been sharing my food (and lots more) with a hungry bearded man, twice my size, who considers salads to be, you know, salads, aka, something one eats on the side. Also, his favourite food in the whole world is a lentil stew.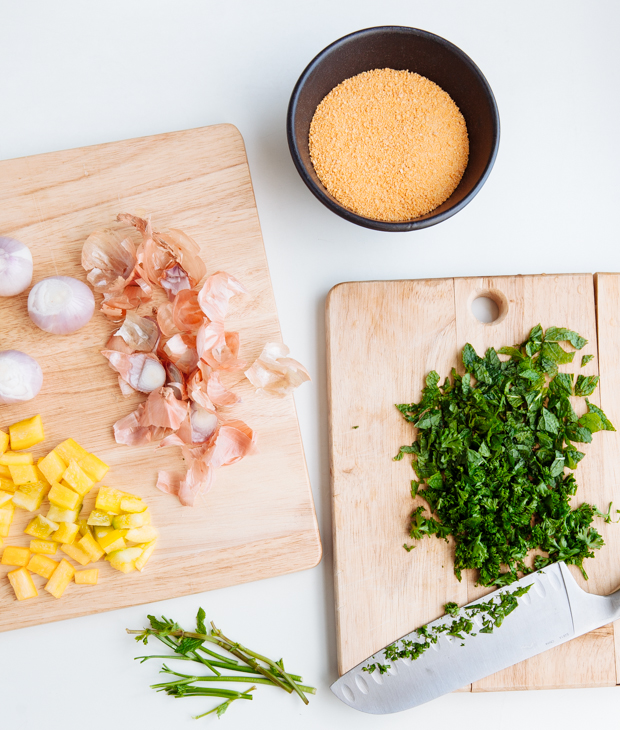 Apart from hungry (and bearded and big), my significant other is also endlessly patient and enthusiastic about (almost) anything that lands on his plate. Sure, by now he's more than over kale and quinoa and my small portions, but still, he hardly ever complains. What he really misses though, apart from steak, is lentils.  So as you can clearly see, we've found ourselves in a bit of a pickle: how do we combine his love of said ingredient and my absolute refusal to make a 'proper' lentil dish?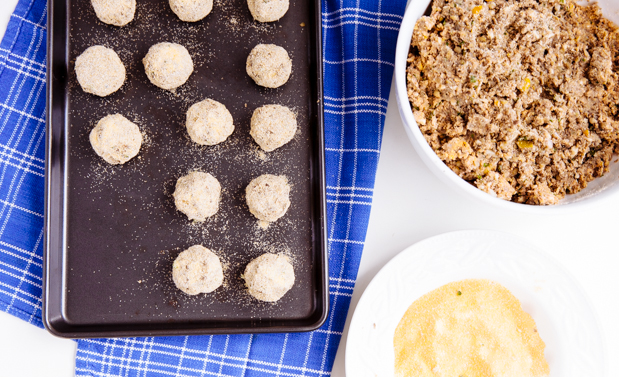 Over the summer, going through various cooking magazines, I stumbled upon a recipe which featured lentils, combined with vegetables, herbs and (the magic ingredient) cheese, rolled into delicious little balls and fried until crunchy and perfect. Sadly, I only kept notes on the recipe, so I won't be able to provide the source here. If you recognise it, please give me a shout. That recipe proved to be the answer to my question, the pathway to having lentils and loving them too!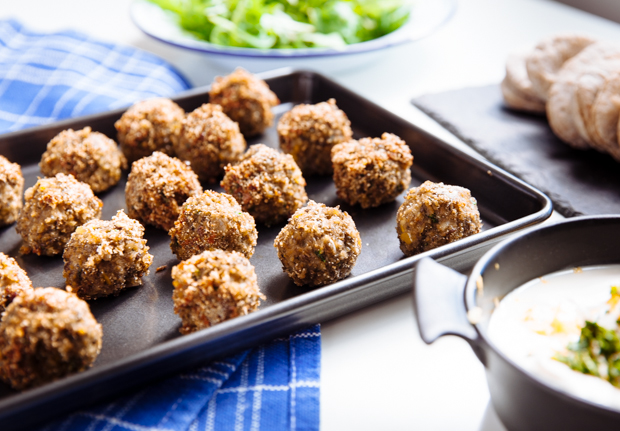 There's so much goodness and flavour here: green lentils, cooked with Sichuan peppercorns for extra flavour and a tiny bit of heat; plenty of fresh herbs, a crunchy yellow pepper for texture and colour, lots of mild cheddar to make these bites so much more delicious – everything here is winning. Fry until just golden brown (I know frying is a pain, but you know you want to) and serve with a simple, creamy and lemony yogurt mint sauce. And there it is: lentils as my new favourite dish. How about that.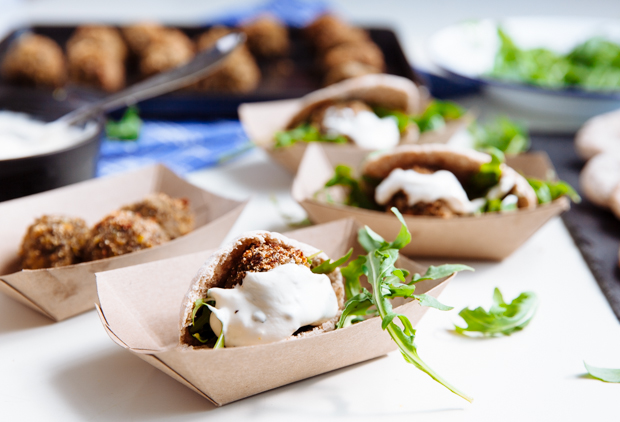 INGREDIENTS (for about 60 bites)
500gr green lentils
1 teaspoon Sichuan peppercorns
1 yellow pepper, washed, seeded and roughly chopped
3 tablespoons fresh parsley, roughly chopped
2 tablespoons fresh mint, roughly chopped
3 shallots, roughly chopped
1 1/2 cups mild cheddar, grated
1 tablespoon olive oil
sea salt flakes to taste
1 heaping cup breadcrumbs
1 cup polenta 
For the yogurt/mint dip:
1 cup full fat Greek yogurt
1/2 tablespoon fresh mint, minced
1 teaspoon lemon zest
sea salt and freshly ground black pepper to taste
Combine the lentils and Sichuan peppercorns and add to a medium pot of boiling water. Stir well, reduce to a low simmer and cook until soft- about 30'. Remove from the heat, drain and set aside to cool to room temperature.
Combine half of the lentils with half of the pepper, herbs, shallots and cheddar and pulse until a thick paste forms. Transfer to a large bowl, add 1/2 cup breadcrumbs and a drizzle of olive oil and toss well.
Repeat with the remaining mixture and transfer this to the bowl as well. Combine, adding extra breadcrumbs if necessary- you want the mixture to come easily together and to be quite sticky.
Heat plenty of vegetable oil in a large non stick frying pan on very high heat. In the meantime, form small balls with the mixture: take about 2 tablespoons of the mixture each time and roll gently between your palms, assisting with your fingers. Gently roll the balls into the polenta, until covered. Set the balls aside on a large plate while the oil is heating up.
When ready to fry, have a large tray or dish lined with lots of kitchen paper next to your pan and, using a slotted spoon, start dipping the balls into the hot oil (carefully!).
Fry for a couple minutes, gently turning, until each ball is golden brown.
Remove from the pan and place on the paper towels.
Repeat until all the balls are fried. Set them aside to cool to room temperature.
To make the yogurt dip, combine all the ingredients.
Serve inside pita breads, with some fresh green leaves and a good drizzle of the yogurt dip.
P.S. These also freeze well: allow them to cool completely after frying, place in a large baking tray and freeze until solid. Then transfer to freezer bags in batches and keep in the freezer for up to two weeks. Simply warm up in the oven before serving.