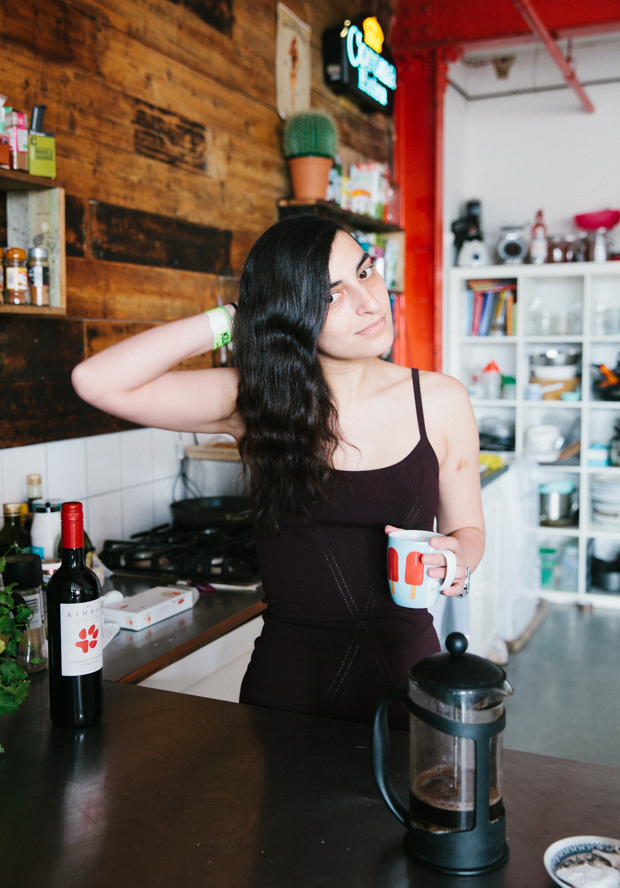 Nassia Matsa, Editor of FAQ FOOD & working full time at the advertising department of WIRED (on the side: production coordinator for the documentary platform The New British / drummer for EX-PRESIDENTS), from Athens, Greece, lives in Hackney
I met Nassia about a year ago through mutual friends. I was immediately taken in by her energy, social skills and enthusiasm about food. That first night we met ended very appropriately (and very late) with pizza at Voodoo Ray's (one of Nassia's favourites)- were we had our first of many conversations about ingredients and trends, food porn and London, favourite childhood food memories and new-found exciting dishes.
One of these conversations took place at her cool pad, a converted warehouse opposite The Dolphin. It started with strong, freshly brewed coffee and ended up with Nassia's delicious 'drunken' risotto. Honestly, I can't think of a better way to start and end a conversation- can you?
How did you come up with FAQ FOOD magazine?
For as long as I can remember, I was spending all my money on magazines. When I was 17, I decided I wanted to have my own, a publication which would be quite unique in terms of concept. During my studies at The London College of Fashion and in order to complete my Master's in Fashion Journalism, I had to come up with a unique concept of a media product, something not yet available in the industry, proving through a detailed market research that there was indeed a gap in the market that needed to be filled.
Back in 2012, there was this major boom of food porn. But there was nothing aimed at the target group I belonged in: students and young professionals, who were into cooking at home but had a limited budget. Also, where I come from, home cooking is not considered a middle class asset but a life skill. If you know how to cook you'll never starve nor will you need to be on a diet- even if you choose to eat a home-cooked burger, cooked with proper ingredients, chances are it will be much healthier than a store-bought 'light' option.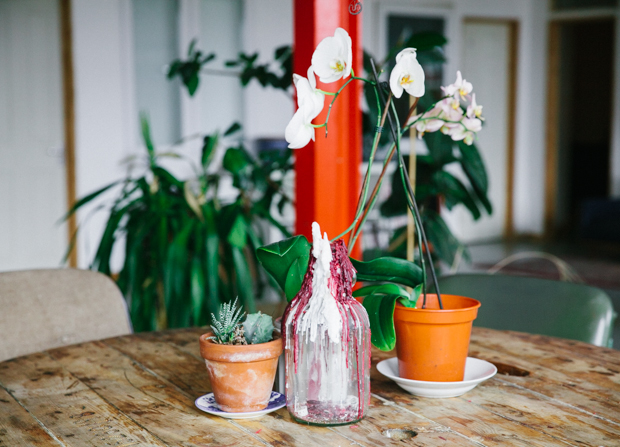 FAQ FOOD is very much associated with East London; how you see East London in general and, more specifically in regards of its food scene?
It is such a chaotic city, you have to find you own London within London. I loved the irony of The City of London being next to one of the poorest places of the city (prior to the gentrification). For me, East London is a hub for young creatives, the place where trends start and every week you see something new. Hopefully, the Tech City and this massive gentrification will cease limiting these characteristics. My favourite places to eat there are L'Entrepôt (Hackney Central, for the best beef tartar), Rita's (Mare Street, for the ever changing menu) and Voodoo Ray's( Dalston, where I always end up after a night out).
FAQ FOOD has a very specific aesthetic; how did you come up with it, seeing as many food magazines and blogs out there have a more 'polished' kinda look?
There are so many food publications/blogs that are focusing on a clean-cut look, following The Gentlewoman layout which started this trend. Too be honest, I'm a bit over it. Instead, I'm more drawn to the aesthetic of fanzines and that of the post-hardcore scene, a music subculture with a really strong aesthetic. For me, music always goes hand in hand with a visual answer on how things should be. Before I started FAQ FOOD, I had only seen that type of aesthetic in band t-shirts. At the time I wanted to be in a band, so I released this creativity into my magazine as a salute, if you will, to the bands I most respect. Apart from that, I truly believe in the animalistic tendencies that food awakens. I get a lot of comments saying that I sexualise food. If it is so, it's certainly not out of lack of respect- quite the opposite: I believe food is sexual, as we all first experienced food through our mothers, without separating pleasure from food. I actually like food being sexual, messy and not clean cut.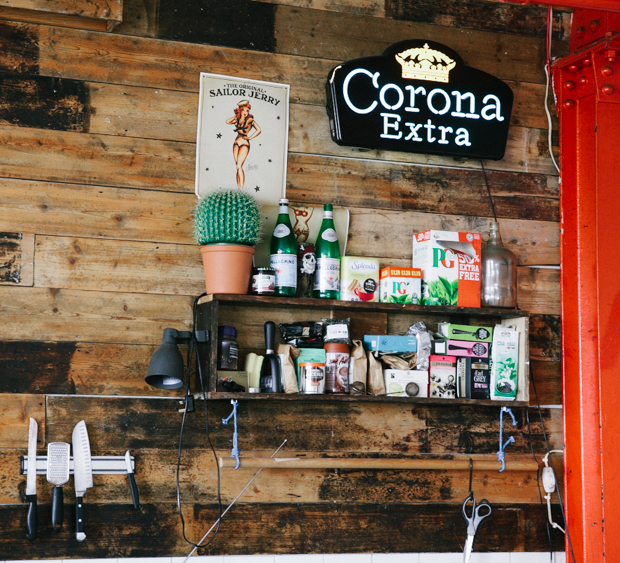 How is FAQ FOOD situated in today's 'foodie' scene? What are your plans for the future?
I've never thought of this before; I focus on making FAQ FOOD a 'zine with a unique aesthetic, a bit quirky and a bit fun, just as food is supposed to be. Plans for the future? Gosh, loads…I am focusing on the publication at the moment, with an edible version to follow (yes, you'll be able to actually eat the magazine), organising parties and putting together a series of monthly merchandise.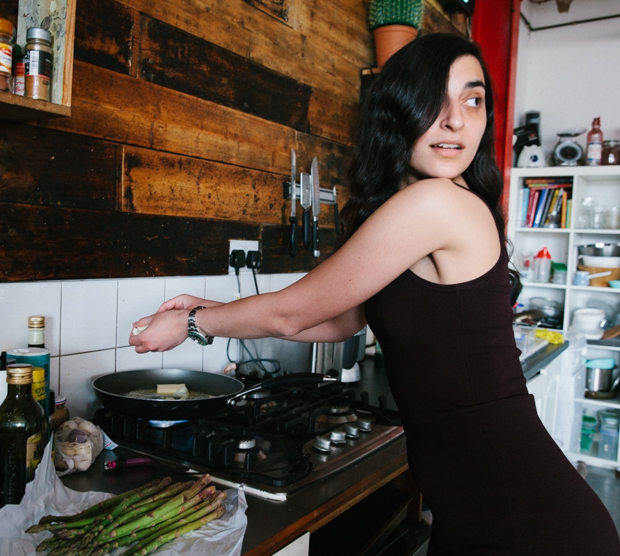 3 favorite ingredients: Pine nuts (roast them with garlic to release their oil and wooden flavour), smoked salt from Cyprus (I always found various flavoured salts a bit absurd to be honest, but since I've tried smoked salt, I understood why those 'flavoured salts' exist), red wine [it makes food (and life) better]
What do you always have in your fridge? Seasonal vegetables, parmesan, coffee (coffee kept in the fridge is supposed to keep fresh for longer, but mostly I just like seeing the coffee tin every time I open the fridge)
Go- to snack: I don't like snacking, I like proper meals. Snacking is quite a recent thing apparently- I had read an article on how Haribo tried to implement the concept of snacking- people used to only eat proper meals, so they didn't know how to market their product. 
Which ingredient do you consider overrated? Hands down, kale and quinoa. Fun fact: quinoa was used to feed horses; now it's so overpriced, poor horses will probably have to be fed with an alternative.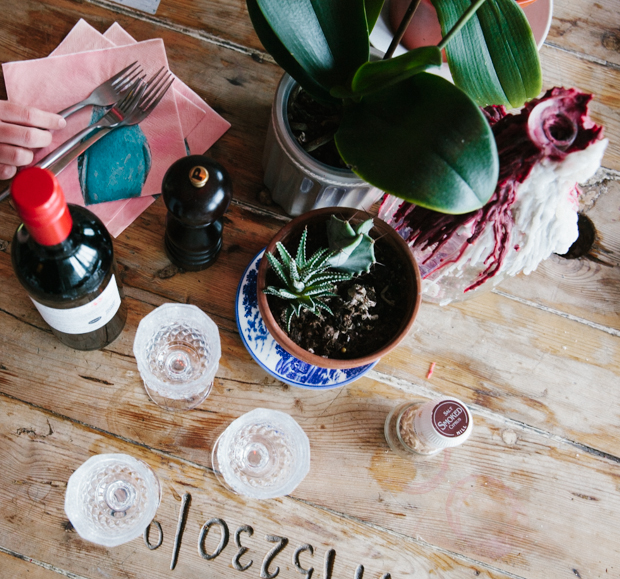 3 favourite places to eat in London: There is a pub just behind Holborn station, which serves one of the best Sunday roasts. All the food is extremely cheap for its quality and there's also a good selection of pale ales . Every Sunday they also have a jazz band playing, with all members in their late 60s. Also, 10 Greek Street in Soho- I love the straightforward name and their venison. Finally, Duck and Waffle: Located on the 40th floor of Heron Tower, D & W has a spectacular view- but don't go during daytime or even evening time, as the crowd can get a little pretentious. It's at its best very early in the morning- in fact,  one of the best meal I've had there was with my best friend, at 4.00 am, after a party. We watched the sunrise and then went for an early window-shopping session.
3 places you go to for your grocery shopping: Harvest E8 (for that extra smoky cheese I brought to one of your dinner parties), a small grocery store right at the end of Broadway Market, next to London Fields- all the vegetables are placed in such extreme order and tidiness, it makes me happy just looking at them. Finally, the local off-license around the corner- every time the owner sees me, he swears at me in Greek. 
3 food memories: Summers with my dad when we'd go for a swim at the quiet, not yet discovered by tourists, beaches near the islands of Hydra and Spetses; we'd find sea urchins (which can only be found in the clearest seas) and eat them straight from the water, saving some to bring back home, so my mother could cook a simple pasta al'olio, decorated with their orange, caviar-like flesh on top.
The Mont Blanc my mother makes on early spring, when we can finally have breakfast on the balcony.
The first risotto I have ever had, aged 8, made by my Italophile aunt living in Exarchia, a neighbourhood in the centre of Athens where the combination of arts, anarchists and history is quite animated to say the least.