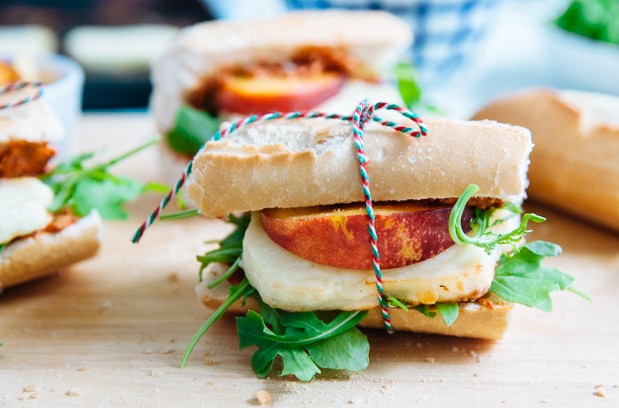 I spend about half of the year without tomatoes. It's a hell of a lot of time, if you ask me. But it's always worth it. Come late spring, when I'm finally able to get my hands on the first ones of the season, I remember why I need to wait.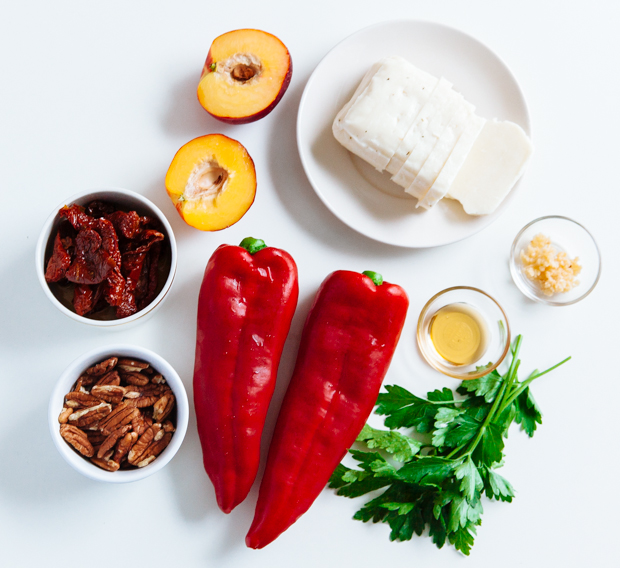 The smell of tomatoes alone is a thing to celebrate; it's subtle, yet unmistakably strong. It's fresh and earthy and instantly reminds me of the long line of our tomato plants, me filling whole small baskets of them, my hands itchy from touching the vines, tomato juice dripping down my chin from biting on a juicy ripe one right there on the spot. Tomatoes are all about late spring and summer, all about quick, barely cooked meals with lots of strong, fresh flavours: salads and bruschettas, cold pasta dishes and chilled soups.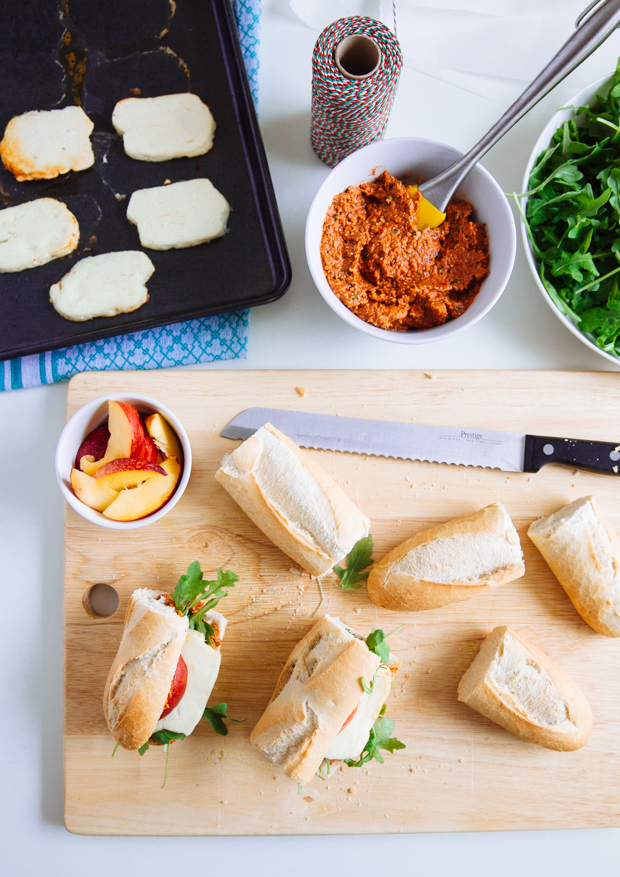 Sun dried tomatoes are a very close second- don't even get me started on those: drenched in extra virgin olive oil, soft, yet still holding a bite, I can't get enough of those either. I usually eat them straight from the jar with my hands. Some times though, usually after I've demolished half of said jar, I try to come up with ways to use them in actual meals. Nothing too fancy or complicated; tomatoes don't need much, they're superstars on their own. Shiny and crunchy ramiro peppers, roasted until their skin bursts; crunchy pecans for texture and a slight caramel-like nuttiness; fresh parsley, a touch of salt, lots of black pepper and a good drizzle of honey for balance. All this goodness mixed into a chunky paste.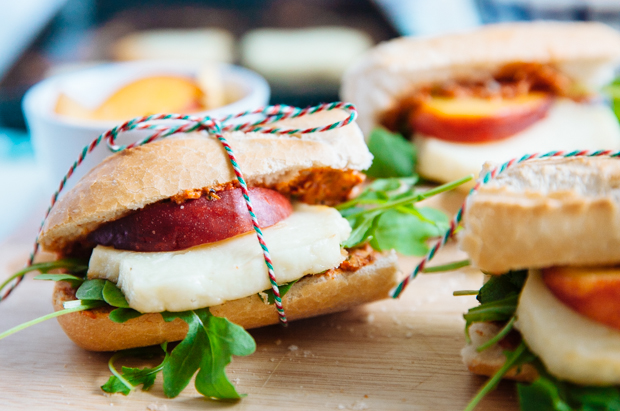 And we're almost there: salty and perfectly elastic grilled halloumi, a handful of peppery rocket leaves and a couple slices of sweet nectarines- all tucked into freshly baked, fragrant pieces of baguette for a perfect little sandwich, bursting with flavours: salty and sweet, soft and crunchy, fresh and delicious. Nothing fancy, barely any cooking, no fuss, no big deal. Just celebrating tomatoes one big, bold, satisfying bite at a time.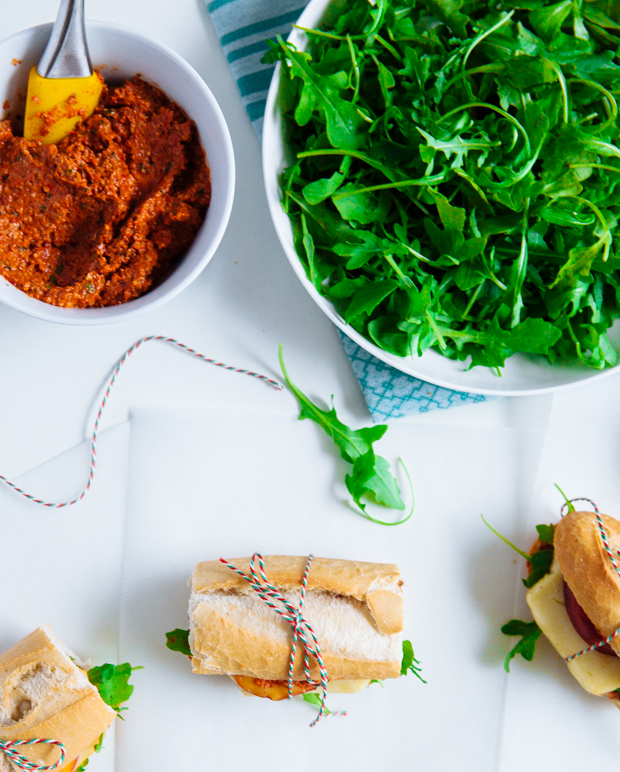 INGREDIENTS
1 cup sundried tomatoes in olive oil
2 ramiro peppers, washed and dried
1 small handful fresh parsley (about 1/4 cup), finely chopped
1 scant teaspoon garlic, minced
1/3 cup pecans
1 tablespoon honey
1 tablespoon water
salt & freshly ground black pepper to taste
1 pack (250 g) halloumi cheese
1 nectarine, washed, cored and sliced
fresh rocket leaves
1 large baguette
Preheat the oven to 180C (160C air). Place the peppers on a baking tray and brush lightly with olive oil. Roast for about 15′, until fragrant and the skin is cracked. Remove from the oven and set aside to cool. Keep the oven on. Slice the halloumi and grill until golden brown, about 10′.
While the peppers are cooling and the cheese is in the oven, place the sundried tomatoes, parsley, garlic, pecans and honey in a food processor. Remove the skin and seeds from the peppers and add to the mix. Pulse until a thick paste forms and slowly add 1 tablespoon (or more) water to reach the desired consistency. Taste and add black pepper and salt (don't oversalt, as the halloumi is quite salty on its own).
Assemble the sandwich: slice the baguette in 10 cm pieces and cut lengthwise. Spread a generous layer of the paste on the two sides of the bread, then add rocket leaves, a slice of halloumi and a couple nectarine slices.