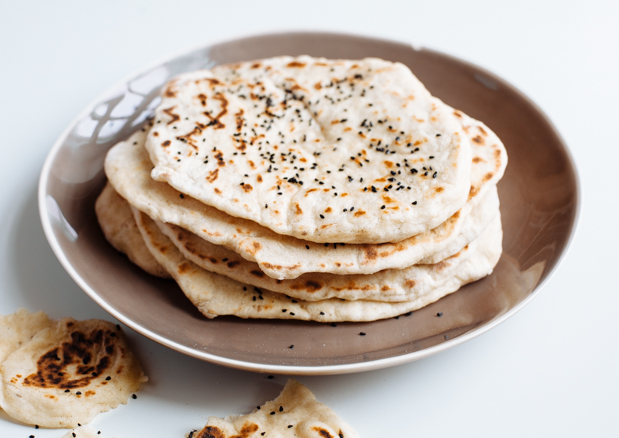 My favourite part of an Indian meal, is naan bread; at a restaurant or at home, I hold my fork on one hand, while the other is constantly stuck on a big chunk of naan, and then another and another. I just can't get enough of it's slightly chewy texture, its fragrance and the assistance it provides with whatever delicious dish I'm devouring.
Up until recently, the naan I'd have at home was store-bought; good quality, yes, but not home-made. I recently had some friends over and made a curry for them and on a stroke of genius and gluttony, decided to also make my own naan, to accompany the meal. Boy was I a fool for not doing it years ago.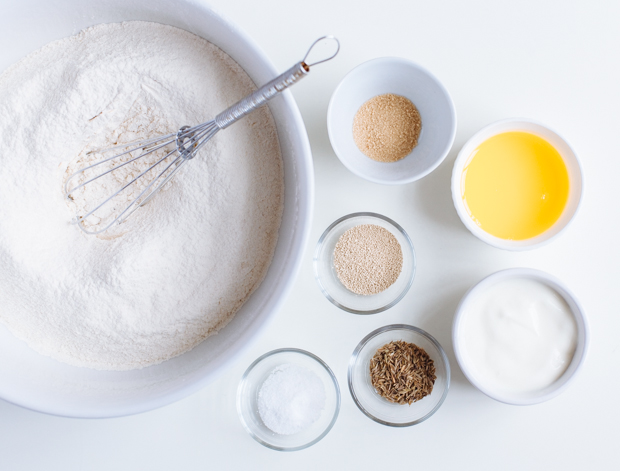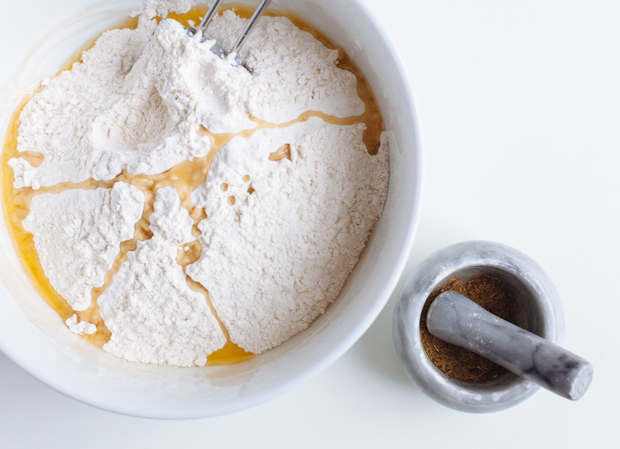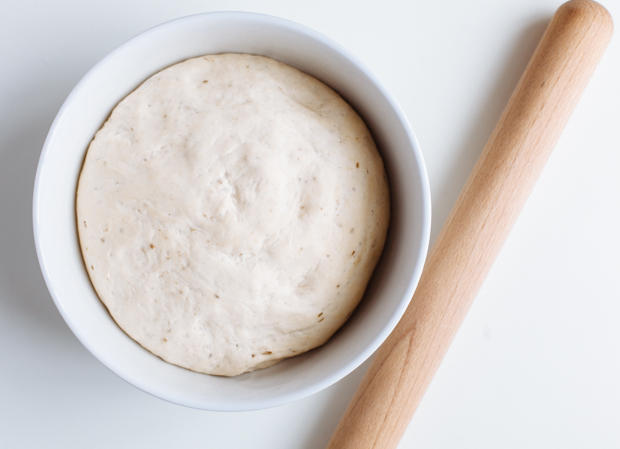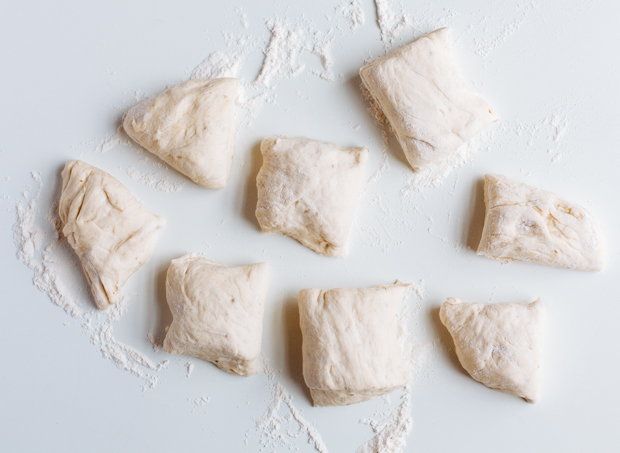 Naan is so easy to make and so much tastier than the readily available ones! The process is similar to that for a simple loaf of bread, with a few additions along the way; yeast is mixed with a little sugar and a splash of water, to make a basic 'starter'. Yogurt is then added to the mix, along with ghee, a super delicious and healthy type of clarified butter, often used in Indian cuisine (although its uses are not limited there); you'll also need strong, white bread flour, a pinch of salt and lightly cooked and crushed cumin seeds.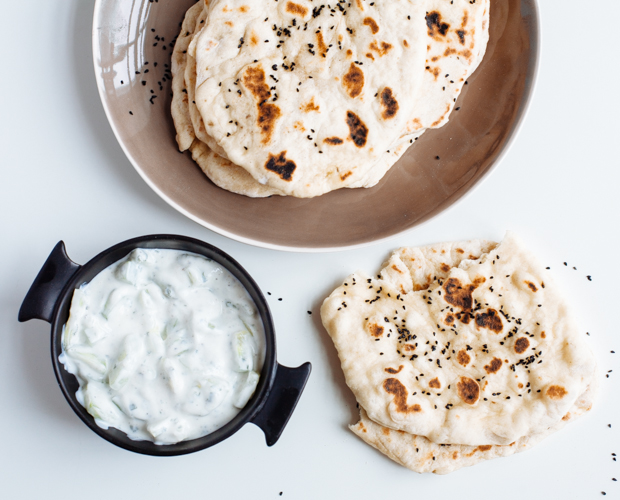 Everything is bound together with water, enough to make a soggy dough which, after little kneading, will become elastic and gorgeous. Let it rise for about an hour, during which you can make a super simple raita, with some yogurt, crunchy and refreshing cucumber slices, a touch of honey and cumin, salt, pepper and a handful of fresh mint.
When the raita is ready and popped in the fridge and your dough is doubled in size, silky and ready to be rolled out, that's when the fun begins: cut in even pieces and roll out in small, slightly egg-snapped disks. Pop one at a time on a very hot pan and cook until a little bubbly and golden brown. Brush with some more ghee and sprinkle nigella seeds on top. And that's is! Aromatic, soft and a little chewy, perfect to scoop up raita or a delicious sauce. Naan, it's always been a pleasure, but now- now it's just too much.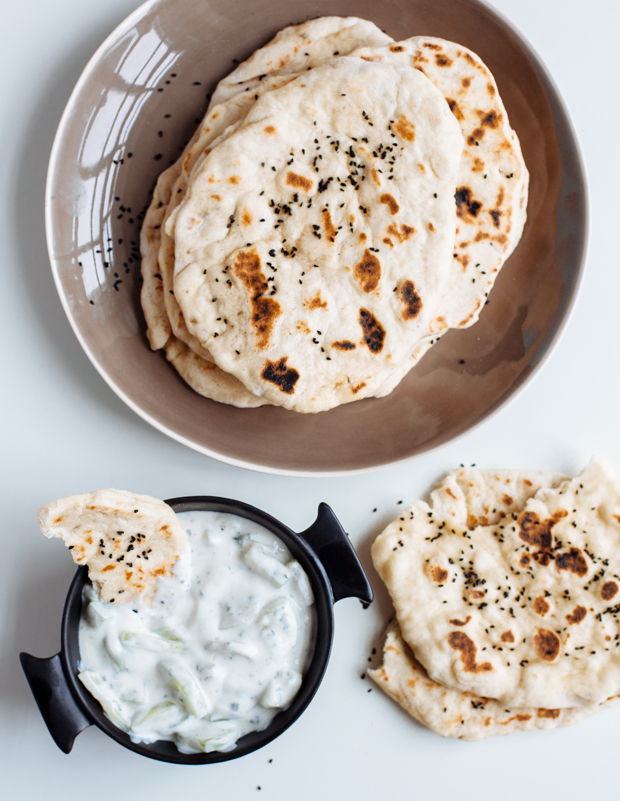 INGREDIENTS (makes 8)
1 1/2 teaspoon yeast
1 teaspoon sugar (I've used both white and light brown and they both work fine)
3 tablespoons very warm water
1/3 cup half fat Greek yogurt
4 cups strong white bread flour
1 teaspoon salt
1 teaspoon cumin seeds
4 tablespoons ghee*
about 2 cups water
nigella seeds (for sprinkling)
for the raita:
a heaping cup of half fat Greek yogurt
a scant teaspoon runny honey
a generous pinch of powdered cumin
salt and pepper
1/2 a cucumber, sliced and quartered
1 tablespoon fresh mint, minced
In a large bowl, mix the the yeast, sugar and water and set aside until frothy (about 5').
In the same pan you'll be using to cook the naans, cook the cumin seeds over medium heat, until fragrant, about 5'. Remove from the heat, place in a mortar and when cooled slightly, crush them.
Once the yeast mixture is frothy, add the yogurt and mix well (you should have a thin paste). Add the flour, salt, crushed cumin seeds and ghee and fold again. Add one cup of water and the second gradually, folding as you go and keeping an eye on your mixture- you may not need the whole of the second cup, just enough for a soggy but manageable dough.
Turn the dough onto a well floured surface and knead until it stops sticking and becomes elastic and smooth.
Place the dough in a large bowl, lightly brushed with a little of the remaining ghee; cover with a tea towel and let rise at room temperature until double in size (about an hour).
While the dough is rising, make the raita: mix together the yogurt, honey, salt, pepper and cumin and add the cucumber slices and minced mint; combine and place in the fridge until ready to serve.
Punch down the dough and transfer to a lightly floured surface; cut in 8 pieces and roll each piece out in egg-shaped discs.
Place one disc onto the very hot pan and cook for about 2'; flip and cook for an additional 1 or 2', until bubbly and golden brown. Transfer to a place, very lightly brush with some of the remaining ghee and sprinkle with nigella seeds. Repeat with the remaining discs, keeping the cooked ones warm in the oven, on very low heat.
Serve with raita.
* To make the ghee: place 5 tablespoons unsalted butter in a small saucepan over medium heat; when the butter is melted, turn the heat down to very low. The butter will first bubble and then froth; stir it with a spatula and you will see the butter turn bright yellow, under the white, milky parts on the surface. By this time, the bubbling will have stopped, but will start again- when it does, turn the heat down and remove the pan from the stove; let cool slightly and strain through a cheesecloth. You'll be left with about 4 tablespoons ghee.