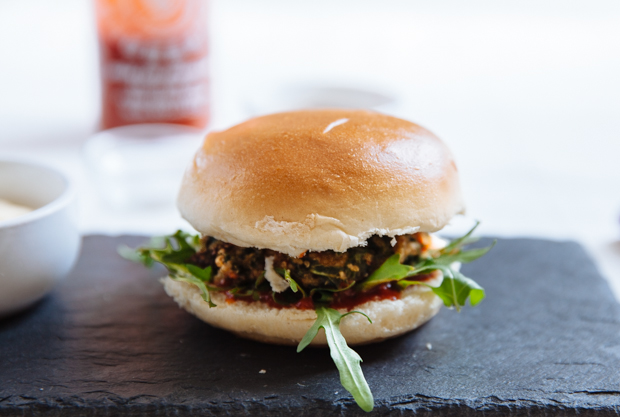 Even though I eat meat quite rarely, I'm always up for a good burger (as I've previously and inappropriately mentioned). I'm not as devoted as M, who's tried almost every good burger joint in town and has described and rated his experiences in excruciating detail, but whenever I'm given the opportunity to dig in a juicy, medium-rare burger, I'll take it- nay, I'll grab it!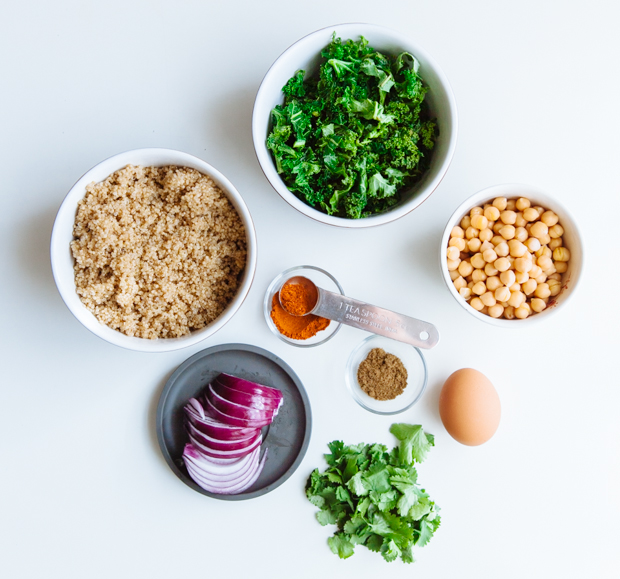 As much as  love them, I'm pretty bad at making and cooking meat patties at home (I think I take after my mom in this department): they always come out either too dry, or super soft, almost always shapeless and generally meh and on the bland side. But I try.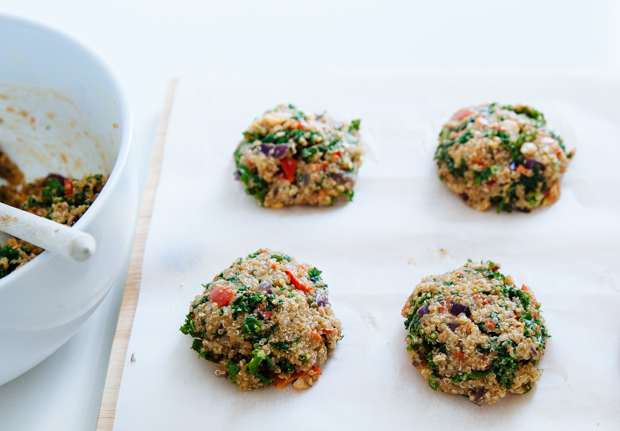 And while I practice and practice in order to perfect a juicy beef burger, I've gotten quite the hang of a veggie version, using fresh vegetables, beans and lots of herbs and spices. These ones, inspired by the varieties featured on the cooking section of the NY Times, are packed with bold flavours and different textures: dark green and bittersweet kale is mixed with crunchy quinoa, earthy chickpeas, purple, punchy onions and sweet red peppers, seasoned with with fresh coriander, cumin, paprika and fresh lime juice. When you bite into one, there is none of that delicious mess dripping down your chin you'd expect from a meat burger- instead, there's tons of wholesome flavours, some crunch from the quinoa and the kale, a little sweetness from the peppers, the aroma from the spices, not to mention all these different colours. I mean, almost too damn pretty to eat. Almost.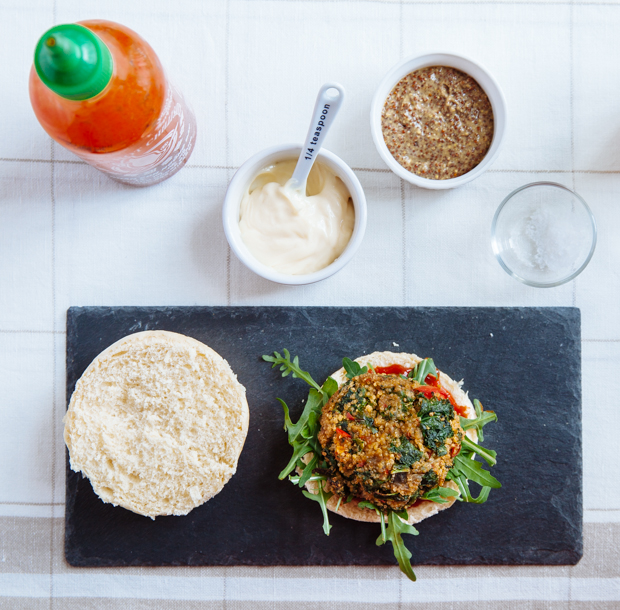 INGREDIENTS
2 cups kale, chopped, steamed, blanched in cold water, drained and patted dry
2 cups cooked quinoa (about 1/2 cup uncooked)
2 tablespoons olive oil, divided
1 red pepper, washed, seeded and cut in short, thin slices
1/2 large red onion, sliced thinly
1 teaspoon paprika
1 teaspoon cumin
1 cup canned chickpeas 
juice from 1/2 lime
2 eggs, lightly beaten
lots of freshly ground black pepper
1/2 teaspoon kosher salt
Preheat the oven to 190C and line a large baking tray with parchment paper.
Mix the kale with the quinoa and set aside.
Heat 1 tablespoon olive oil in a small pan over medium heat, add the pepper and onion slices and cook until soft, about 5'. Turn off the heat and add the paprika and cumin, stirring to mix with the vegetables for about 3'. Remove from the heat and let cool.
Place the chickpeas in a food processor and pulse a few times to form a coarse paste. Add the sautéed vegetables and pulse a couple more times.
Add the mixture to the quinoa and kale, add the lime juice, remaining tablespoon of oil, salt and pepper and mix well with a spatula until all the ingredients are well combined.
Add the beaten eggs to the mixture and combine again.
Using your hands, form medium size patties (using about 3 tablespoons of the mixture at a time). The patties will be soft and quite fragile, so keep a gentle, yet firm hand, making sure all the ingredients are held together (the eggs will help bind the mixture).
Place on the parchment paper-lined tray and bake for 20' (alternatively, you can bake them for 15' and finish them off in a hot oiled pan for the remaining 5').
Remove from the oven and serve between a brioche bun, fresh salad leaves, maybe a nice slice of cheese and Sriracha, mayonnaise and the works on the side.