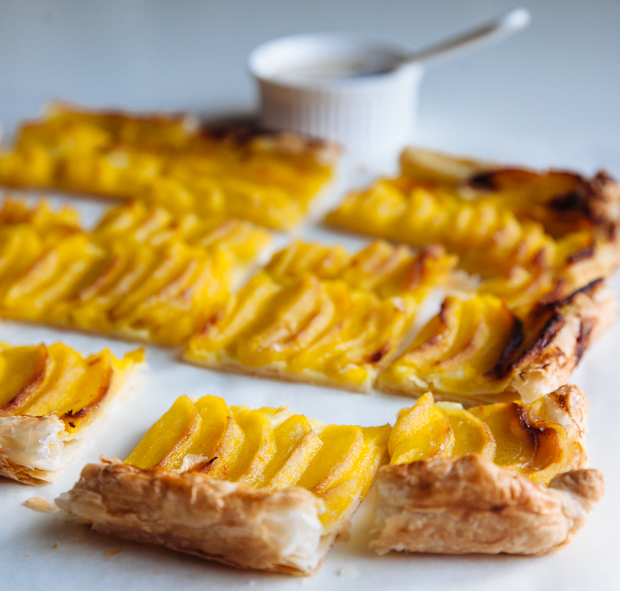 As of late, my favourite mid-day snack is a red, juicy apple, cut in thick wedges, with some tahini drizzled on top, finished off with some sea salt flakes. I always love combining sweet and salty flavours and this one is just perfect for a quick bite: the fruit, along with the nutty sesame paste and just a touch of salt is not only fulfilling, but also just right to keep me full for a few hours and stop me from attacking dinner like a mad person.
So this apple tart is basically said snack turned into a quick and easy dessert (my favourite kind). There's flaky store-bought all butter puff pastry, which always makes everything super tasty and a little fancy.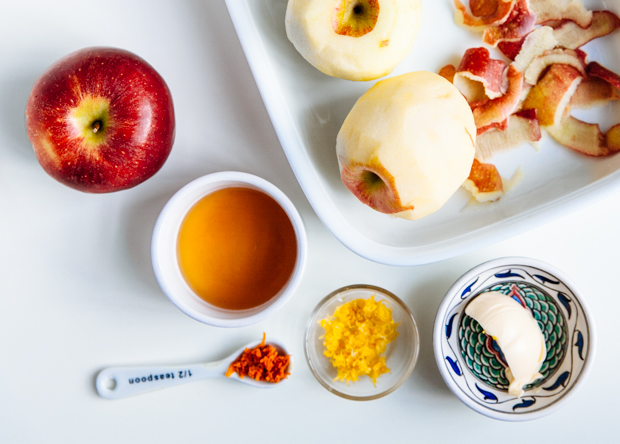 The sweet apples are cut in thin slices and tossed with a little butter, fragrant, thick honey and some grated fresh turmeric. Turmeric really is the star of the dish: it not only adds a gorgeous colour to the tart, but also a fresh, slightly tangy and punchy flavour which goes perfectly with the apples.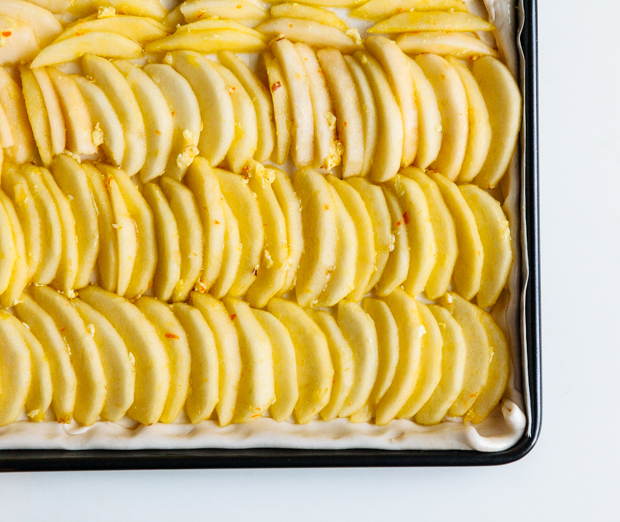 Once the tart is baked, I simply drizzle some thin tahini paste on top- trust me on this: the pieces may turn out resembling a quite unsuccessful art project (especially if you are as clumsy as me), but you really need it here: along with the sea salt flakes, it adds just a touch of saltiness, which brings out the sweet fruitiness of the tart.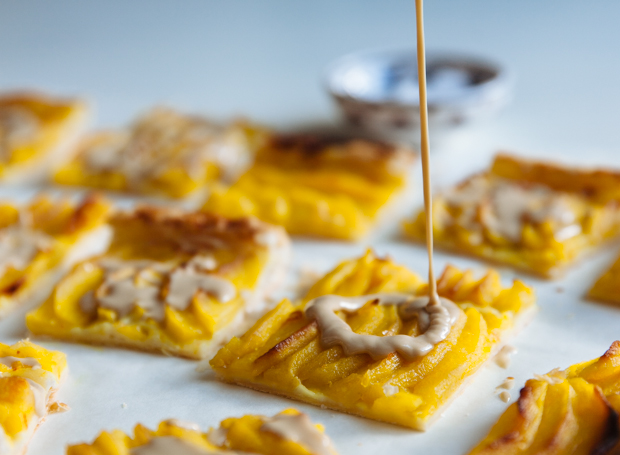 INGREDIENTS
1 sheet all butter puff pastry
4 apples (preferably of a sweet variety), sliced thinly
2 1/2 tablespoons honey
1 teaspoon lemon zest
2 tablespoons very soft unsalted butter
1 teaspoon fresh turmeric, grated
sea salt flakes
1 egg (for egg wash)
3 tablespoons tahini paste (I used a very runny one- if you have a thicker variety, thin it out with a splash of warm water)
extra sea salt flakes
Preheat the oven to 200C.
Like a baking sheet with parchment paper and set aside.
In a bowl, toss together the apple slices, turmeric, butter, lemon zest and honey and let stand until juicy.
Roll out the puff pastry and spread it with a rolling pin, so that it is a little wider than your baking sheet.
Roll the edges inwards, brush with the egg wash and refrigerate for about 15 minutes.
Take out of the fridge and spread the apple slices over the pastry. Add a sprinkle of sea salt and bake for 20′, or until the pastry edges are puffy.
Reduce the heat to 180C and bake until the apples are golden brown and soft.
Take out of the oven and let cool to room temperature.
Drizzle some tahini on top and finish off with extra sea salt flakes.