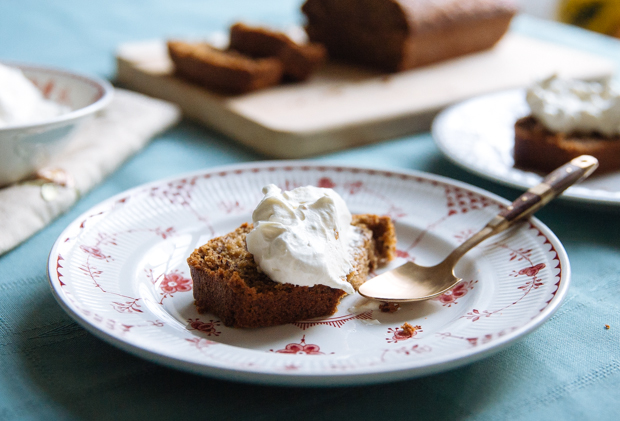 Banana bread was one of the first successful desserts I ever made. I started off with some almost-black, sad looking bananas, some sugar, butter and flour. It was a no-brainer, really. I chopped up whatever was left from a dark chocolate bar (chocolate bars can always be found in my kitchen- black chocolate, so it's all good, right?) and, in a moment of culinary inspiration, I decided to also include some crushed cardamom in the mix. I felt proud and grown up.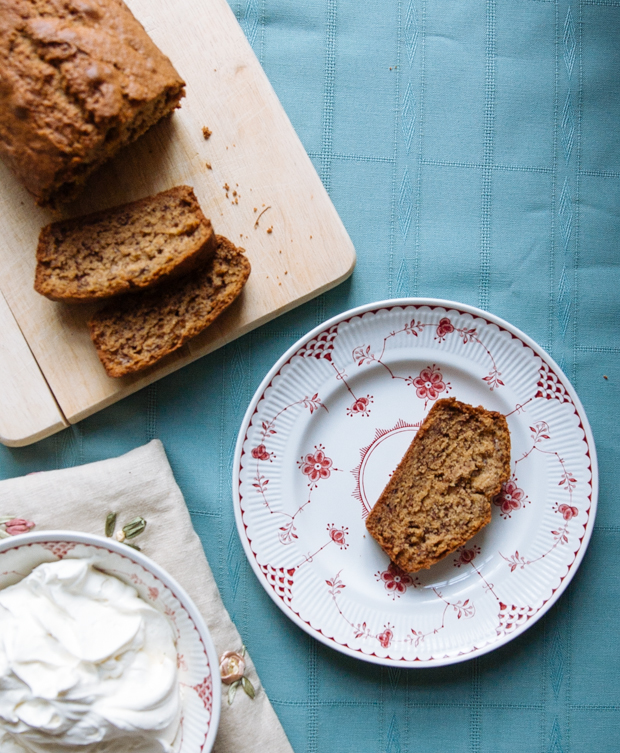 I had brought my fragrant banana bread to a friend's birthday lunch, where it was almost completely ignored. I was almost sad and very annoyed and to prove that my instincts were right, I took the leftovers home and downed the whole lot. Not surprisingly, it took me a long time to eat or make a banana bread after that.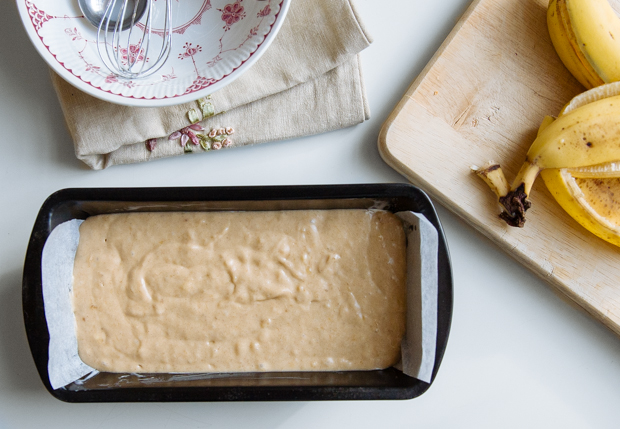 I held on to my recipe however and a few days ago, I had another go at it, changing things up a bit this time: I didn't use any chocolate, as there was none left; instead of cardamom, I added some freshly ground nutmeg and replaced the butter with coconut oil and the sugar with mashed dates (I first tried this substitute here and it works like a charm). Hell yeah!
To bring everything together, I also whipped up a very quick, very unnecessary, yet so airy and delicious cream, with some mascarpone, yogurt, maple syrup and lime zest. Double hell yeah!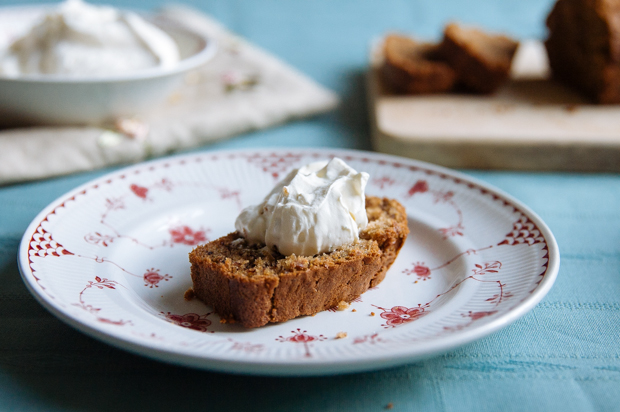 INGREDIENTS
3 medium ripe bananas
2 cups all purpose flour
baking powder and baking soda- 1 teaspoon each
1/2 teaspoon salt
1/2 cup coconut oil
1 cup mashed dates
2 medium eggs
4 tablespoons half fat milk
1 teaspoon cinnamon
1/2 teaspoon freshly ground nutmeg
for the cream:
1/2 cup mascarpone
2 tablespoons caster sugar
1/2 cup low fat greek yogurt
1 tablespoon maple syrup
zest from 1 lime
Preheat oven to 170C.
Spread some coconut oil on the sides of a loaf pan and line with parchment paper; set aside.
Mash the bananas with a fork and set aside.
In a medium bowl, mix the flour, baking soda, baking powder and salt and set aside.
In a large bowl, beat the butter and sugar until fluffy; add the eggs, one at a time, beating well in between. Add the cinnamon, nutmeg, milk and mashed bananas and mix well. Lastly, add the mashed bananas and stir with a spatula to incorporate.
Add the flour mixture gradually and beat just to incorporate.
Pour into the loaf pan, even the surface with a spatula and bake for 50 minutes to one hour, or until an inserted skewer comes out clean.
While the cake is baking, make the cream: beat the mascarpone and sugar until soft peaks form, about 5 minutes; add the yogurt and continue beating for another 5 minutes. Add the maple syrup and lime zest and mix well with a spatula. Place in the fridge until ready to serve.
Once the cake is ready, take out of the oven, let cool slightly and, lifting from the baking paper on the sides of the pan, transfer to a wire rack to cool.
Spice and serve with a big dollop of the (unnecessary, yet delicious) cream.