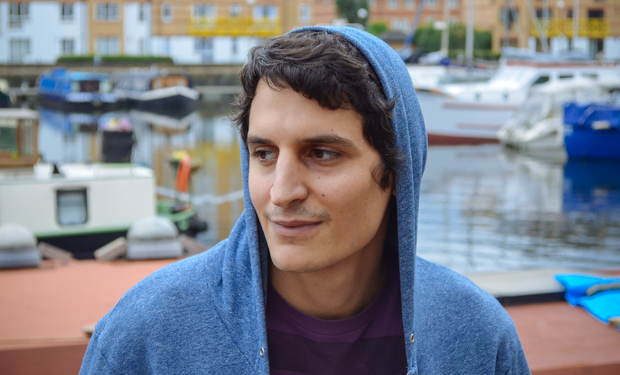 Manolis Zografakis, entrepreneur (founder and managing director of Broke in London), from Athens, Greece, lives between Berlin and London.
I first found out about Broke in London a few years ago, through a friend and I was hooked almost instantly: I appreciated the website as an online community, a constant source of inspiration and a reminder that one can discover a London which is inspiring and interesting, without being wildly expensive. Recently, I had the pleasure of meeting Manolis, through mutual friends; he is very cool and loves to cook- so I could not wait to further discuss living in London on a budget, both in general and in regards to food.
How did you start Broke in London? How has it progressed through the years?
I came up with the idea in October 2011, after finishing my MA in Administration and Cultural Policy at Goldsmiths University of London. It was when I began to look for a job and accommodation that I realised that identifying these two basic things in London can actually be a full time job. So I decided to create an easy to use website that people can refer to when they move to London for finding the best websites regarding their job search, their room search, their daily entertainment, transportation as well as food and shopping. My own experience and research and the inside info and tips from friends and acquaintances were the basis for Broke in London, which is London's number one survival guide; it welcomes many thousands of visitors on a monthly basis and we have managed to create a nice community where people exchange tips and knowledge.
What is the site's main demographic and biggest points of attraction (cultural events, jobs, accommodation, cheap eats)?
Most of our traffic comes from London and the UK. Another big percentage of our daily visitors comes from the US, Greece, Germany, Italy and France. Our fans are both male and female, aged between 25-34. Our Job Hunting and Accommodation sections are the most visited categories, but visitors also tend to spend time searching on our Tips and Advice, as well as on our entertainment section.
London is a very expensive city. In your experience, is it easy to enjoy quality food without spending a fortune?
This is a bit subjective as it may be easy for me, since I know many really good and affordable places. But for someone who's new in town, without experiences of the city and its different cuisines and restaurants, it will not be easy at all. There are tons of good restaurants in London and you can find those through food blogs or by asking for friends' opinions and suggestions about hidden gems. Finally, at Broke in London we normally write about selections of quality eats around London but also about tips and advice on eating healthy or dining out on a budget. Articles are based mostly on our own experiences, but we also take in tips from friends and our readers. The website is not specifically related to food, however having a regular column about budget food and recipes is a great future idea for the future.
Can one really experience London on a budget or will they ultimately be deprived of some of the city's main attractions? Are you interested in changing this perception through the site's recommendations and finds?
London is undeniably a super expensive city. According to The Telegraph, London is curently the most expensive city in the world at the moment. With the average monthly rents at approximately £1,200 for one bedroom flats and around £1,600 for a two bedroom flat, so one can easily see that rent absorbs most of your income. Considering the high living costs, someone might think that it can be hard to appreciate what the city has to offer on a tight budget. However, there are lots of cultural activities that you can experience without breaking the bank. Most of the city's museums and galleries are free to enter and there are dozens of free or low cost quality art events happening every single day. Therefore, you just need to have your eyes and ears open and to do a bit of research in order to make the most of the city. Broke in London can definitely help you find great for cheap: from free music events and cultural guided walks, to cheap art events and happenings as well as the best tips that could help 'BrokeinLondoners' enjoy the the capital.
I imagine you are now 'not broke in London'; have your preferences changed, are you often tempted to spend more money or do you still try to figure out ways to experience the city in a more moderate way?
I prefer to dine at a small 'honest' DIY restaurant that will serve 'homemade' food, instead of dining at an expensive prestigious restaurant where I 'll have to pay 3 times more for each dish while being surrounded by ties and suits. I am not broke in London, but I am not rich either, and even if I was, I would never adopt the habit of dining in super expensive restaurants. It's just not me. I love cooking at home but when I dine out, I I'd rather try and find a place which has a nice DIY cosy feeling, good menu and reasonable prices. I surely love a tasty meal but most of the restaurants are overestimate their dishes and charge a fortune.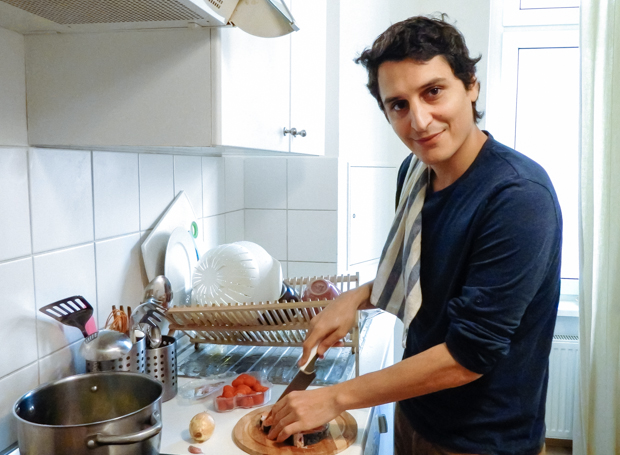 Favourite ingredients: Pasta, rosemary, salmon
What do you always have in your fridge? A great variety of vegetables; this helps me eat healthy and be creative when cooking.
Go-to snack: Apples
Which ingredient do you consider overrated? Meat
3 favorite places to eat in London: To be honest, I love eating at home. Whenever I go out however, I normally go for Asian cuisine (Thai and Vietnamese). Three of my favourite quality budget restaurants are Cafe East (Vietnamese, Surrey Quays), Churchill Arms (Thai, Notting Hill), Franco Manca (Pizza, Brixton)
3 places for grocery shopping: Although I am not a fan of buying groceries from big supermarket chains, I should admit that during the week I normally visit the Tesco Extra in Surrey Quays. It's the closest one to where I live and it's open 1am almost every day. It's massive and has a great variety of vegetables and fruits.
If I want quality organic vegetables, fruits and other goods like organic raw milk, cheeses and organic bread, I go to the Stoke Newington Farmers' Market. It has stalls from small farmers around Greater London, it's open every Saturday and it's situated on Stoke Newington High Street, N16 7UY. I love it, especially if the weather is good
Finally another market that I like is the Turkish Cypriot Yasar Halim market (386-390 Green Lanes, Harringay, N13 5XQ); it's open every day and one can find quality food goodies, as well as fruits and vegetables at affordable prices.
Food memories: For the last 4 years I have stopped eating meat on a regular basis, yet both my memories are meat related.
It might sound a bit weird, taking in consideration the fact that I am Greek, but my favourite childhood dish was Chinese- shredded beef & green pepper. My mother often used to cook Chinese cuisine when we had guests coming over and it was one of my favourite moments. I love all of the Asian dishes my mother prepared, however the beef dish was my favourite.
Another of my favourite dishes is "Papoutsakia" (stuffed eggplants). Even though I don't eat it often, I just love it. When I was a kid, I used to  anticipate the moment when my mom would cook "papoutsakia". She made so delicious and I also loved it because of its name means (little shoes). It's difficult dish to cook, but if you make a perfect bechamel, use a good combination of spices and of course quality meat, then the result can be absolutely delicious.
Manolis' version of Aglio olio pasta (which I have already made and can attest to its crowd-pleasing qualities) can be found here.
Broke in London can be found at: