One of the (few) things I enjoy about cold weather is my craving for comfort food. Most specifically, my craving for soup.
I absolutely LOVE making and eating soups!  As with most of my cooking, this has also been influenced by my mom: the woman can turn just about anything into a delicious soup and I grew up half in awe of this ability of hers and half resenting the frequency in which we had soup for lunch and/or dinner.  Ever since I moved to London however, faced with full-on cold autumns and winters, soups have also become my go-to dish from the moment temperatures begin to drop and this carrot soup was one of the first dishes I  was making on repeat during my first year in London.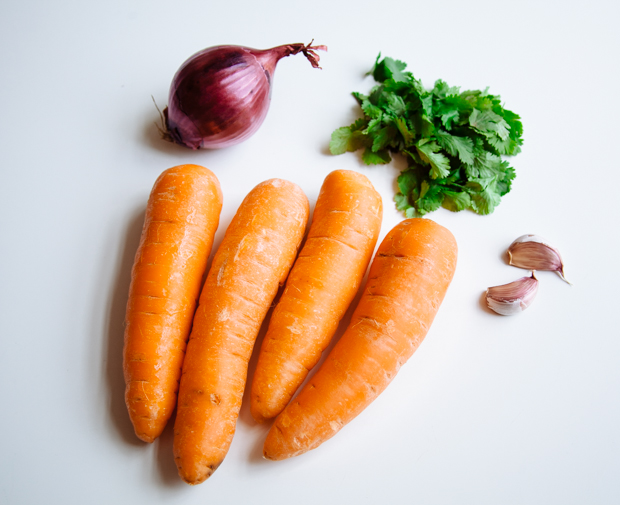 I have modified the recipe over the years, but the end result always reminds me of both my mom's soups and my first winter here.  It's hearty and delicious, with a beautiful colour and velvety texture.  The spices add a subtle, sweet aroma and flavour and the cayenne pepper gives it a nice kick, which is balanced out by the addition of yogurt and lemon.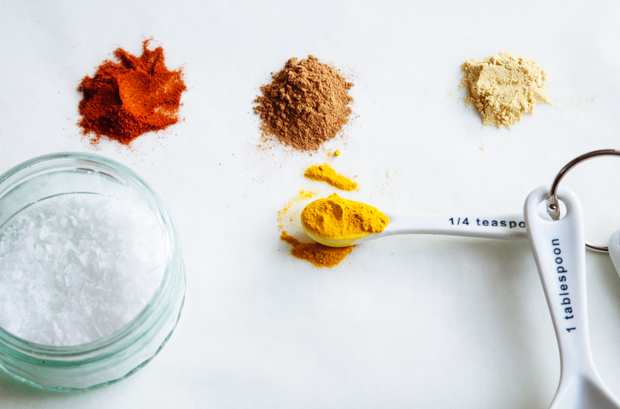 You can also experiment with other variations: my two favourite ones are coconut milk with lime and canned tomatoes with chipotle pepper and sour creme.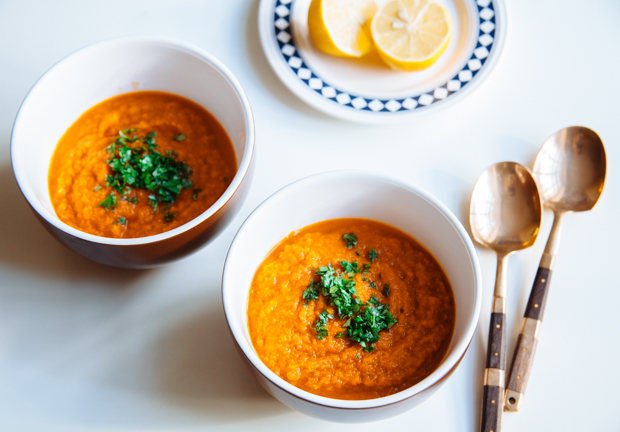 INGREDIENTS (for 4 portions)
4 tablespoon olive oil 
10 largish organic carrots, thinly sliced
1 large red onion, thinly sliced
4 garlic cloves, minced
6 cups organic vegetable stock
smoked paprika, ground turmeric and ginger, 1 teaspoon each
1/4 teaspoon cayenne pepper*
pinch of cinnamon 
juice of one large lemon
sea salt and freshly ground black pepper
1 cup half fat Greek yogurt
to garnish: extra lemon juice & chopped coriander (about 2 tablespoons)
* or less, depending on how spicy you like your soup
Heat the oil in a large pot and add the chopped carrots; cook in high heat for 5 minutes.
Lower to medium and add onion, garlic and spices. Cook for 3-4 minutes (or until the onions are softened), stirring frequently.
Add the stock, cover with lid and cook on medium for 20-25 minutes, or until the carrots are tender.
Remove from the heat and let cool slightly. Puree until smooth and season with freshly ground black pepper and sea salt to taste.
Add 1 cup of yogurt and lemon juice, stir to combine and let simmer for a few minutes over very low heat.
Serve with chopped coriander and additional lemon juice, if desired.