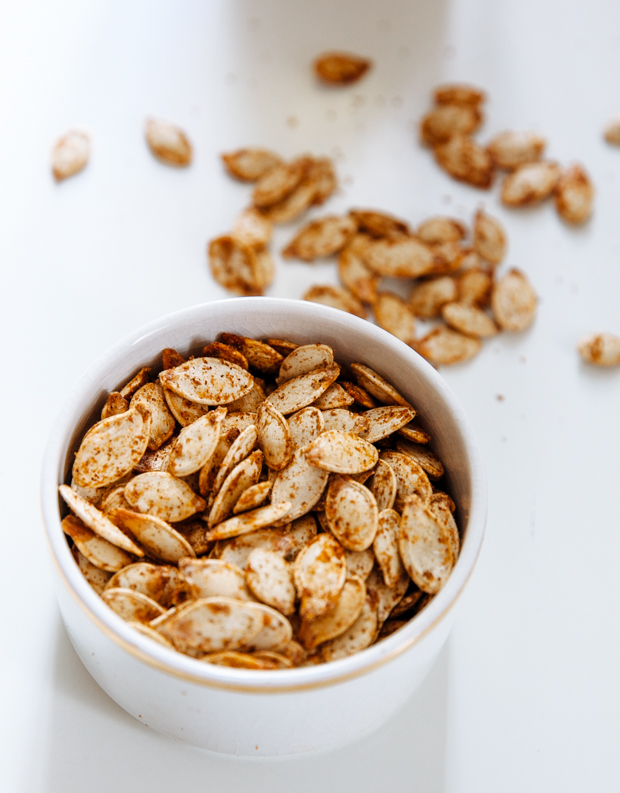 Pumpkins must be my favourite autumnal ingredient; growing up, we'd usually cook with the squashes from our garden, but ever since I moved to London, it seems like I'm discovering a new kind of pumpkin every year. I love the variety in shapes and colours, how durable they are, as well as their versatility: soups, quiches, pies, cheesecakes- I've incorporating pumpkin in so many dishes, and I still can't get enough.
Every year, during the weeks leading up to Halloween, I stock up on pumpkins. The little ones are used for decoration and cooked later on; my favourite ones are those used for jack-o'-lanterns: round and chubby, with flesh easy to scoop out and filled with lots of seeds. Having been raised in a household where nothing even went to waste, I always get a kick out of using every bit of an ingredient and pumpkins are just perfect for this.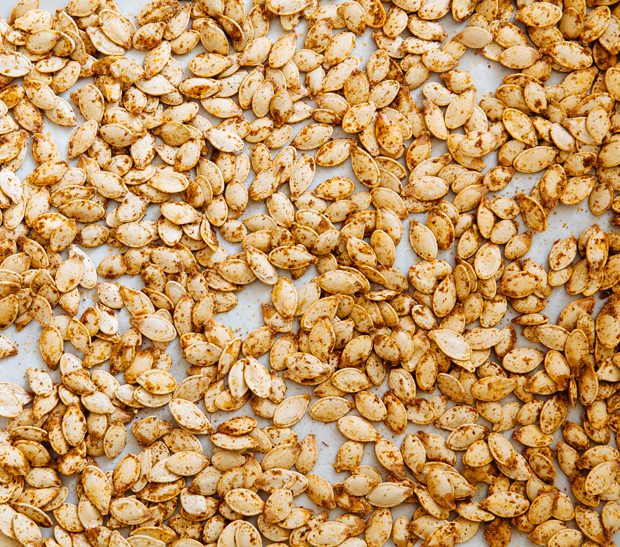 During the carving sessions I have at home every year, I quickly carve my pumpkin and spend the rest of the evening bossing my friends around on how to do theirs, as well as frantically gathering the flesh and seeds they take out. I freeze the former for future use, and the latter I roast with different spices.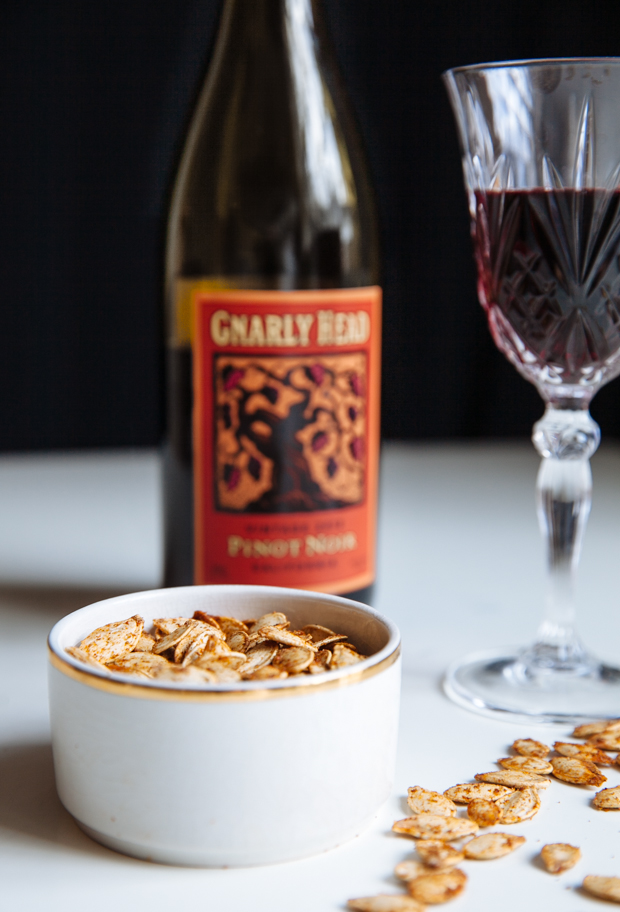 This year I made two variations: a savoury one, with paprika, cumin and salt and a sweeter one, with ras el hanout (still in love with this spice mixture) and dark brown sugar. So versatile and addictive- this is how I can afford to be bossy, I think: with lots of snacks in hand. Also with season-appropriate wine.
INGREDIENTS
For the salty one:
2 cups pumpkin seeds
1/2 teaspoons paprica
1/2 teaspoon cumin
1/2 teaspoon fine salt
1 tablespoon olive oil
For the sweet one:
2 cups pumpkin seeds
1 teaspoon ras el hanout
1 tablespoon dark brown sugar
1 tablespoon olive oil
Once you've cut your pumpkin, scoop out the seeds and place in a large bowl. Try to remove as much of the pumpkin flesh and strings as possible.
Transfer the seeds in a colander and wash thoroughly; dry overnight.
Turn the oven on to 150C and line a baking sheet with parchment paper.
Place the seeds in a large bowl and pour over the spice & olive oil mixture. Coat well using your hands.
Spread on the parchment paper on a single layer, trying to separate the seeds as much as possible.
Bake for 20 minutes, rotating halfway through, until golden brown.
Take out of the oven, let cool, place in small bowls and serve.
Repeat with the second variation.
Store in an airtight container for a couple days.