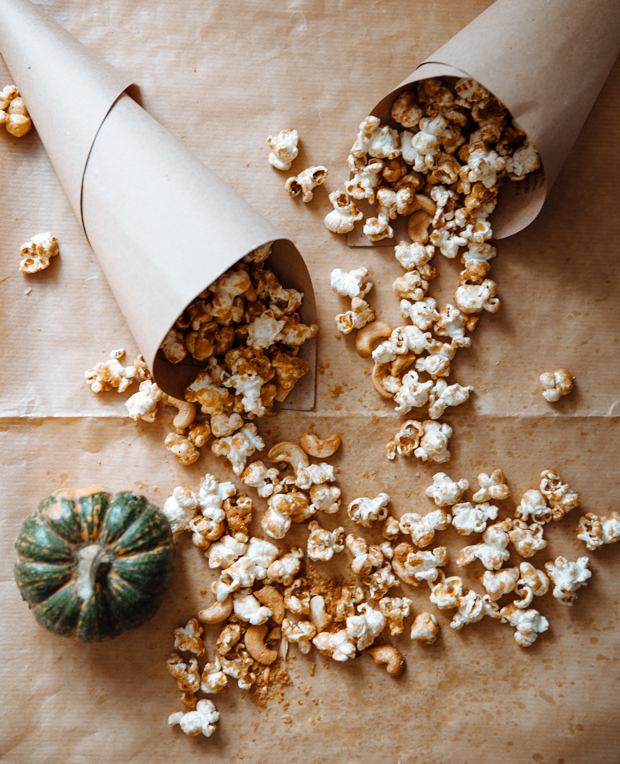 The end of summer always leaves me with bittersweet emotions: while I don't want to let go of the hot temperatures, smell of sunscreen, warm starry nights and the overall easiness of the season, I long for the first signs of fall. I 'm always happy to see the sidewalks filled with colourful falling leaves and to try new comfort recipes featuring autumnal produce. Most of all, I can't wait for Halloween.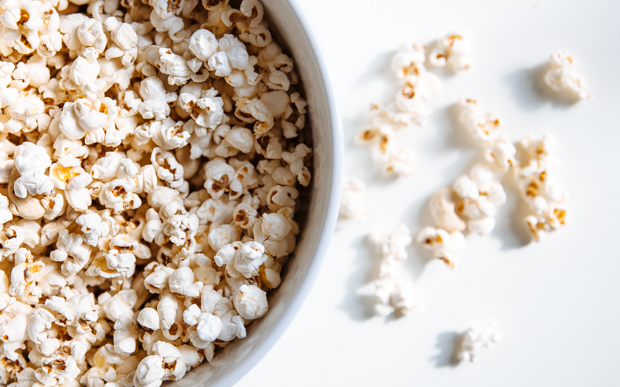 So every year, around the middle of October, I start decorating the house and I experiment with ghoulish cookies and cupcakes. I'm lucky that my significant other doesn't mind fake spider webs and cut-out bats hanging from our walls and ceiling; he's made his peace with the number of mummies and skeletons I place around the house, as well as with the array of jack-o'-lanterns. His patience (and my sweet tooth) are thus rewarded with homemade treats, the favourite of which is caramel corn.
There's nothing innovative here, just good old salty popcorn, coated with lots of brown sugar and butter and baked until crunchy. It's so easy to make and even easier to wolf down, so if you happen to have any leftovers, they will keep in an air-tight container for up to 5 days.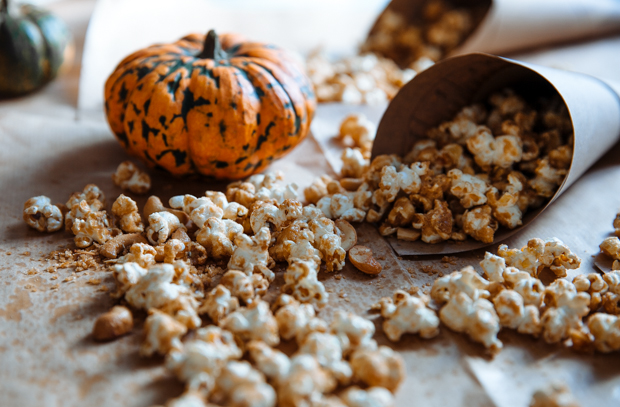 INGREDIENTS (for a very large bowl of caramel corn)
1 cup corn kernels
3 1/2 tablespoons vegetable oil
2 1/2 cups unsalted cashews
8 1/2 tablespoons unsalted butter
1 cup light brown sugar
about 2 tablespoons coarse pink sea salt
Turn the oven on to 150C.
Warm the vegetable oil in a large pan over medium heat. To test that the oil is hot enough, add a couple corn kernels; once they pop, add the rest, along with the pink salt. Give them a good shake and cover with the lid, leaving a small gap to let the steam out.
When all the kernels have popped, remove from the heat and place in a large bowl. Add the cashew nuts and stir.
In a small pan, add the butter and sugar and bring to a boil over medium heat stirring constantly.
Remove from the heat and pour the caramel over the popped corn and cashews, making sure to cover them evenly.
Line a large baking sheet with baking paper and spread the coated popcorn (you may need to do this in two batches).
Bake in the preheated oven for 30- 35 minutes (rotating halfway through), until golden brown.
Remove from the oven, let cool slightly and place in a large bowl.
Divide into into paper cones or small paper bags and enjoy.