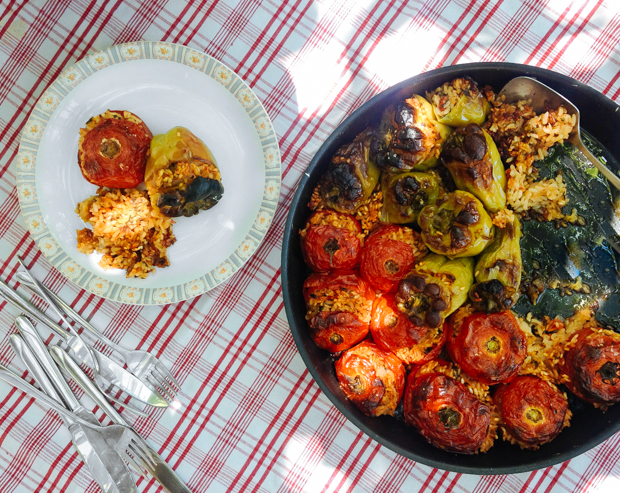 Yemista (meaning 'stuffed ones') is a traditional and very popular Greek vegetable dish (although one can also find variations with minced meat in the filling). For me, it's the quintessential summer eat. Even though my mom doesn't cook many traditional dishes, she would cook it as soon as we got to our summer house, ever since I was a kid; with the majority of the ingredients straight from the garden, and thus 'officially' marking the beginning of holiday season; it would also be the last dish we 'd have before heading back to the city.
We try to keep the tradition, and the first time we have yemista every summer, it's kind of a big deal: it's our own vegetables, it's family reunion, it is summer on a plate, both the beginning and the end of it.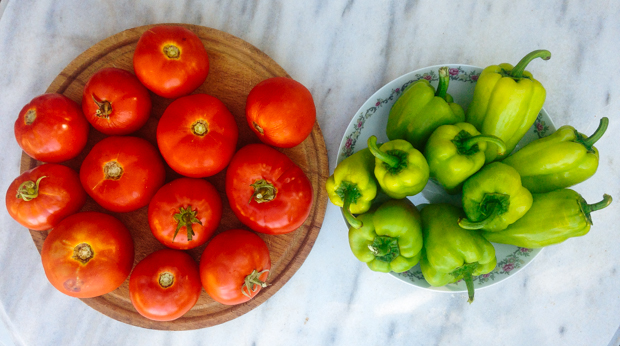 Sentimental reasons aside, the dish is pretty pard not to like: there's summer vegetables and fresh, aromatic herbs; a chunky tomato sauce, made just a tiny bit sweet from the sautéed onions, raisins and a touch of sugar; garlic for a little kick and pine nuts for texture. It's all very simple and delicious. Just as summertime eating should be.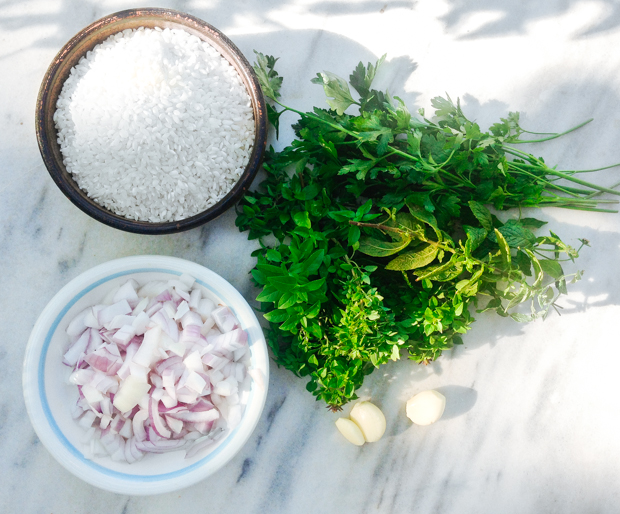 The recipe is for a large baking dish, enough for 6-8 people; as the dish tastes even better the following day, when all the juices have been soaked, you can make it ahead and keep it at room temperature for a day and in the fridge for up to three.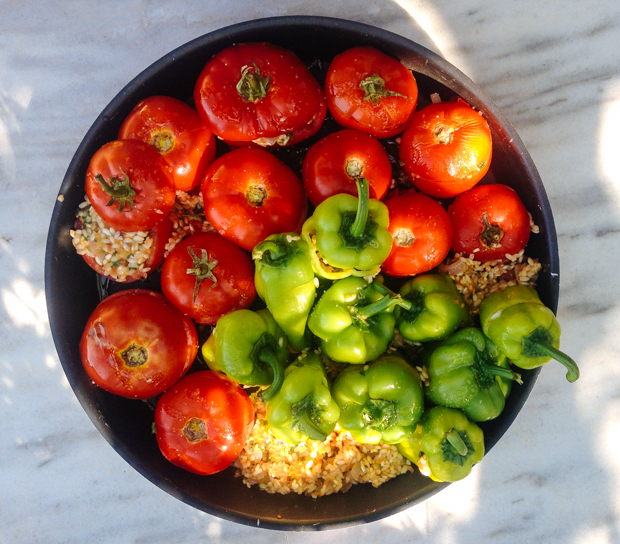 INGREDIENTS
10 medium tomatoes
10 small peppers peppers (try to avoid bell peppers, as their skin is too thick; if you can't find small green peppers, use long red ones)
2 tablespoons fresh basil, minced
2 tablespoons fresh flat leaf parsley, minced
2 tablespoons mint, minced
3 medium sized onions (yellow or red), cut in small cubes
3-4 garlic cloves, minced
arborio rice, 1 tablespoon per each vegetable, plus a few additional tablespoons
2 tablespoons raisins, soaked in warm water
1 tablespoons pine nuts
1 scant teaspoon white sugar
1 cup olive oil, plus extra for drizzling 
sea salt and black pepper for seasoning
Wash tomatoes and peppers and drain with kitchen paper. Cut the top of the tomatoes off, set aside, and scoop out the flesh carefully- you don't want to pierce through their skin; place the tomatoes on the baking dish and the flesh in a food processor; add sugar and pulse a few times for a chunky salsa.
Cut the top off the peppers, set aside, and discard the seeds; add to the baking dish. Add half of the olive oil in a large pot and warm over medium heat; add the onions, garlic and pine nuts and cook until vegetables are soft and nuts are golden brown.
Turn on oven to 200C. Add the remaining olive oil rice, chopped tomatoes and herbs, season with sea salt and black pepper, stir well and cook for 10-15 minutes, until most juices have evaporated. Drain raisins, add to the pot and stir. Leave to cool slightly.
Using a medium spoon, fill the tomatoes almost to the top and place 'lid' on top; fill the peppers in the same way- if using long ones, fill using a small spoon, pushing the rice down to the bottom. Place 'lids' on top.
Drizzle with olive oil and bake for 15-20 minutes. Turn the oven down to 180C, cover loosely with foil and cook for another 20 minutes. Take the foil off and bake for 10'. (Bear in mind that the baking times are indicative, as many ovens vary. After the first 20 minutes, check the vegetables every 10 minutes or so, so the vegetables don't dry out.) Take out of the oven and let cool, serving at room temperature.