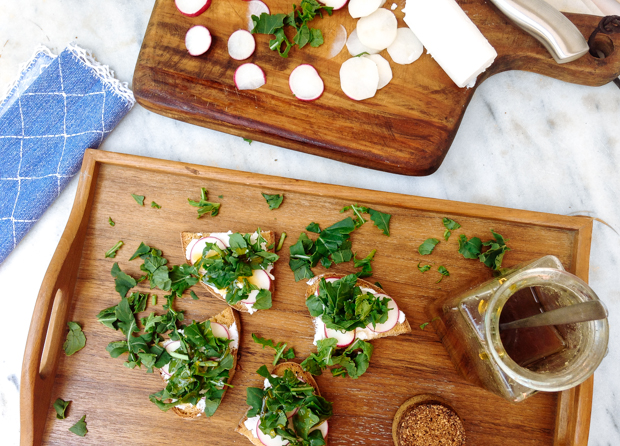 I love radishes! Their beautiful colour (blinding reddish pink on the outside, soothing white on the inside), crunchy texture and, my favourite, their spicy taste. Like so, they are the perfect addition to a salad or a cheese plate. 
I had them by the handful during my holidays, as Niko, my favourite vegetable vendor back home, would sneak a bunch in my shopping bag every time I 'd leave his stall. The ones I usually find in London are rather on the sweet side, but the ones I picked up last weekend at Brixton farmers' market were just the way I like them: firm, spicy, delicious. I exercised some self-control and instead of finishing them all up in one go, I used a few in tartines.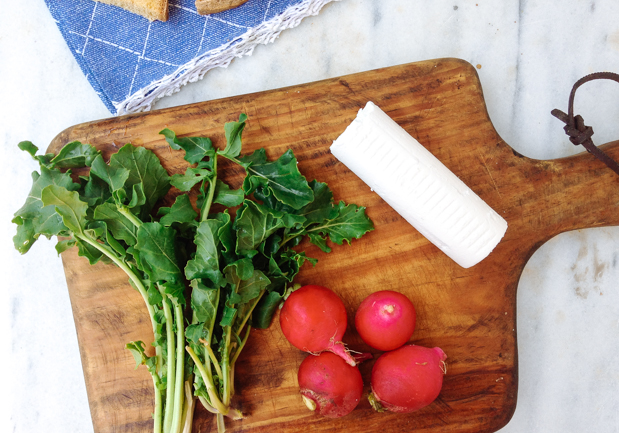 This is a 'summer-meets-autumn' tartine, as I spent a good part of my summer eating the same ingredients I used here: fragrant sourdough bread (also from Brixton's farmers' market); velvety goat's cheese, peppery rocket and spicy radishes. Finally, there's a good drizzle of sweet, nutty honey I brought from Greece.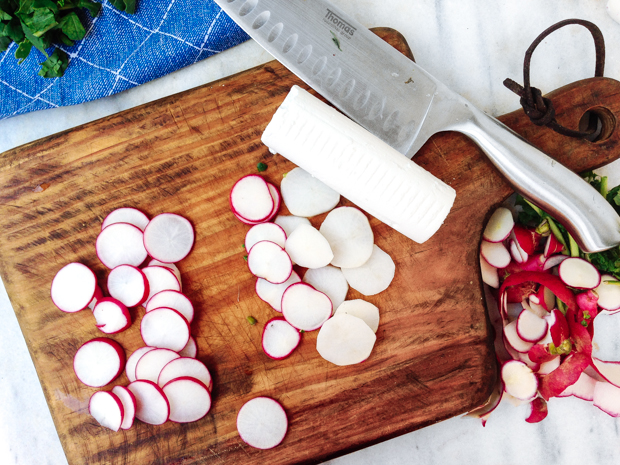 It is simple, yet satisfying, just as every nibble should be, no? The creamy cheese pairs perfectly with the crunchy vegetables, while the honey gets there at the right moment to balance out the heat. I bet Niko would be impressed.
INGREDIENTS
4 large slices sourdough bread
1 small log goat cheese, crumbled
1 heaping handful fresh rocket, washed thoroughly and coarsely chopped
6 radishes
salt and pepper to taste
honey for drizzling
Wash the radishes, scrub their skin and chop of the bottom and top ends. Slice them thinly and set aside.
Crumble the cheese in a small bowl and season lightly with sea salt and freshly ground black pepper.
Cut the bread slices in half and toast lightly.
Assemble the tartine: place a generous amount of goat's cheese on each slice and top with rocket leaves, followed by sliced radishes. Drizzle some honey on top. Eat. Repeat.