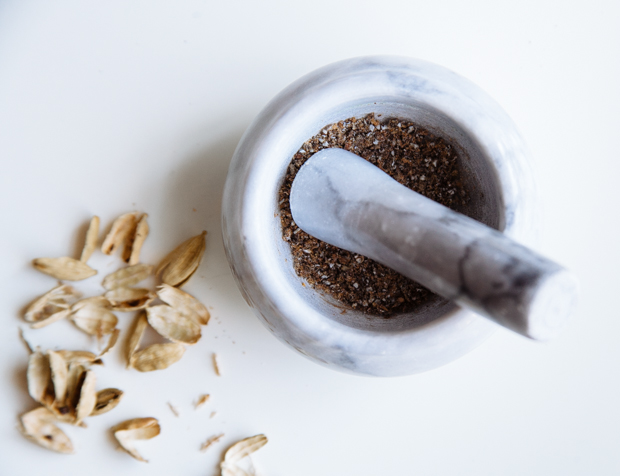 It seems that lately, I 've been using cardamom almost every time I bake. As filling for buns, added to cream cheese frosting for a carrot cake or to crunchy granola. I 've been more reluctant to incorporate it in savoury dishes, but I have discovered it gives great flavour to a quick vegetable rice and a nice kick to a simple pumpkin soup. 
Cardamom is intensely aromatic, with a light kick and a strong, cool and sweet flavour. Apparently, it's also the third most expensive spice, following saffron and vanilla, but that's just as well, as a little goes a long way here. All you need is a few pods, which you open up, extract the seeds and grind with a pestle in a mortar.
There are two cardamom varieties: the most commonly used is the green one, with its sweet and cool flavour and aroma making it ideal for desserts. It is used in traditional baked goods in the Nordic countries and can also be found in Middle Eastern desserts and hot drinks. Indian cuisine also makes use of cardamom in sweets, as addition to curries or as garnish for rice. The latter use is what I was mostly familiar with; both my dad and my sister always had a strong dislike of rice (which I could never understand- how can one have strong feelings towards rice?), so my mom would try to make it interesting for them; one of her preferred tricks was the addition of whole cardamom pods. It didn't help much with those two, but I remember how taken I was with the little pale green 'pockets' and the unexpected sweet and slightly minty flavour I 'd get from chewing on them.
The black variety, used in curries and other savoury dishes, is lightly smoky and with a much stronger kick. I only discover it through a friend recently, and I can't wait to try it!
Want some delicious cardamom inspiration?
Cool and refreshing saffron and cardamom lassi
Beautiful raspberry, cardamom and almond tarts
Drink up! Cardamom Moscow Mule 
Delicious, fresh and vegan salad with ginger, lime and cardamom dressing
Ottolenghi always knows best: cardamom chicken with yoghurt and almonds
Soup is one of the few things I love about winter and this one seems like a winner:  spicy carrot and cardamom soup