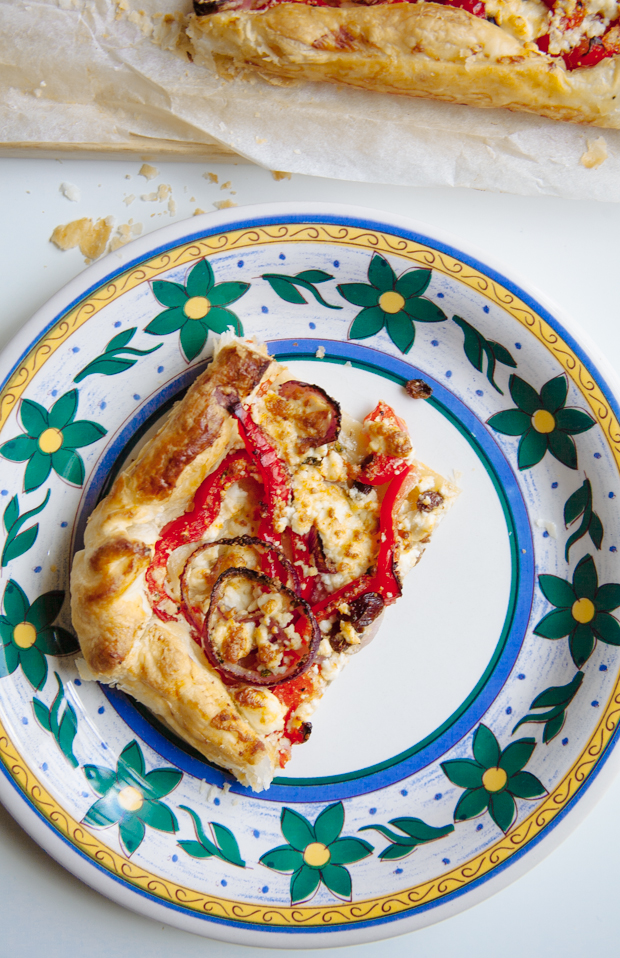 Summer makes me happy. The sunny mornings, the long evenings with their slight breeze, gorgeous flowers seen all around the city, ladies in their beautiful summer dresses… Summer also makes me hungry, craving for light dishes, filled with seasonal vegetables and fragrant herbs. 
This easy-peasy tart feels just right for this weather, for this frame of mind. Sweet bell peppers are paired with feta cheese and tossed with fresh basil- a true summer star.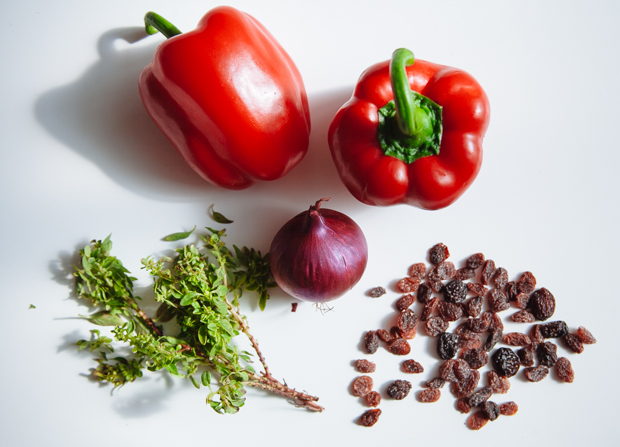 Lots of black pepper adds some punchiness and a handful sweet raising brings in some sweetness, to balance out the saltiness of the cheese.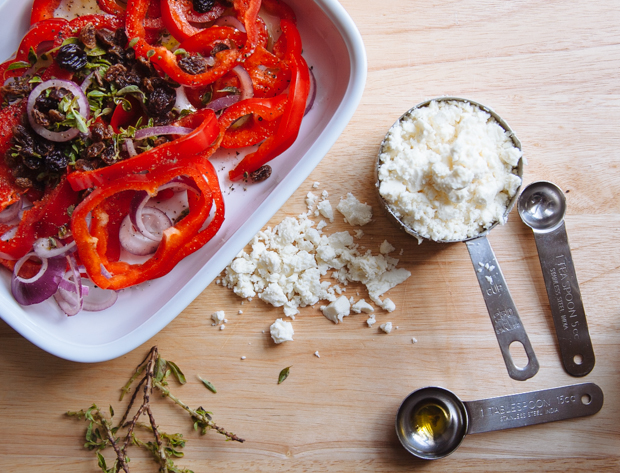 I heavily relied on the freshness and quality of what went inside the tart, cheating a little on the outside. The puff pastries I 've made in the past haven't always turned out fantastic, and since I wanted a quick and perfectly flaky, golden brown, buttery base, I opted for a good quality store-bought one. It hit the spot immediately: light, salty and a little sweet, creating just the right amount of messiness when eaten. Summer days are here and they are messy. And beautiful. Dig in.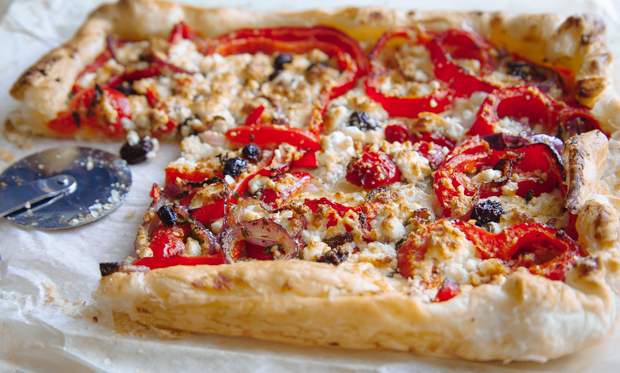 INGREDIENTS
1 sheet of  good-quality store- bought puff pastry, thawed
2 red bell peppers
1 generous handful of fresh basil (I used Greek, but flat basil also works)
1/4 cup raisins, soaked in warm water
3/4 cup feta cheese, crumbled
2 tablespoons olive oil
1 teaspoon apple cider vinegar
sea salt and freshly ground black pepper
1/2 tablespoon olive oil
1 egg, lightly beaten
Preheat oven to 200C.
Place one pepper on it's side, cut the end off and continue slicing down to create rings; repeat with the second pepper. Discard any seeds and place in a large plate or medium bowl.
Add basil leaves, drained raisins, olive oil and vinegar; season generously with black pepper and a little sea salt (feta cheese can be quite salty). Mix thoroughly with your hands or a spoon (if you want to wash an extra spoon).
Roll out the pastry on a baking paper; using a rolling pin, stretching it out, so that it's a little larger than your baking pan.
Carefully lift the baking paper with the pastry and place on the baking sheet, leaving the edges overhanging. Brush with olive oil, making sure to also coat the sides of the pastry.
Cover with the pepper mixture, distributing it evenly. Top with feta crumbles and a little extra black pepper if desired.
Roll the exceeding pastry inwards and brush with the beaten egg.
Bake for 25′, or until the edges are golden brown
Take out of the oven and let cool for about 10′.
Cut using a pizza cutter and serve warm or at room temperature.